Eatn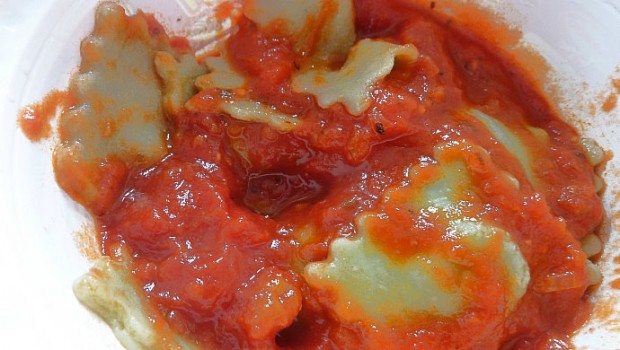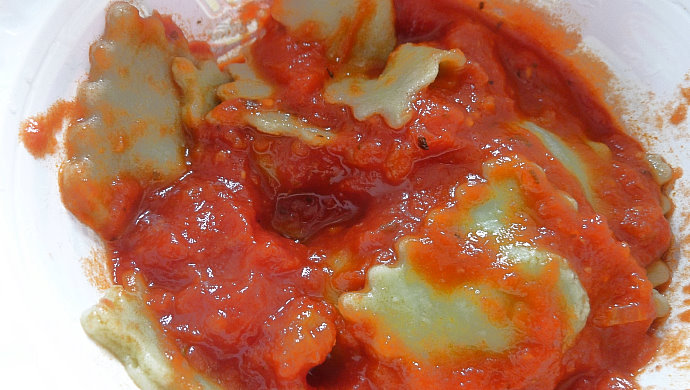 Published on January 30th, 2014
10
Travel Tips: Nomad Tomato Ravioli
(Note: just a little "filler" post here to keep you all happily reading – whilst I whiz off to Vietnam manana, then onward to the U.S. of A. and finally, in mid February come in for a final landing in Ecuador. Knowing that I'll likely be a tad busy and/or not have easy access to a keyboard – I've managed to peck a bundle of posts that I can swiftly publish over the next month's Asia exodus interim. This silly ravioli is the first…)
My Nomad Boiled Eggs tip proved to be so popular with TL readers (not to mention, I continue to boil up a few eggs most every week here in Thailand), I couldn't help but wonder what other sorely-missed Western comfort food I might cook up in my handy-dandy $6 plastic tea kettle.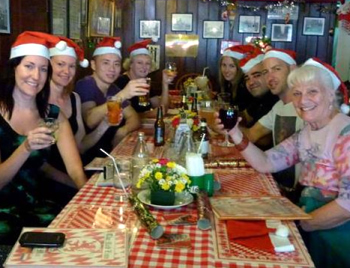 This year, for my (goodness!) THIRD Christmas as an expat, far, far away from my native U.S. of A. land, I enjoyed a most delish traditional Christmas dinner at a British pub here in Chiang mai with a fine bunch of Couchsurfers (well o.k. 'twas a bit on the Brit side in that it included "Christmas Pudding" rather than good ol' A.mer.i.can pumpkin pie, but still…).
Nonetheless, for the (far more personally sentimental) Christmas Eve, I had a yen to cobble together my own private Christmas feast in my little apartment.  And though the traditional Christmas Eve menus of my childhood ever included all manner of seafood (as my family was Catholic and years ago, such was a church rule on the night before the nativity), alas my rudimentary nomad kitchen (but a small fridge, a knife, a spoon, a fork, a plastic reusable Ramen bowl, and an electric tea kettle) rather precluded any dream of brewing up a batch of oyster stew and deep-fried breaded shrimp for Christmas Eve dinner.  Nonetheless, I was nothing, if not determined.
In short: what ELSE might I concoct with but my humble plastic tea kettle?
And the answer?  Whilst wandering the aisles of the local "Tops" grocery store here in Chiang Mai (you know, the same shop that initially inspired me to nearly faint with its 7-KINDS-OF-LETTUCE! salad bar), I spied… why a package of FRESH SPINACH RAVIOLI stuffed with CHEESE!
Hmmm… mumbled I – now why couldn't I boil those little pasta ravioli puppies up in my tea kettle, and drizzle them with some tomato sauce?
Done.  And done.
Easy-peasy.  Just a matter of plopping a dozen or so into a 3/4 full kettle of water, bring to rolling boil, let set for 5-10 minutes, drain, and smother them with (room temperature) spaghetti sauce – the boiled ravioli will further heat the sauce to a perfect eating temp.
Now then – what other yummy comfort foods might I try next in my humble tea kettle?
Go on – give me a nomadic kitchen challenge – I dare you!
For more of my "Nomad Cuisine" experiments with but a simple electric tea kettle:
Travel tips: Nomad Mashed Taters
Travel Tips: Nomad Tomato Ravioli
Travel Tips: Nomad Boiled Eggs