Eatn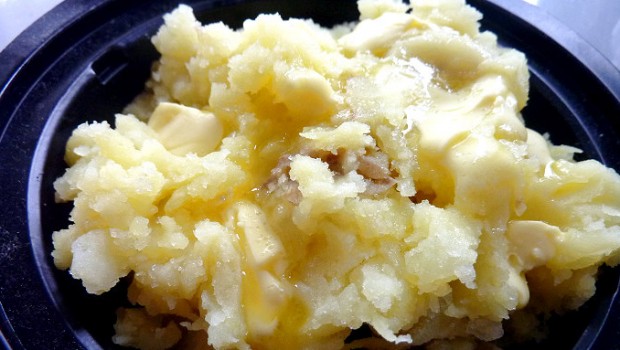 Published on February 10th, 2014
6
Travel Tips: Nomad Mashed Taters!
O.k. so this is getting a bit silly, really.  But still… as the months and years roll by as an expat, I can't help but dream of simple comfort foods from my childhood.  And good ol' mashed potatoes rank right up there among the very BEST! So I'm thinking: tea kettle.  Electric tea kettle. The boiled eggs worked swell. And the tomato ravioli?  A bit tricky, but still – boiled just fine and smothered in tomato sauce,,, yummmm-MERS! "So why not try boiling a simple potato?" says I Indeed, why not? So easy it really needs no instructions.  Just find yourself a tater, chop it into chunks, boil til tender, drain, mash and smother it all in butter. A few tips:
Use but a single potato at a go; peel if you like, but I favor snippets of skin mashed in mine.
Cut into smallish chunks – no bigger than 1/2″
Fill the kettle no more than half full of water (adding the potatoes will raise the water level, and once boiling, you don't want it to bubble over the top!)
Bring to first boil, turn off kettle; let set 10 minutes.  Pierce a chunk with a fork to test for tenderness; if necessary, repeat boil and set til all chunks are tender.
And of course – you just KNEW there would HAVE to be pictures: 😉
(Click on any of the thumbnails to start the slide show…)
Hmmm… let's see – what other yummy taste treats can I cook up in my trusty tea kettle?
For more of my "Nomad Cuisine" experiments with but a simple electric tea kettle:
Travel tips: Nomad Mashed Taters
Travel Tips: Nomad Tomato Ravioli
Travel Tips: Nomad Boiled Eggs