About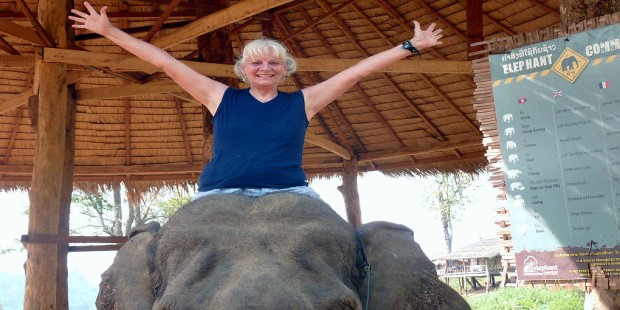 Welcome to TravelnLass and thanks for stopping by.  I'm Dyanne, and off-the-beaten-path travel has been my lifelong passion.  I've always lived life "like a kid in a candy store", eager to sample as many flavors as I can. Indeed, my motto has long been:
"This ain't a dress rehearsal, folks!"
And in that spirit,…
At 30… Yep, I was a backpacker clutching a "Europe on $5 a Day" tome to my chest. But not your usual backpacker as I had a couple of kidlets in tow – a single mom matriculating at universities in France and then Italy – all thanks to financial aid through the University of Oregon.
At 40… I tossed aside a Master's degree and a great job – in favor of starting my own international tour biz guiding small groups to the islands and jungles of Costa Rica and Belize (the latter, few had even HEARD of at the time).  The business grew and fully supported me for the next 20+ years. I never got rich, but by golly I got to see much of the globe and my "office" was pretty much a tropical hammock. And this, I might add – before there was even such a contraption as an "internet".
At 6-uh-oh! I backpacked solo across South Africa and Mozambique for 2 months – realizing my life-long dream of going on safari in Kruger National Park (my surname is Kruger, and the park is named after my great-great-bazillion-great uncle).
And for my next tootsie-roll 'n gumdrop gobble?
6 years ago I took a huge gulp, and made "The Great Leap".  Yessiree, sold everything I owned, and bought a one-way ticket to (of all places!) Vietnam.  A bit reckless, even for someone as adventurous as me. But I surely wasn't getting any younger, so I decided to ditch my beloved native land in favor of becoming a perpetual nomad, a permanent expat.
And oh my – the adventures I've had!  Turns out this expatting thing is simply the BEST!
In just a few years, I've lived in 3 different foreign countries, and visited Asian corners that many only dream of. Gawked open-mouthed at wild orangutans in Sumatra and the legendary temples at Angkor Wat in Cambodia.  Toughed out a full month milking yaks in Mongolia, and another couchsurfing my way up the (breathtakingly looong) eastern coast of Oz.  I headed to Laos for the annual Elephant Festival, hitched a ride with monks in Nepal, gazed spell-bound at Pygmy elephants in Borneo, and bounced around Myanmar before (trying) to settle down in Chiang Mai, Thailand ('twasn't my cuppa tea – too many expats/backpackers).
So I opted to again jump continents, pack up my meager belongings (a rollie and a backpack) and buy another one-way ticket to yet another country I'd never stepped foot in:  Ecuador.

Which brings us to the present…
I've now been living here amid the postcard-perfect cobbled streets of Cuenca, Ecuador for more than 3 years, and truly couldn't be happier. I live in the heart of El Centro (a UNESCO World Heritage site), my Spanish is humming along nicely, I continue to dabble in teaching English, and I now have permanent residency in Ecuador. It didn't take me long to head to those luscious isles off the coast of Ecuador that hold a high spot on most every traveler's "bucket list": gaping at giant tortoises and swimming with sharks (TRUTH!) in the legendary Galapagos Islands, along with that other lonesome isle off the coast of Chile: Easter Island. Two years ago I dared to slip into Cuba (still a no-no without a tour group for a U.S. Yank like me), and I just recently returned from a 6 week solo backpack through the Balkans and Turkey. Better still, I now have the HUGE candy store South American continent at my fingertips which I fully intend to explore at my leisure.
By now you probably think I'm a tad crazy. Some lunatic that is utterly fearless, and likely has a trust fund to finance her incessant globe-trotting ways.
And you'd be WRONG.
Well yes, a screw or two loose perhaps (leastwise that's what my family has long suspected). But actually, just an ordinary lass on a perpetual shoestring, with a handful of fears and doubts – much like you. An ordinary girl with pretty much the same obstacles you might face in pursuing your own dreams of traveling the world. A single mom, a once highly-paid-office-drone-turned-struggling-entrepreneur, and now a woman "of a certain age".
Just your normal, everyday dreamer who long ago decided to make travel a priority – and then proceeded to figure out a way to do it.
So if it's inspiration you're after – a gentle nudge to make your own travel dreams come true, then you've come to the right place. Nothing gives me more pleasure than to think that my crazy travel tales (especially as a solo lass "of a certain age") might inspire some other lass or lad (of any age) to follow their own brand of bliss, and just pop on a backpack and DO IT!
Start with baby-steps if you must. But START. In fact, you can begin right here, right now. I've created a little "candy store" like I mentioned earlier, with clickable links to a few of the many corners of TravelnLass.
Welcome to the first step towards making your own sweet travel dreams come true!