Eatn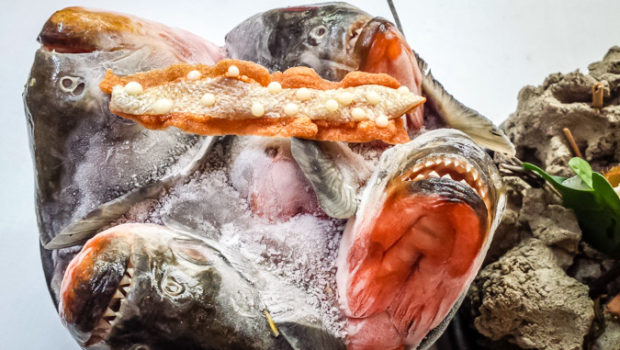 Published on October 28th, 2017
13
Central Restaurant "Mater Elevations" Tasting Menu
THIS… is what a $200 lunch looks like.
(actually, turns out – the near 4 hour, 17 course lunch tab
only set me back $197.10 including tip – yay!)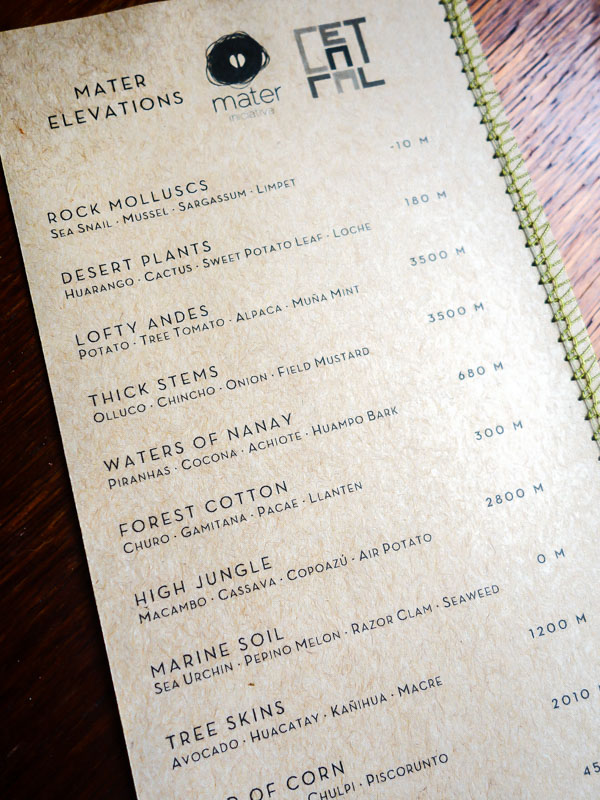 Ahem, chroniclers of (the lately, sadly omnipresent) "fake news" take note:
While I originally stated (in my previous Peru Prep post) that the tasting menu for Central Restaurant in Lima, Peru (the #1 best restaurant in South America, and ranked #5 in the ENTIRE WORLD!) was 18 courses, it turned out to be a mere *17*.
Furthermore, I was FULL by course #9! 😀
The "Mater Elevations" tasting menu couldn't have been more gastronomically eclectic. With edibles ranging from 30 feet beneath the sea to thousands of miles up in the Andes mountains, the dizzying array of dishes provides a tour of Peru – led by the tongue.

My lunch reservation was for 1:30, and you can bet that I made sure I was there precisely at the appointed hour (indeed, apparently they only allow 15 minutes grace for lateness before cancelling your reservation – with fee). Fortunately I'd selected a great hotel in the Miraflores neighborhood – within walking distance of Central.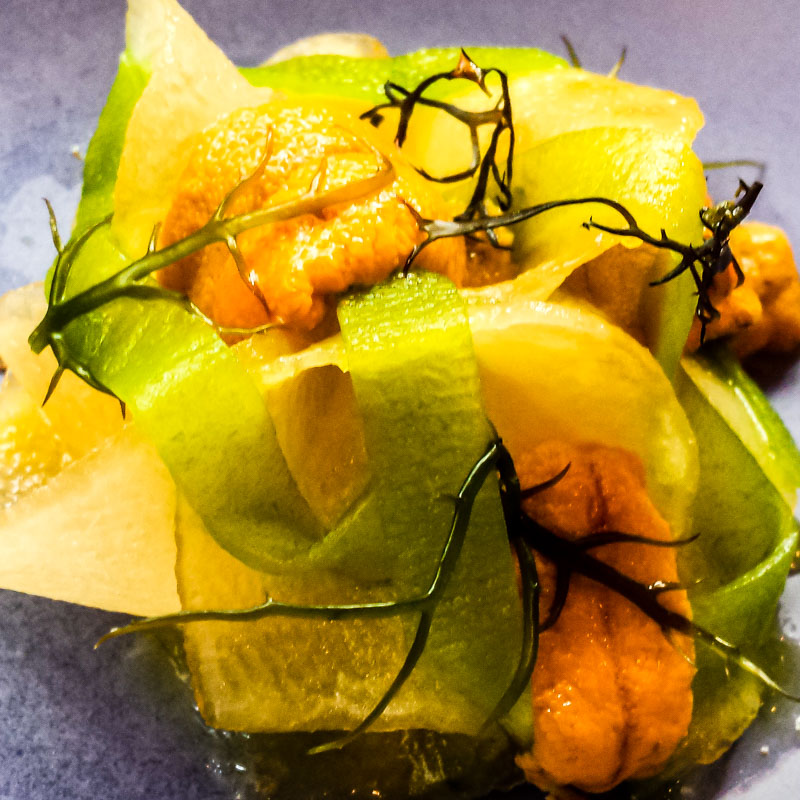 And So It Began…
My once-in-a-lifetime tiptoe through the ultimate foodie world. And I can only repeat folks: **17** courses. Each uber-unique in presentation, as well as texture and flavor. So what I'm saying here is – I'm happy to share with you pics and descriptions of each and every morsel. But it's gonna take awhile, so settle in and get ready to scroll, scroll, scrrroll!


Mater Elevations tasting menu, Course #1:
ROCK MOLLUSCS, Elevation: -10 meters
While I occasionally enjoy a cocktail when I eat out, my Central lunch tab was already set to hover in the 3 digit range and I feared that a cocktail might well run me an additional $30 or more. So I was delighted to find that the drink menu was actually quite reasonable – just 39 soles (~ $12) for… I honestly have no idea what was in it, but it was called "Chilcano Camu Camu" and proved to be rosily delish.

Click on any pic to enlarge the image.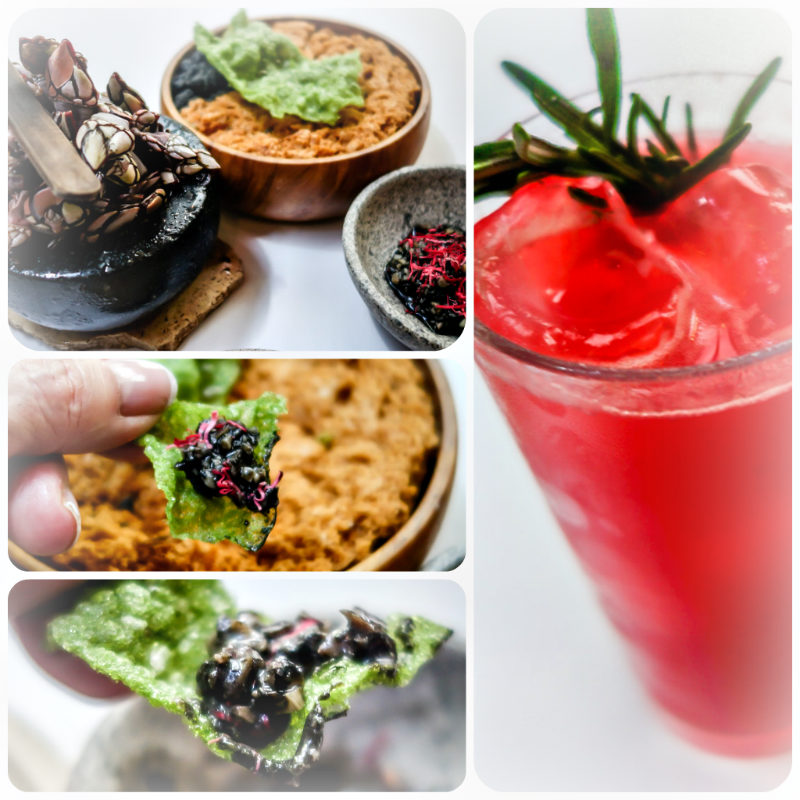 ROCK MOLLUSCS: Sea Snail – Mussel – Sargassum – Limpet
Note that right from the get-go, each of the (did I mention *17*?) courses weren't but a single amuse-bouche, but rather – more often than not, a course included 2-3 different smallish dishes.
Note also that the top left image shows a dainty wooden spatula – resting on… um, hard to say. As I recall, some sort of barnacles I believe (the outer shells of mussels?) In any case, these were NOT edible! Indeed, my waiter(s) were all very kind to meticulously point out just what was, and wasn't to be eaten as each course was presented.
The sargassum is a type of seaweed (presumably that's what the wee snippet of foamy green cracker is made of), and the other two dips? Both utterly delish, some combination of sea snails, mussels and limpets.

Mater Elevations tasting menu, Course #2:
DESERT PLANTS, Elevation: 180 meters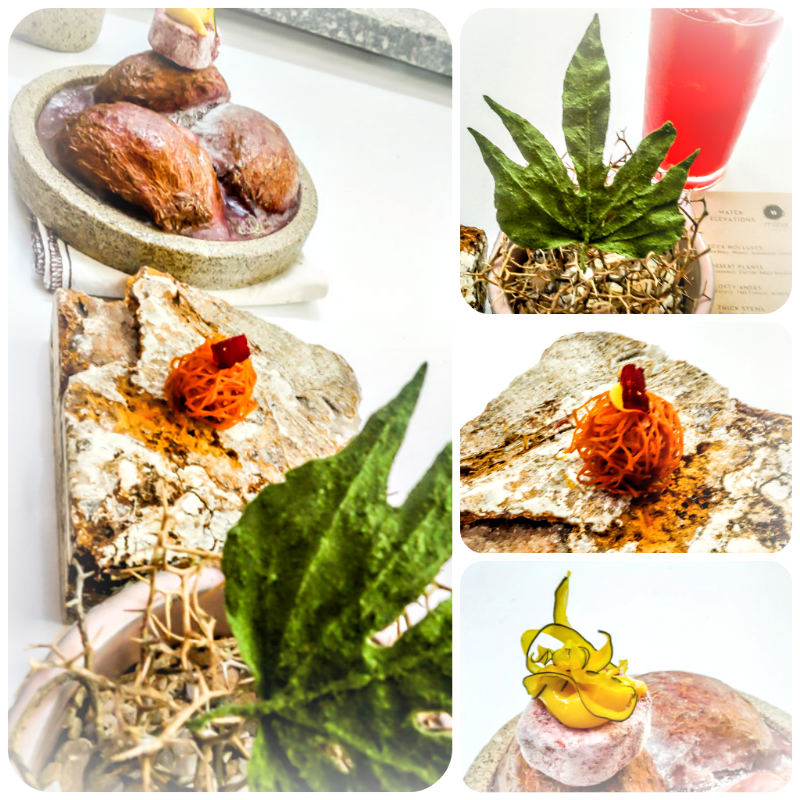 DESERT PLANTS: Huarango – Cactus – Sweet Potato Leaf – Loche
What? You've never consumed a sweet potato leaf? Well (now) I have. And let me tell ya – it's actually quite tasty!
The leaf is the "huarango" that tastes a little like nori with an appealing saltiness to it. The delicate orange sphere in the center is made of finely shredded sweet potato. And I believe the velvety yellow/green curls atop the marbled pink chunk is the cactus. But I have no idea where the "loche" fits in.
In any case, I must say – that frosty pink chunk proved especially yummy. And note too – many of the dishes were served on icy rocks or (as pictured here) frozen sweet potato bases like this.
Oh and… nope, I was wise enough NOT to ingest a mouthful of the thorns! 🙂

Mater Elevations tasting menu, Course #3:
LOFTY ANDES, Elevation: 3500 meters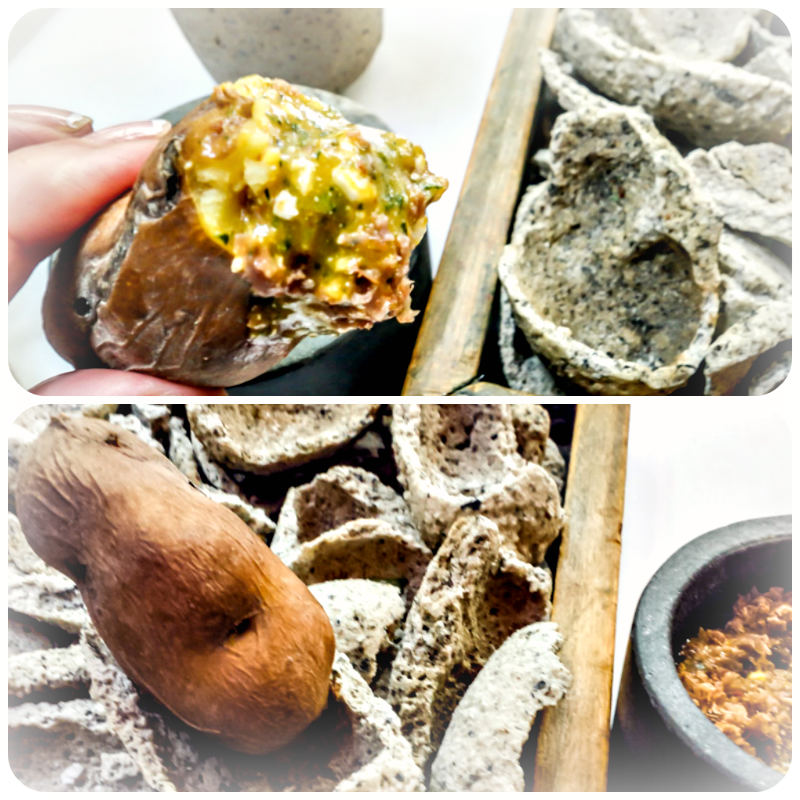 LOFTY ANDES: Potato – Tree Tomato – Alpaca – Muña Mint
Note that while the theme of the tasting menu was edibles that are found at varying elevations in Peru, the sequence of the 17 courses wasn't linear, but rather jumped around from sea level to the high altitudes, and various elevations in-between.
Also, here I might add that many of my pics are less than stellar, as I was snapping them with both my phone and my Sony RX100 – alas in low light with no tripod.
That said, for course number three, I was presented with a single 4 inch potato served atop the ashes it was cooked in – with a most yummers dipping sauce (which apparently included bits of alpaca).

Mater Elevations tasting menu, Course #4:
THICK STEMS, Elevation: 3500 meters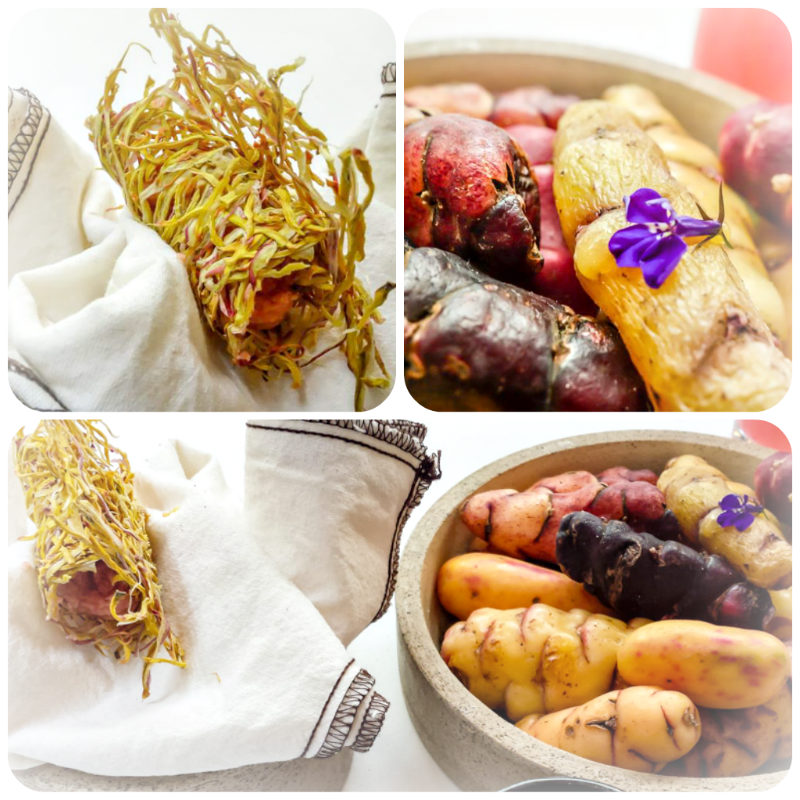 THICK STEMS: Olluco – Chincho – Onion – Field Mustard
This duo of tasty morsels came with a savory dipping sauce (not pictured). Same elevation as the previous "Lofty Andes" course (~11,500 feet), so higher than my perch in the Ecuadorian Andes, where (as in Cuenca), "papas" (potatoes) predominate and come in *thousands* of varieties.
Note that the straw-like roll-up was filled with a creamy sweet mousse – and the combination of crispy/creamy texture made it one of my favorite bites. The colorful "ollucos" are the potatoes, but they have an entirely different texture/flavor – crisp, more like a jicama (even when cooked) than your ordinary Idaho 'tater. They range in color from pale or bright yellow to orange, pink, and red, and come in many different sizes, from tiny like grapes, to larger than baking potatoes. I've seen them in their various forms filling baskets in my local "9 de Octubre" market here in Cuenca, and have even tried a few of the many varieties. The "chincho" is an aromatic herb native to Peru, long cultivated by the Incas.

Mater Elevations tasting menu, Course #5:
WATERS OF NANAY, Elevation: 680 meters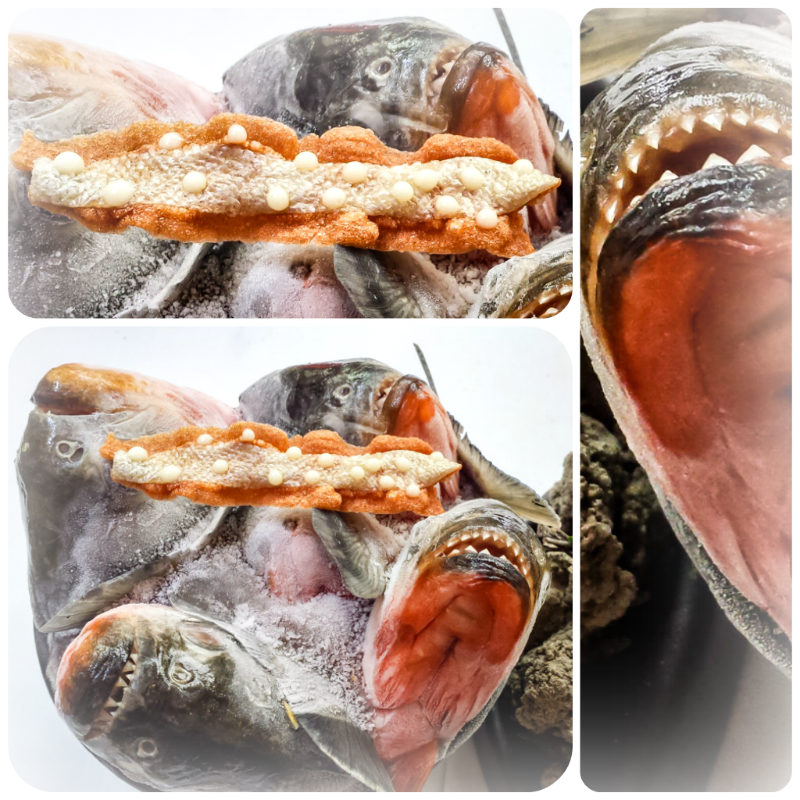 WATERS OF NANAY: Piranhas – Cocona – Achiote – Huampo Bark
Yikes! We're not even 1/3 of the way through my 17 courses here, and already I'm staring at a menacing bowl of piranhas. Yes, they do indeed have seriously sharp teeth, but suffice that far more piranhas have been eaten by humans – than the other way around (and now – I can count myself among them!) 🙂
But seriously, the presentation of this tiny thin strip of Amazonian fish set on an orange crispy, and dotted with succulent bits of cocona fruit (a.k.a. "Jewel of the Jungle") cream was truly remarkable to behold. Yes, real piranha fish heads, all frozen and glaring at me as I tucked into the tiny morsel of sushi. In a word: HEAVENLY!

Mater Elevations tasting menu, Course #6:
FOREST COTTON, Elevation: 300 meters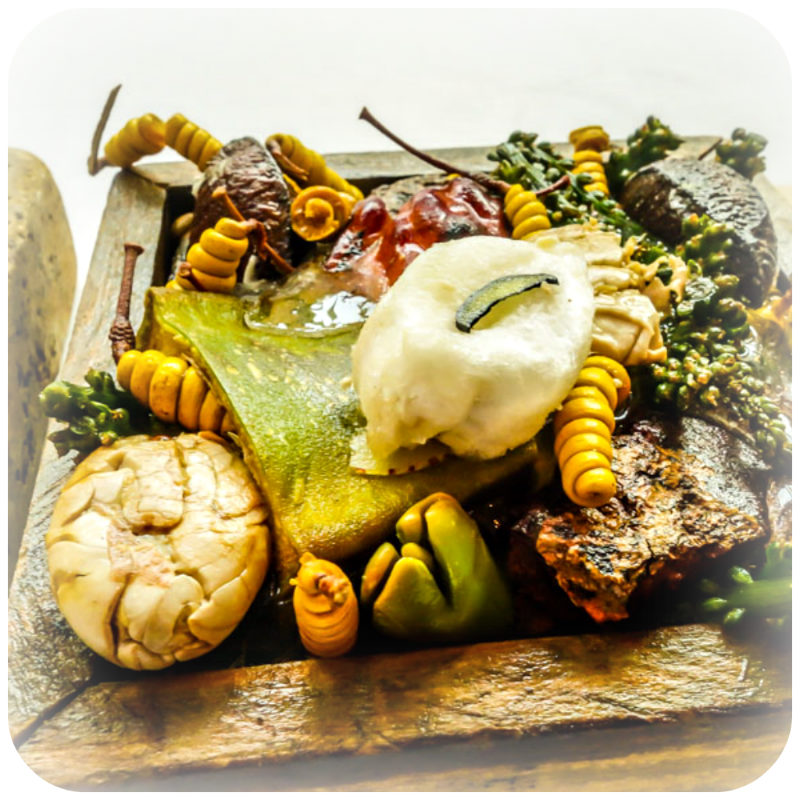 FOREST COTTON: Churo – Gamitana – Pacae – Llanten
I wasn't even halfway through the tasting menu, and my brain (and my mouth) were already dizzy from all the new tastes, textures and creative eye-candy presentations. Here, "gamitana" is a type of South American fish, "pacae" a type of fruit (a.k.a. "ice-cream bean tree") and "llanten", a medicinal plant in the plantain family.
And the "churo"? (Only via some diligent post-dining Googling), it turns out that "churo" is apparently some sort of giant river snail that hangs out in the Peruvian Amazon. But… I don't recall anything in this course that resembled such a beast (and I've long been quite fond of snails). Indeed, as I recall – only the clever namesake ("Forest Cotton") centerpiece was edible: the morsel of "cottony" deliciousness set atop a potpourri of inedibles.

Mater Elevations tasting menu, Course #7:
HIGH JUNGLE, Elevation: 2800 meters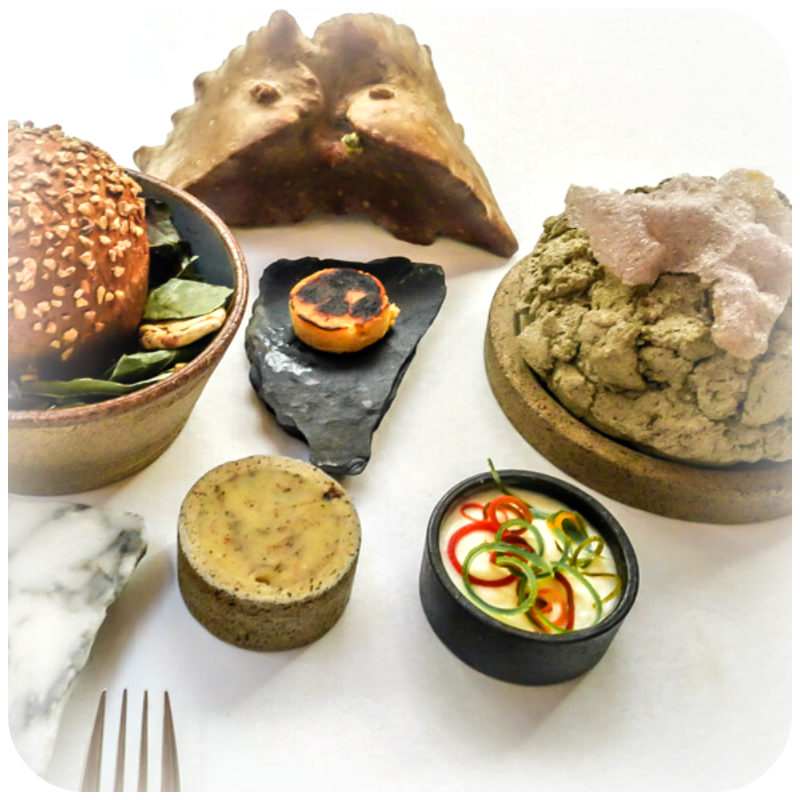 HIGH JUNGLE: Macambo – Cassava – Copuazú – Air Potato
The most robust course yet (yeah, like the previous 6 courses left me starving – NOT!). The cacao bread roll (nestled in smoked cocoa leaves) was absolutely divine in and of itself – but the cassava patty (caramelized on the outside) and the snippet of crunchy pink foam cracker, along with the herb butter and a most delectable dip made this one of my favorite courses.
The creamy dip was no doubt the "copuazú" – a tropical rain forest fruit related to cacao. Indeed, I especially like the Wikipedia description of it: "The white pulp of the copuazú has an odour described as a mix of chocolate and pineapple and is frequently used in desserts, juices and sweets. The juice tastes primarily like a pear, with a hint of banana."

Mater Elevations tasting menu, Course #8:
MARINE SOIL, Elevation: 0 meters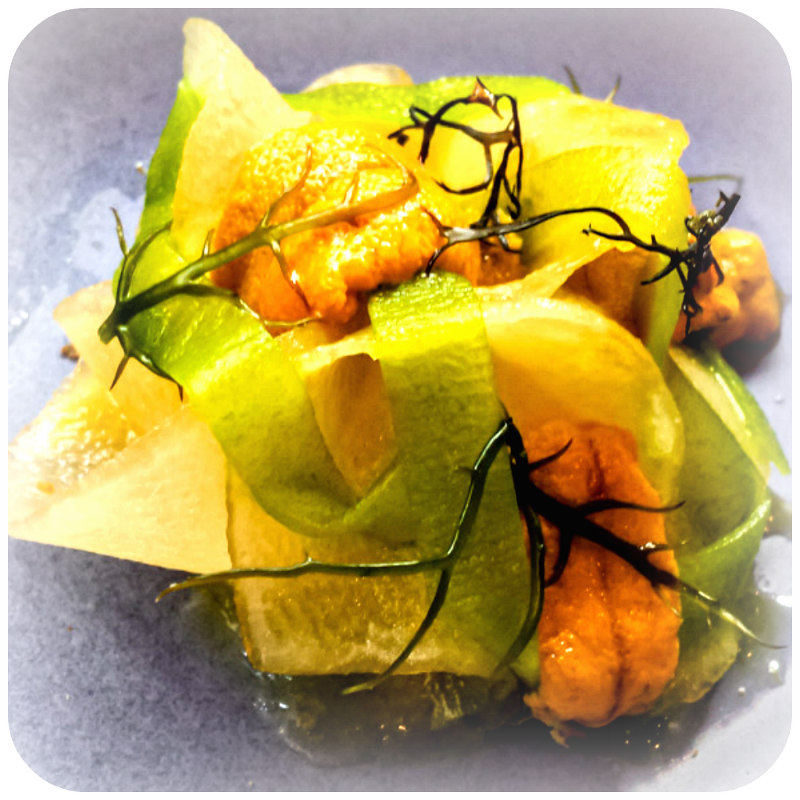 MARINE SOIL: Sea Urchin – Pepino Melon – Razor Clam – Seaweed
Sea Urchin you say? OMG – sign.me.up!
In this dish (and many of the others), after feasting my eyes on the presentation – often there was a surprise hidden beneath the playful exterior. In this case, it is the razor clams tucked inside the mound of melon ribbons, morsels of sea urchin and bits of edible seaweed. Pepino melon (the translucent yellow shavings) I'm actually familiar with at my neighborhood mercado in Cuenca. The flavor is a cross between a cucumber and a melon.

Mater Elevations tasting menu, Course #9:
TREE SKINS, Elevation: 1200 meters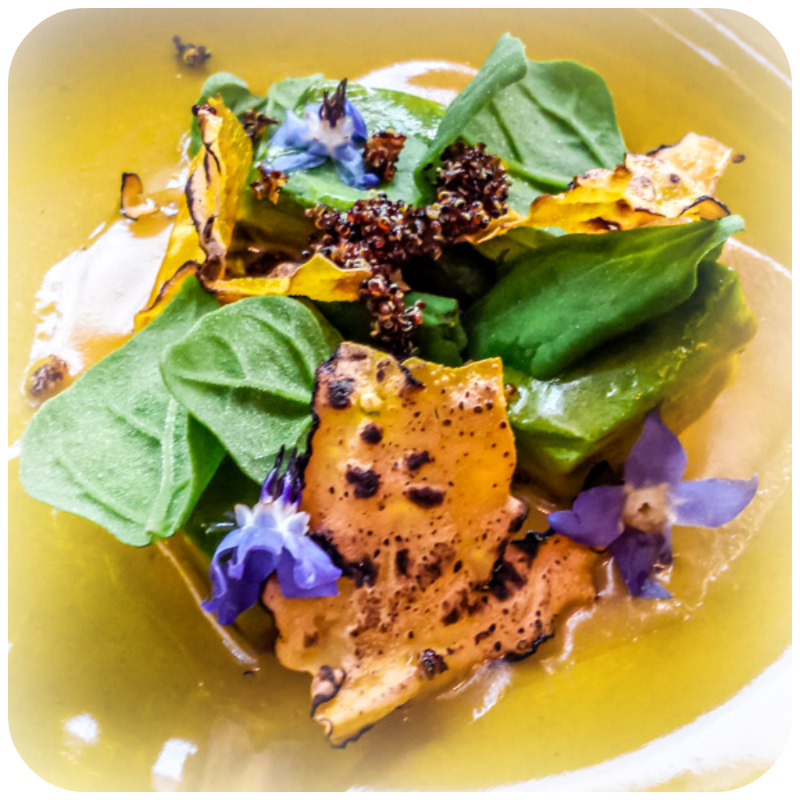 TREE SKINS: Avocado – Huacatay – Kañihua – Macre
Seriously – whodda thought "Tree Skins" could look and taste so good?
The "avocado" is pretty straightforward and identifiable in this dish of course, and the "kañihua" (the dark crunchies sprinkled atop) a type of quinoa. But the "huacatay"? Apparently a.k.a. "black mint", it's a native Peruvian herb related to marigold and tarragon, that has a pungent aroma somewhere between mint and basil.
The "Dorito" looking cracker (clearly a blasphemous gourmet analogy) is the "macre", a type of South American pumpkin. Apparently macre is the largest squash in the entire world – often weighing more than 160 pounds! Mashed with sweet potato, it's also the batter base for "picarones" (much akin to feather-light doughnuts and/or the legendary "buñuelos" of Mexico) that are sold on street corners all over Peru.

Mater Elevations tasting menu, Course #10:
LAND OF CORN, Elevation: 2010 meters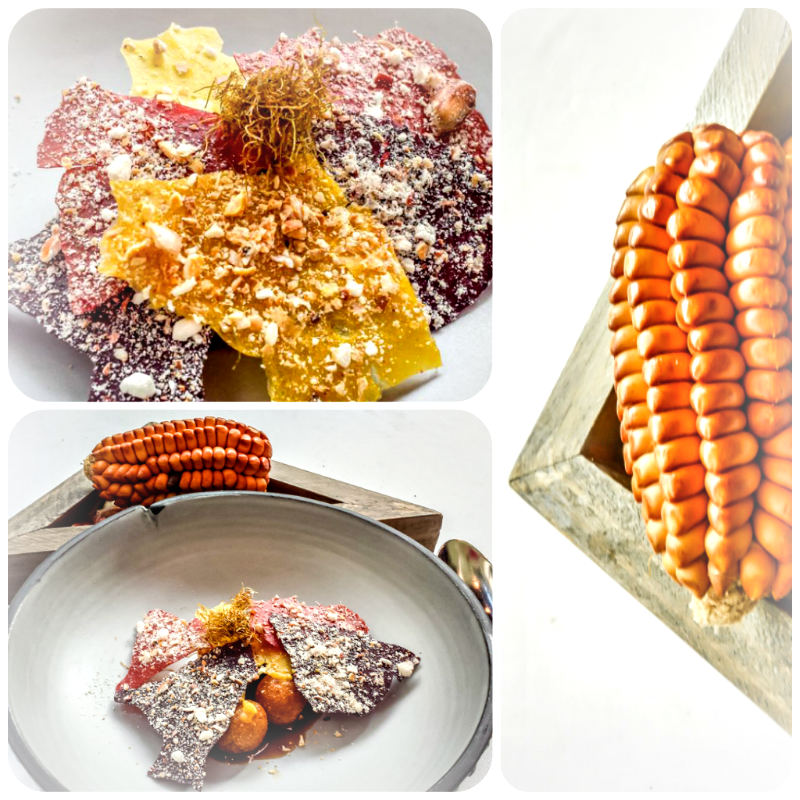 LAND OF CORN: Kculli – Purple – Chulpi – Piscorunto
Another of my favorite courses – made up of four different types of corn, and so prettily presented. Another "hidden" surprise of a trio of deep fried corn pudding balls – soft and yummy on the inside and lightly crispy on the outside.
Of the potpourri of corn crisps covering the corn pudding balls, the "kculli" is the purple one – a corn variety that is also often used in a drink called "chicha morada" which is likewise common here in Ecuador. Indeed, we're presently poised for "La Dia de las Muertos" here in Cuenca, and large and small aluminum pots filled with simmering chicha morada are popping up in front of most every tiny tienda – even some of the tech shops!

Mater Elevations tasting menu, Course #11:
COLORS OF AMAZONIA, Elevation: 450 meters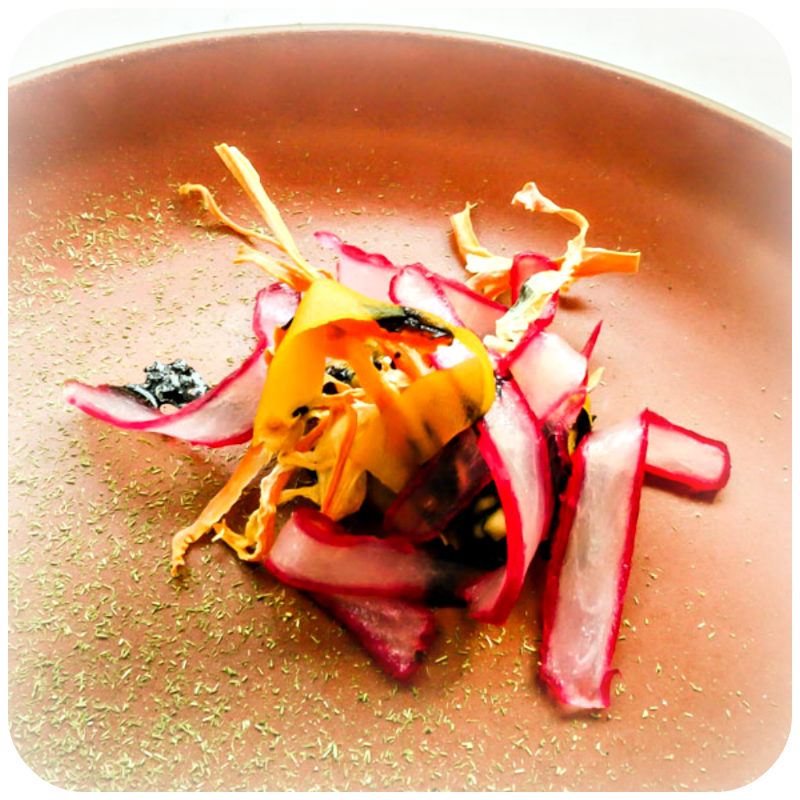 COLORS OF AMAZONIA: Paiche – Yacón – Bellaco – Lemongrass
Aptly named, an especially colorful dish in pink, yellow and green. The main star here is the "paiche" – a giant fish from the Amazon River that can reach up to 10 feet in length! Presented here in paper-thin ribbons edged in bright pink atop a mélange of sweet yacón (a.k.a. Peruvian ground apple), bellaco (a type of Peruvian plantain/banana) and lemongrass.

Mater Elevations tasting menu, Course #12:
COASTAL HARVEST, Elevation: 20 meters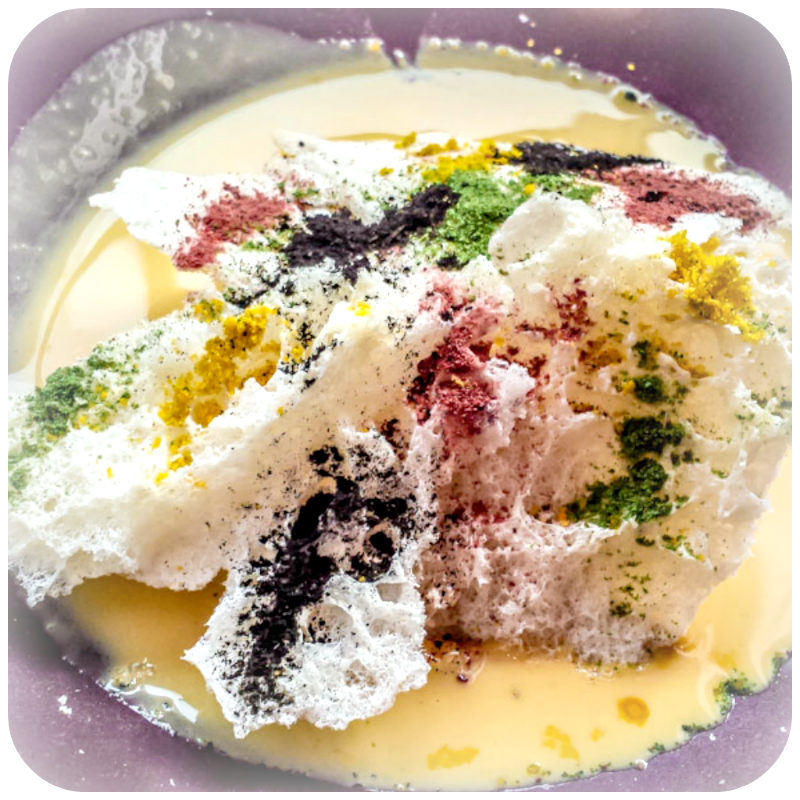 COASTAL HARVEST: Scallops – Yellow Chili Pepper – Borage – Tumbo
Happily, the 17 course Central tasting menu is chock-full of my favorite all-time eat: all manner of uber-fresh seafood. Thus this delectable looking/tasting morsel was another of my favorites.
Much like a warm ceviche, the dish is a tantalizing concoction of scallops dusted with powdered borage and yellow chili, floating in a tangy sauce of "tumbo" (banana passion-fruit (I mean, could there be a more delish combo of fruit flavors?)

Mater Elevations tasting menu, Course #13:
SEA CORAL, Elevation: -10 meters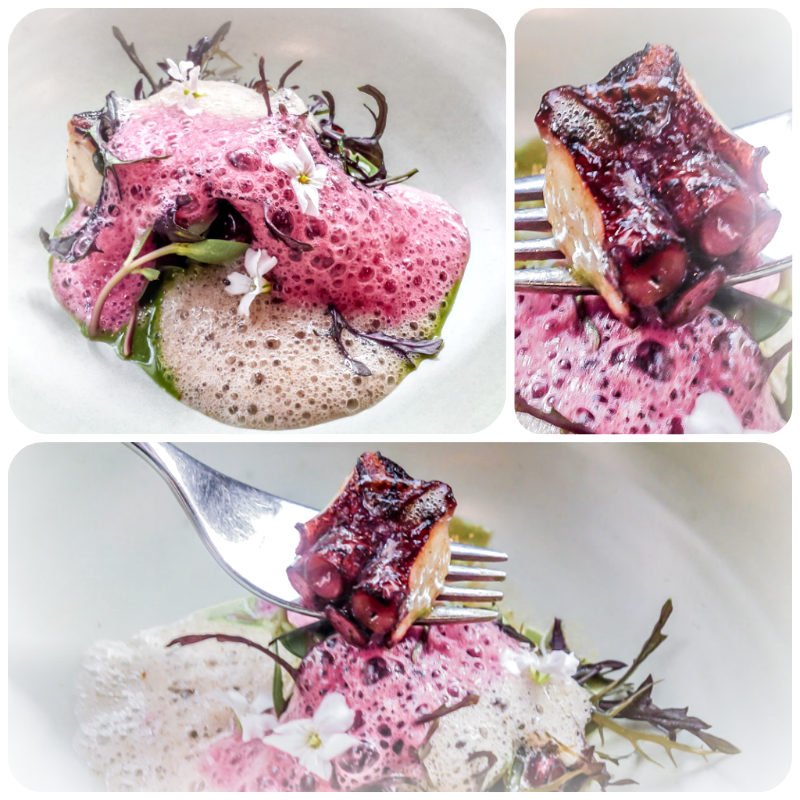 SEA CORAL: Octopus – Crab – Squid – Sea Lettuce
More seafood? Bring in ON! What could be better than a frothy mix of fresh octopus, crab and calamari? Garnished with a tangle of sea lettuce and a few edible blossoms – this "-10 meters" (i.e. 30 foot beneath the sea) morsel was truly extraordinary (among a near 4-hour boatload of culinary extraordinaries!)

Mater Elevations tasting menu, Course #14:
LOW ANDES MOUNTAINS, Elevation: 1800 meters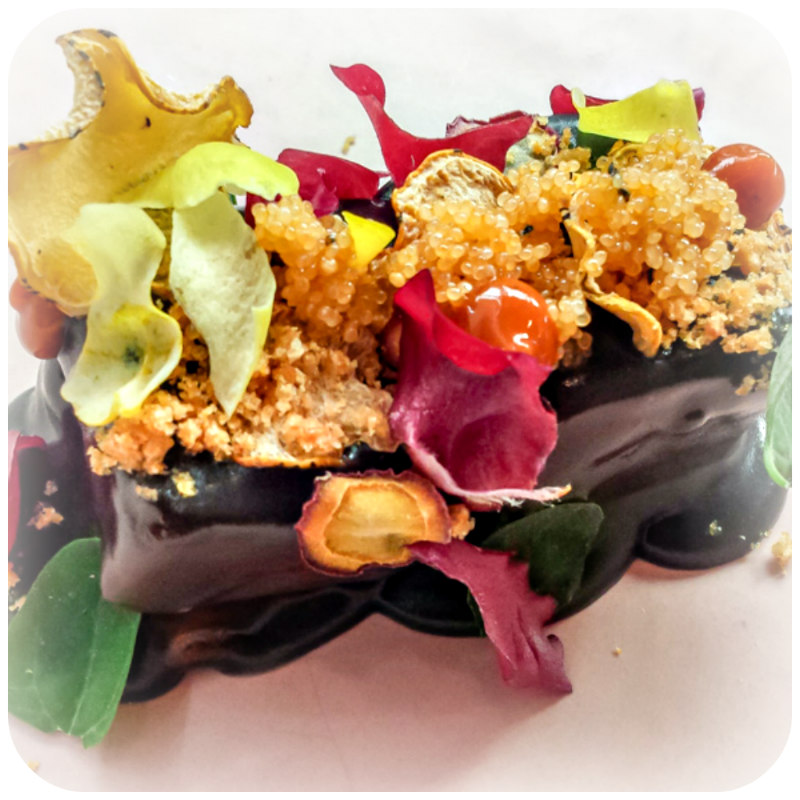 LOW ANDES MOUNTAINS: Pork – Black Mashwa – Panca Chili Pepper – Kiwicha
At a smidge more than a mile high, we finally greet some "carne" (meat). And oh my, such a delectable course it is! A morsel of succulent glazed pork filet topped with a crunchy cracker of (yet another) ancient Andean tuber ("mashwa" – apparently the Incas included them in their soldiers' rations) and "kiwicha" (similar to quinoa). All spiced with panca chile, coriander and cumin and festooned with the usual assortment of ubiquitous blossoms.

Mater Elevations tasting menu, Course #15:
HUMID GREEN, Elevation: 3700 meters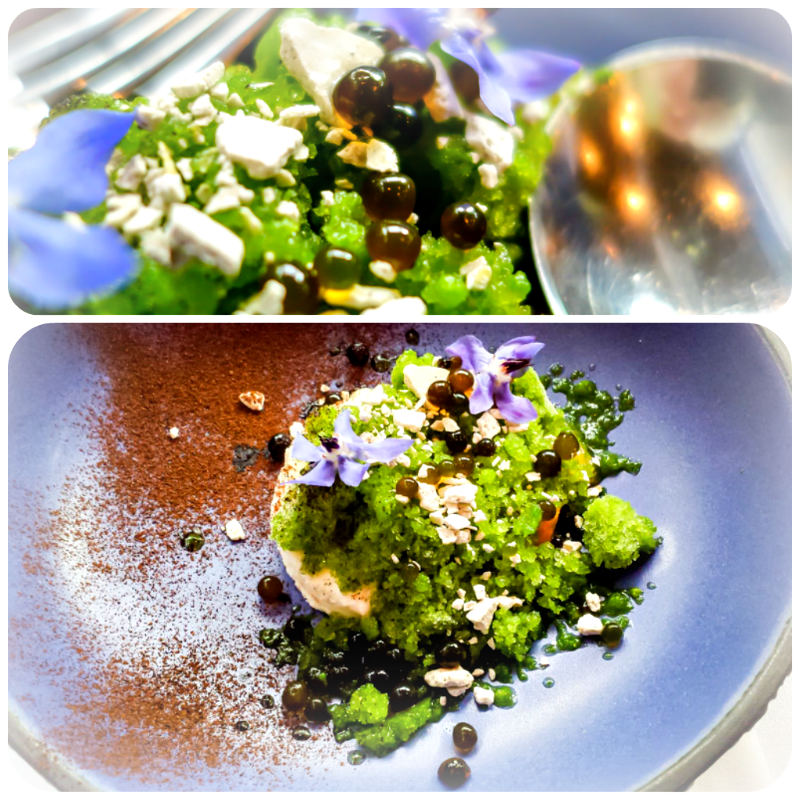 HUMID GREEN: Caigua – Cushuro – Sweet Lemon – Chaco Clay
Nearing the finish-line here, this was the first of three different "postre" (dessert) courses. The "cushuro" pictured here are the glossy edible algae balls that you can see Chef Virgilio painstakingly collecting by hand at 12,000+ feet in his featured "Chef's Table" video.
And the "choco clay"? If that sounds a bit daunting, consider that many Andean peoples have been happily ingesting it for its (if not tasty, then medicinal) properties for centuries.
In any case, suffice the dessert was among the prettiest concoctions: a dab of meringue topped by a cascade of icy "caigua" sorbet plus sprinkles of glistening beads of the cushuro – plus a light dusting of the chaco clay. All-in-all – exceedingly sublime, and chock-full of extraordinary new taste sensations.

Mater Elevations tasting menu, Course #16:
AMAZONIAN WHITE, Elevation: 400 meters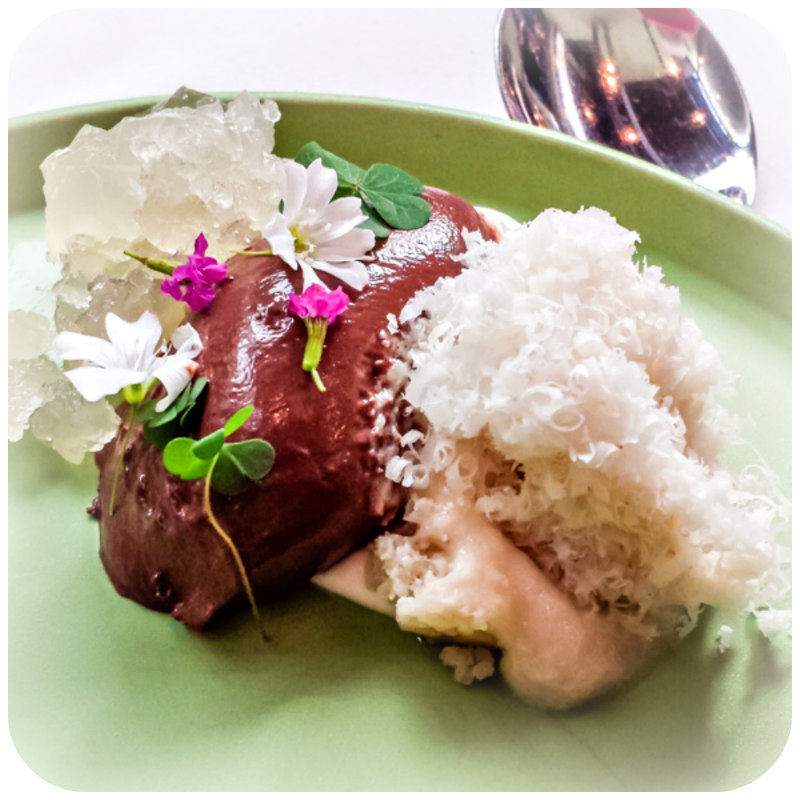 AMAZONIAN WHITE: Cacao – Chirimoya – Bahuaja Nut – Taperiba
And for the second sweet treat – clearly no near $200 lunch would be complete without a bit of chocolate, no?
A creamy cacao mousse wedged between a tumble of jellied taperiba (a cousin of mango) and a gob of sweet chirimoya (custard-apple), topped with a stunning froth of shaved bahuaja nut (similar to macadamia).

Mater Elevations tasting menu, Course #17:
MEDICINALS AND PLANT DYES, Elevation: 3050 meters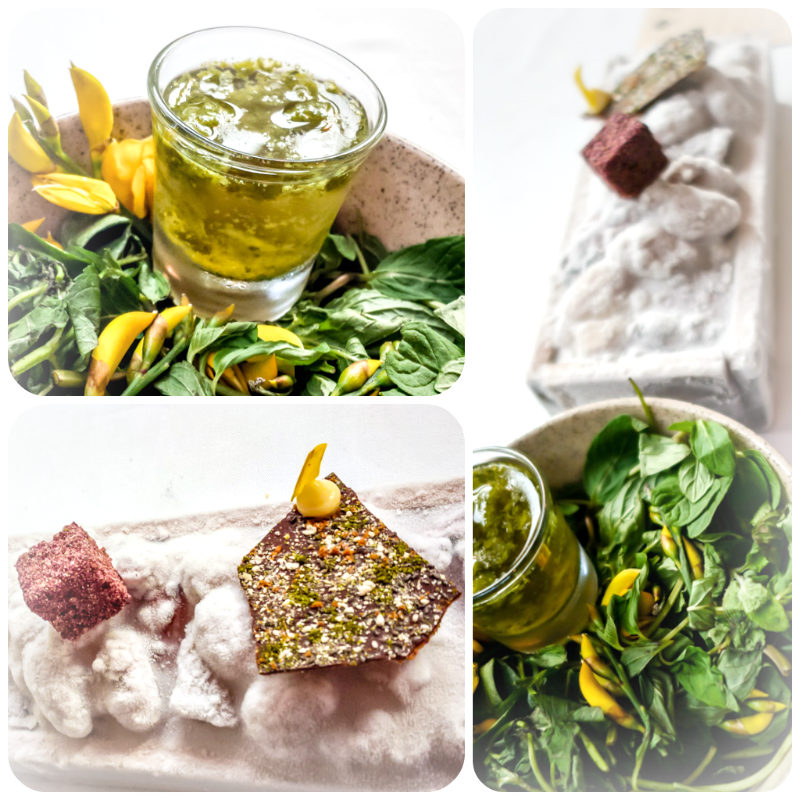 MEDICINALS AND PLANT DYES: Congona – Matico – Malva – Pilpili
What more could a lass want? After 16 distinct courses, I could barely squeeze in the grand finale: a snippet of chocolate dusted with "matico" and "pilipili" (both peppery) and a single cube of cake soaked in some divine syrup – perched on a planter of frozen pebbles. Plus a most intriguing shot of "congona" – some sort of warm, herb drink. Truly a most eclectic trio of treats to top off a meal that well deserves an adjective that I (deliberately ) use most sparingly: AMAZING!

Oh, and the final treat…
As if 17 incredibly unique and delectable courses weren't enough of a delight, after my final bite of gourmet deliciousness – my waiter presented me with a beautiful keepsake of my Central experience – a most charming book made of handmade paper and filled with colorful hand drawings of many of the exotic Peruvian ingredients I'd enjoyed on this epic culinary occasion.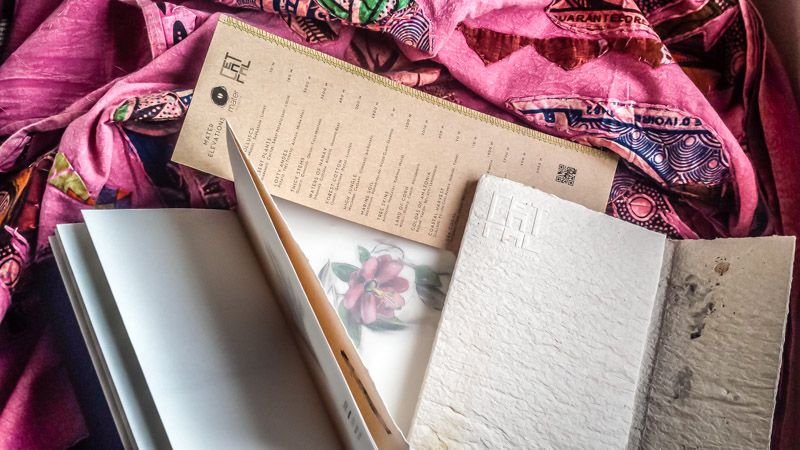 WHEW!!!
As I said, I was full after course #9, but I'm proud to say I lowered my head and (happily) persevered though the remaining 8 courses. 😉
Overall, it was truly one.incredible.meal. So much variety for both the eyes and the palate. Each course an adventure in munching on modern edible ART.
While there were some morsels I liked better than others (and quite a few that actually made me SWOON!), I hafta say – each and every bite was an entirely new and remarkable taste sensation.
The best way I can sum up my near $200 lunch at Central in Lima, Peru?
You don't go there to merely eat. You go to have a gastronomic
*EXPERIENCE*.
But um, so Dyanne – did you find even a smidge of downside?
Well, now that you mention it… It's worth noting that Central offers both a 17 course Mater Elevations tasting menu and a more diminutive version with only 11 courses. And while I'd not want to miss out on a single one of the 17 courses I enjoyed, I must say…
17 courses was a bit over-the-top. Indeed, after a dozen of the eye-popping/mouth-watering taste sensations – it was hard to keep track of the many different dishes. Thus, while opting for an abbreviated tasting menu in advance would no doubt prove an exceedingly tough choice (given that one would always wonder – which 6 incredible taste treats did I miss?), I think any such gastronomic experience would best be limited to no more than a dozen tasting courses.
That said, clearly all manner of eats (be they 50¢ street food or a rare $200 World-class haute cuisine lunch) will always remain an integral part of my travels. Indeed, grazing ever new global eats is one of my key reasons for traveling. And believe-you-me – even for this dodderin' backpackin' frugal lass on but a minimal fixed income – dining at Central in Lima, Peru was worth.every.penny. Truly a most unique and extraordinary culinary experience, and one that I will forever remember.
And even better – as many of the oddball ingredients in my gourmet Peruvian lunch can likewise be found here in my Andean home in Ecuador, trust that I now have plenty of new "comida" (food) to keep an eye out for and try here in my Cuenca "cocina" (kitchen).

A Few Final Pics…
Good-NESS. Already nearly *THREE THOUSAND WORDS* here (not to mention 35+ pics!) and my fingers are getting a bit weary. But just a couple more pics to share:
A photo of "the Man" (Chef Virgilio Martínez Véliz) and his culinary playground: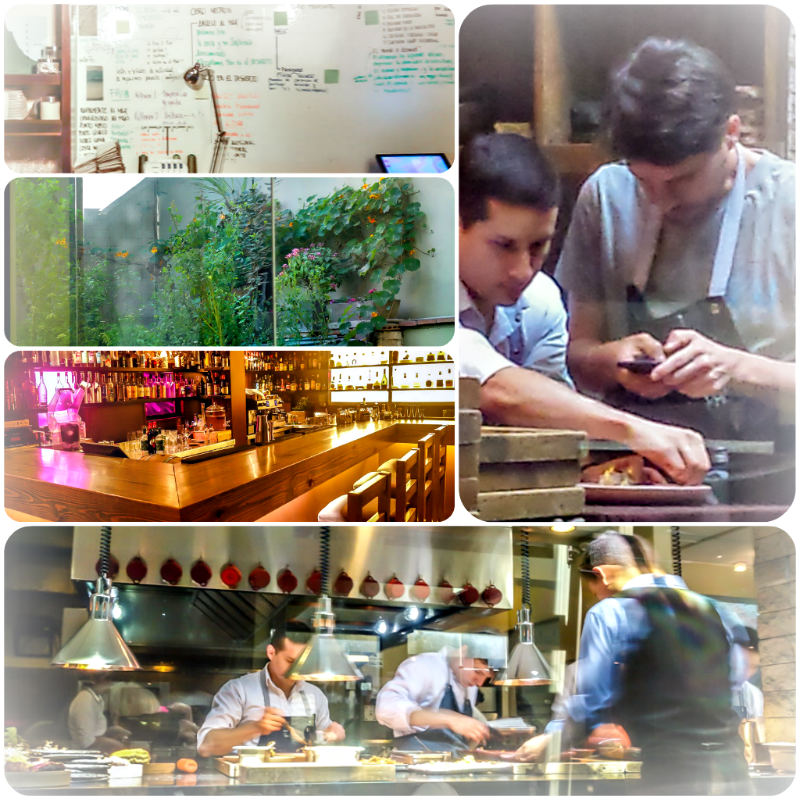 Note: in recent years, he's also opened a restaurant in London, and just last March, another Central-esque restaurant in Dubai (flying Peruvian ingredients 14,735 miles from Lima to Dubai).

Plus a final pic of me smiling with a few of the Central staff. Indeed, surprisingly still smiling – even after I received the tab for all that gastronomic deliciousness! 😀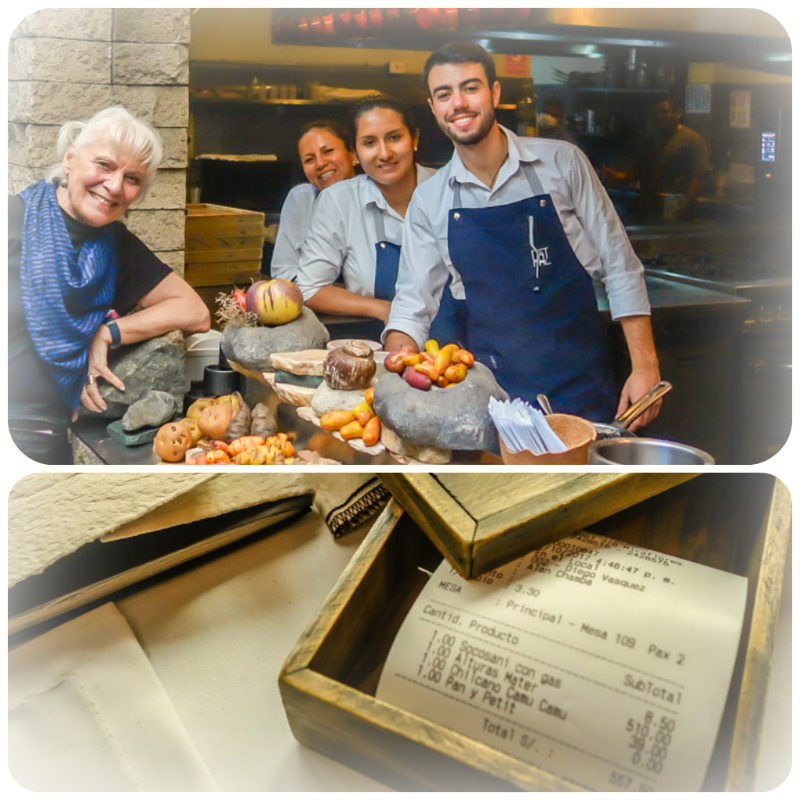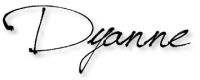 P.S. New here and curious who I am? Check my full bio to learn more! Better yet, subscribe to my email list (so you never miss a single post) and get a .pdf of my 30+ Best Travel Tips (trust me, at least one is sure to be a revelation).
---