Morocco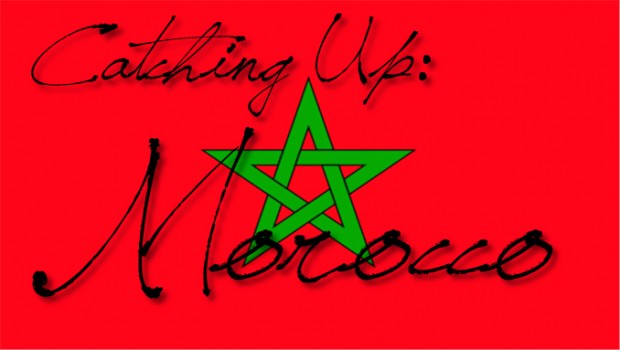 Published on April 16th, 2014
2
Catching Up Series: Morocco 2 of 8
Continuing with three more entries as I made my merry way across the Atlantic – only to hit a major glitch in my connection from Madrid to… well – do read on. Just goes ta show, often it's the seemingly most acky travel glitches that lead to the very best travel serendipity.

Date: 21 September 2009
Pecked from: Seattle
Passing Through Madrid (again…)
Much as I did on my way to South Africa, I will stop briefly in Madrid (on a rather tighhhhht 2 hour connection) to connect from my Iberia flight to my EasyJet flight which will take me to Marrakech.
Did I mention… I waited 'n watched for MONTHS til the air fares to Morocco came down out of the stratosphere (normally around US$1,200 or more from Seattle!) And finally, a few months ago, I grabbed a rt. Seattle/Madrid on Iberia for $508 and the EasyJet flight from Madrid to Marrakech for just $100 – thus round trip from Seattle to Morocco for little more than US$600 – yay! ;D
On the return I have an overnight in Madrid between flights, but that works out sweetly too, cuz…
I've made arrangements to stay with a wonderful "couchsurfing" lass (couchsurfing.com – a world-wide network of fellow vagabonds who are happy to host travelers for a night or two when they're passing through). Indeed, I myself have hosted a half dozen young lasses from Austria, Germany, Ecuador, Costa Rica, Russia and… Kansas! So now it's my turn to couch surf on the other side of the globe.
---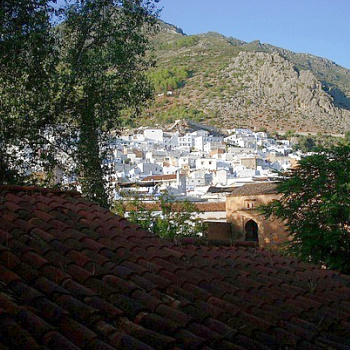 Date: 22 September 2009
Chefchaouen, Morocco
Marrakech, errr… make that – CHEFCHAOUEN!!!
LOL! First of all – cracks me up! Here I am, pecking on an Arabic keyboard (e.g. with the Q where the A should be, the W at the bottom left, the M fqr, I ,eqn – mean far right – and Arabic figures scattered hither and yon! And all this, on a browser that's in FRENCH!
Ah well, I just answer all the dialog boxes with oui!
O.K. Needless to say it will be difficult to peck so will try to be brief.
Actually I should entitle this 1st entry from Morocco:
CHEFCHAOUEN: Moroccan Nirvana!
No, no you say – I was suppose to start in Marrakech, yes? Uh, nope.
Fast rewind: flight to Madrid went splendidly, but… we landed a bit late and… suffice I made it to the EasyJet check-in counter (uh, 3 terminals away uh… a mere 3 MINUTES late, so…
They wouldn't (note utterly NO apostrophe on this keyboard! – nor right paren for that matter…
ANYWAY – they would not let me board. Thus my options were: 1. overnight in Madrid and take the next flight to Marrakech the following day, or 2. fly to either A. Casablanca or B. Tangier that same day.
Long story short? I opted for the latter – Tangier, mainly because Tangier is just 3 hours by bus from Chefchaouen – a lovely place in the Rift mountains I had planned to visit later in my itinerary.
Thus a mere 55 minute flight later, I landed along the sunny beaches of Tangier – errr… without a clue how to proceed.
Ah, but at least I was finally in Morocco!
Fast forward – no less than 4 different taxis, and a most blessed Moroccan-Spanish angel later I landed in Chefchaouen……….absolutely THE most magical place I have ever seen.
Seriously – mere words fail. This lovely mountain village is utterly the most charming place on earth. Trust that if I could peck better, I would blather for pages with the superlatives, but suffice for now, you will have to settle for but a picture or two – presuming I can get this stupid Arabic-French techno contraption to cooperate – stay tuned…..
And til then trust that so fqr – in just 48 hrs! – Morocco is 100 times better than I ever dreamed, all is fine, and I am having the time of my life!
Dyanne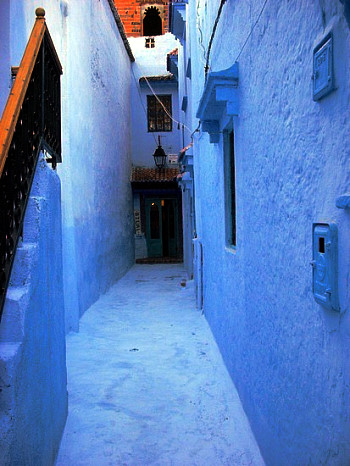 Date: 24 September 2009
Pecked from: Chefchaouen, Morocco
More superlatives on heavenly Chefchaouen
Allllllll RIGHT! Now we're back in business!
Found a different Internet "Kasbah" @ twice the dirhams (10/hr.) of last nights, but oh so much better. Each computer can be switched independently to different languages – including the keyboard now works just like the USA's good ol' QWERTY!
The browser's still in French mind you, so am still answering dialog boxes w/ "Oui" but – they even tell me that I can upload pics much faster – so with any luck I can send you all a boatload of pics before I close.
Impossible to know where to begin w/ the details but will try to just jot stray notes:
…(utterly miraculously!) I met THE most angelic Spanish woman at the airport in Tangier – who just HAPPENED to also be headed to Chefchaouen. She's been there many times and adores it. So… we were able to share 3 taxis to get here, and she was ever so helpful in orienting me to this – did I mention absolutely MAGICAL mountain village?!
btw, I sent you all postcards today so hopefully you'll get them before I get home. LOL, at first I merely asked for stamps and waved my postcards – he sold me 7.8 Dh stamps for each and I went on my merry way. Had a lovely lunch in the Plaza and wrote you all a bit, and when I returned to mail them – I happened to mention that they're headed for "America" and he kindly replied that I needed *2* stamps for each. Apparently 1 stamp would have only gotten them to Europe – LOL!
O.k. so what can I say? This place is idyllic. Picture little houses/shops clinging to the mountainside – all washed in vivid blue. Narrow, winding (I pride myself on getting lost on a regular basis!) cobblestone streets. Everything is up/downhill. The PERFECT place to mend a sprained knee! 😉
But seriously, I'm doing just great but awfully glad I brought the cane.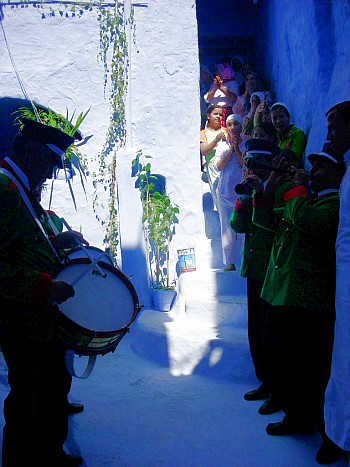 This morning I stumbled upon preparations for a wedding, simply by following the sound of a 4 piece Moroccan band. The women invited me in for tea and sweets – and I let the little ones play "paper toss" on my iPod! Needless to say, one of those wonderfully lucky bits of travel serendipity.
Each night I've been having snails for dinner from a little stand just off the Plaza (see pics to follow). I discovered it on my first night and am now addicted to a little bowl of snails each evening. Each bowl is about 1/2 cupful for 5 Dh, plus you get another bowl of – THE most delicious – snail broth on earth! You can also get a little bowl of garbanzo beans in the same broth. Utterly delicious!
For breakfast, I come to the Plaza and for 20 Dh have a lovely breakfast of: a tall glass of fresh, fresh, freshly squeezed orange juice, plus a glass of espresso filled w/ hot milk; plus THE most delectably fresh bread plus little pots of fresh butter (I swear they churned it that morning!), some fresh cheese (crumbly kind of like feta, but sweeter) plus pots of jam and honey. Yummers!
I'm actually getting rather known by a few of the locals along the little streets and in the Plaza. There are a few other tourists here, but not many. So I guess I stick out like – that ol' American lady w/ the cane! 😉
Seems I'm just blathering here. So many details, so many lovely memories that I'll remember forever.
Tomorrow I'm off to Fes. 4 hrs. by bus (FWIW, 75 Dh) Surely many more adventures await me in Morocco (not to mention that elusive camel!), but quite honestly – if Chefchaouen were the only place I visited in Morocco, I'd be perfectly happy! Already I feel like I've seen the "real" Morocco, and it's right here in Chefchaouen.
o.k. enough blather – time to gulp, and try uploading some of those pics I promised.
Cross fingers…
Arghhh – the pics aren't happening so will send via email again
"…pics aren't happening…"
Clearly just a mere 5 years ago, the technos of traveling were still a bit dodgy.
Nosireee – no such thing as wifi at every Starbucks (and blessedly, there was nary a Green Mermaid to be found in Chefchaouen) and even the dimly-lit, grungy Internet cafes were few and far between (not to mention those %#@! Arabic keyboards, and digi-juice at the speed of… those delish snails I was slurping most every night!) 😉