Travel Photo Roulette #119: BLUE (And the winner is…)
I'm delighted that we managed to nearly TRIPLE the number of entries for this, the 119th round of Travel Photo Roulette – thanks to all who submitted their favorite "BLUE" image. It was a tough choice, but shan't keep you in suspense a moment longer…
THE WINNER OF TRAVEL PHOTO ROULETTE #119 "BLUE" IS:

ELAINE at TripWellness.com!
Congratulations Elaine, your "BLUE" image of a jellyfish amid the aquamarine waters of Looe Key is both remarkable and stunning! Now it's your turn to host the next Travel Photo Roulette competition: TPR Round #120!
(Scroll down to see all the entries for TPR Round #119)
---
---
WHAT THE HECK IS TRAVEL PHOTO ROULETTE?
First of all, for those readers who aren't bloggers (you know, the sane ones, the ones who have a l.i.f.e. and aren't perpetually glued to their WordPress screens), Travel Photo Roulette is a friendly photography contest where the winner of the previous round gets to pick the next theme, host the contest and choose the next winner. It's a way to share travel memories, enjoy beautiful photography and discover some new blogs.
The last TPR was hosted by Anne in Australia (Let Me Be Free Blog) with the theme of TRADITIONS. And while I had little competition (just three other entries), nonetheless I'm delighted that my precious image of a young Burmese lad applying thanaka (a pale yellow paste) to his cheeks at the break of dawn was selected as the winner of TPR #118: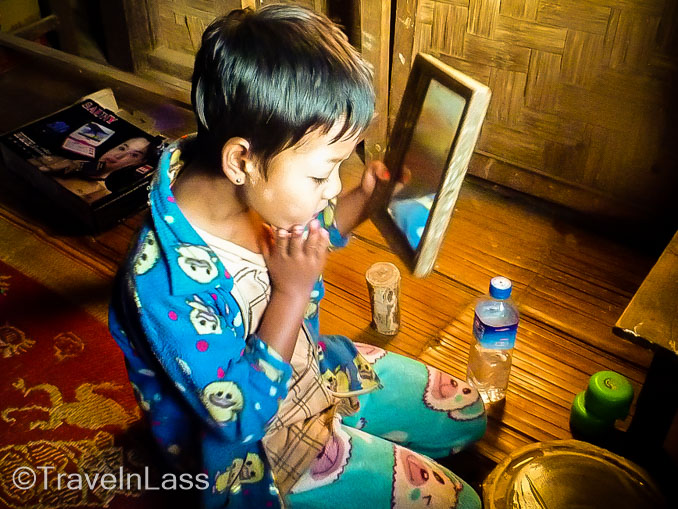 So now it's my turn to come up with a new theme for this, the 119th round of TPR. The truth is, this long-running travel photo contest (more than *5* years now – started waaay back in 2010 by my friend Jeremy at LivingTheDreamRTW.com) seems to have lost some of its sparkle. Not surprisingly, after more than 100 "rounds", participation has been lagging lately. So in order to encourage more entries this round, I thought I'd keep the theme super simple, and also add a bit of dazzle to the game. Same contest, but with a little twist.
The theme for Travel Photo Roulette #119 is: BLUE
You can submit any travel photo you like – with an emphasis on the color blue. Light blue, dark blue, sapphire, indigo, denim, Facebook blue, heck we'll even take shades of aquamarine. And the photo needn't be composed entirely of shades of blue – just one, vibrant spot of blue will do quite nicely. It's up to you. Here's an example to give you inspiration:
(mouseover the "postcard" and watch the *magic!)
* Well o.k. for those viewing in IE, not so much a magical "flip" as a fading change. If you want to see the flip/flop, try viewing in Chrome or Firefox.

Notice that the sample includes the country where the image was snapped on the front, and… if you mouse over the image, the "postcard" flips to reveal a message on the back.
That's the "twist" I've added for this TPR round. For each entry, I'll whittle your image into a flip-flopping postcard, with the name of the country where you took it on the front, and a short message from you about travel (whatever you like, just keep it brief) on the back.
Here's a few more examples of "Blue":
(don't forget, you can mouseover for the "flip")
TRAVEL PHOTO ROULETTE CONTEST OVERVIEW
The contest rotates through travel/photography blogs, so the winner of the previous round of Travel Photo Roulette hosts the subsequent round on their own blog. The new host then chooses the next theme (a generic keyword or phrase) and bloggers submit their interpretations of the theme over the course of the contest.
At the end of the submission period, the hosting blogger chooses their favorite photo from the submissions, displays it as that round's winning entry, and then passes the TPR baton on to the winner for the next round. Readers can attempt to sway the host blogger into picking a certain photo via comments, but the host ultimately freely chooses their favorite. The game is repeated with the winner hosting the following week's game and choosing a theme for new photo submissions.
Feel free to share this post on Facebook, Twitter, and other social media so more people can join the contest. And do be sure to use the hashtag #PhotoRoulette

TRAVEL PHOTO ROULETTE CONTEST GUIDELINES
One submission per blog, so sites that have 2+ authors only get one entry.
Post processing is permitted, but photo altering (e.g., using Photoshop to remove elements) is not.
An abstract submission is welcome as long as it fits within the interpretation of the chosen theme. Remember, the hosting blogger chooses the winner, so if they can't understand the submission, you might not win!
Please try and keep your images medium-sized and web-optimized.
If you win, keep these in mind when choosing a new theme: Keep phrases general so that all bloggers can participate. Specific items like "Eiffel Tower" should be avoided but rather made open-ended like "monuments." For variety, it's okay to say focused things such as "monuments at night" which most of us have pictures of. Phrases can be generic (e.g. "signs"), or abstract (e.g. "religion").
Abstract thoughts are appreciated, but keep it within the realm that all readers will understand. No "Kafka-esque," or "Overlooking Creation."
Use something that is able to be interpreted by all.
After 1 year, phrases can be reused, however new photos must be submitted.
No obscene pictures or phrases allowed. Suggestive phrases and photography can be accepted, but please keep it within reason.
Keep the ideas and photos fresh!
Pictures from your entire portfolio are fair to submit. You do not have to take the photo within the duration of the contest period to submit it.
Most importantly, all photographs must be your own.
One last rule, since this is a competition for travel and photography bloggers, you must have a travel/photography blog to enter. Sorry!

HOW TO ENTER TRAVEL PHOTO ROULETTE #119
To enter the Travel Photo Roulette competition simply leave a comment below with a (publicly accessible) link to your image (whether Flickr, Picasa, Smugmug, etc. or your own site) along with a brief description or caption for the photo.
BE SURE TO MENTION THE COUNTRY/PLACE that you want on the front of the postcard, along with YOUR VERRRY SHORT MESSAGE for the back. As the entries come in, I'll whittle each one into a flippy postcard with your (did I mention s-h-o-r-t?) message on the back.
The TPR #119 contest runs from today, the first shiny day of 2016 – until midnight EST (UTC/GMT -5 hours) on Sunday, January 10th.
Check back here throughout the submission period to see all the entries as they come in, and feel free to comment on them. When the submission period ends. I'll then have the (no doubt super tough) task of choosing my favorite, and will announce the lucky winner of TPR #119 here.

ENTRIES FOR TRAVEL PHOTO ROULETTE #119 "BLUE"

(don't forget – mouseover to see a message on the back of each pic)
1. Anne at LetMeBeFreeBlog.wordpress.com
2. Josie at HouseSittingTravel.com
3. Michele at LeggingIt.com.au
4. Elaine at TripWellness.com
5. Lyn at TheTravellingLindfields.com
6. James at FlyIcarusFly.com
7. Juergen at dare2go.com
8. Irene at MoreTimeToTravel.com
9. Nathalie at ACookNotMad.com
10. Suzanne at Boomeresque.com
---
---
PREVIOUS TRAVEL PHOTO ROULETTE WINNERS
Check out previous TPR entries and winners, to see some truly remarkable travel photography:
---
---
---
---
And finally, the most recent winners of Travel Photo Roulette:
---
---
Th-th-that's it. Easy-Peasy.
Enter your BLUE pic TODAY!
Oh and… share, Share, SHARE this post using #PhotoRoulette