Morocco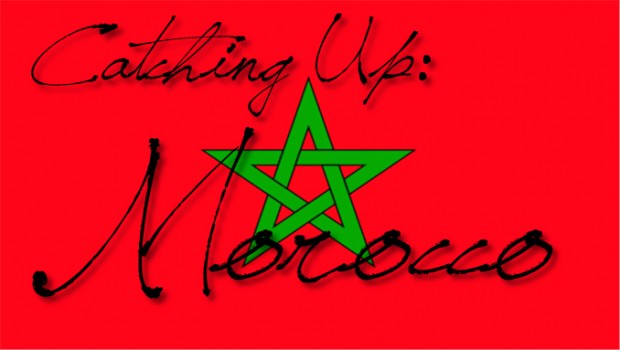 Published on August 25th, 2014
2
Catching Up Series: Morocco 5 of 8
Good.NESS. Talk about (needing to) Catch Up!  Still a bazillion pics and stories from my final days in Asia (both Borneo and Myanmar), yet…  I reeeeally would like to integrate these age-old tales from my ancient travelpod.com blog into TL so they're all finally in one digital place. Thus…
We snatch a moment from my new life here on the top of a mountain in Ecuador, to continue with the 5th (of 8) edition of "Catching Up Morocco".  And indeed, the tale is getting quite exciting 'cuz the "dream" (of riding that dromedary in the Sahara) finally comes true!
To set the stage, you may recall that when we last left the TravelnLass in Morocco (HERE and HERE), it was 2009 and she was happily exploring the cobbled alleyways of the Fes Medina…
Date: 28 September 2009
Pecked from: Fes, Morocco
That camel is getting closer and closer…
Very quick one here as it's after 6pm and I'm off to Merzouga (the Erg Chebbi desert) tonight on the 8:00pm Supratours bus (140 Dirham ~ $17) An 11 hour ride through the night, but I have my iPod audiobook, movie, etc. plus will hopefully sleep some) Arrive in Merzouga at 7 am tomorrow morning, and the plan is to negotiate an overnight camel trek into the Sahara for tomorrow night. Possibly a 2nd night in the desert, but in any case, from there south to Marrakesh in a day or two.
So stay tuned – that camel pic will hopefully come true.
P.S. Like an idiot – I went a little nuts yesterday here in Fes and bought – not 1, but *2* Moroccan wool rugs. Both fairly good size, in sunset colors (to match my sweet little haven at Puget Ridge) – supremely tres, tres jolie!
Ah but the downside… Now I have about ***30*** exta pounds to lug around on my dodderin' back! 😉
---
Date: 29 Septerber 2009
Pecked from: Merzouga, Morocco
The Sahara…
Ahhhhh… I finally made it to the Sahara! And oh my, how absolutely PERFECT my dream of riding a camel in the Sahara turned out to be.As always it seems – with much serendipity involved.
It all began w/ that 11 hour bus ride into the night. The bus very modern, a/c, comfy and all, but I started out from Fes that night w/ a bit of cold, and by the time we arrived (at sunrise – kewl!) in the desert, it had become a full-blown acky head cold.
So… though I'd only planned on perhaps the one overnight on the camel in the desert, I (wisely) opted to simply grab a comfy hotel and pamper myself all that first day. Could have gone out on the camel that night, but I (did I mention, wisely?) instead opted to wait until the following day so as to make sure I was feeling good whence experiencing my Sahara dream.
Meanwhile, I did manage to briefly jump on a 4×4 behind a bonafide Beber lad resplendent in blue flowing robes and turban – and whiz up and down the Sahara dunes for an hour – to… yup, go after a geocache of course! (note to my fellow geozanies who are reading this – grossi/mcrt: the Erg Chebbi earth cache – dang but we got w/in 250 ft. of GZ and then… I tried my level best with barely mended sprained knee, to crawl up that blessed vertical dune, but alas finally gave up after just 30 feet stumbling painfully in the sand. Oh well, hey – I don't log smilies anyway, yes?) 😉
ANYWAY, after a day of sublime rest and local meds (cumin in water cures just about everything in Morocoo), I was able to do that, and then at 4:30 pm I finally began my long-awaited Sahara odyssey. I hopped on a trusty camel, and galumphed off into the dunes for an hour and half into the sunset.
I was quite lucky as the folks I chose to do it with had a private camp all by itself, and… there was only one other tourist lad (from Germany, very quiet, gentle, and spoke a good bit of English) Often, there can be large groups that o/n in large camps – all that yapping amid the splendor of the dunes – ack, la, la shukran – no thanks!
In short, our little trip was just perfect. Just Dominick and I on 2 camels, led by 2 young Berber boys. Trust that 1.5 hrs. on a camel is more than enough for one's bum (I still – 6 days later, have "camel legs"), and you can get surprisingly deep into the desert with absolutely nothing but dunes for all 365 degrees as far as the eye can see.
Lots more details of course, but already I'm tired of pecking (plus there's a fabulous sunset awaiting here by the sea in Essaouria). Enjoyed a wonderful Moroccan dinner, tea, etc. out amid the Berber camp; the lads played drums for us, and then Dominick and I slept under the stars (on comfy mats) til we awoke to see the sunrise at dawn. Utter silence. The sky, a sea of sparkling splendor.
O.k. now, gotta git. Will just peck a couple of holder-entries before I close, so you can at least see the map of where I've been.
Inshallah,
Dyanne
---
Date: 1 October 2009
Pecked from: Quarzazate, Souss-Massa-Drâa, Morocco
Spinning south with my trusty guide, Hassan


Just quick entry to set the map pin. Suffice I lucked out and nabbed a guide in Merzouga who just happened to be headed to Marrakech to pick up 3 Spanish clients to guide them on a 10 day tour of Morocco.Thus, instead of struggling w/ mind-boggling taxi negotiations to navigate to Quarzazate (about 8 hrs. from Merzouga), I verily whizzed south across the interior of Morocco – in a nice new Toyota 4×4. We sped though Todra Gorge, the Dades, Valley of the Roses et al, and landed for the night at a lovely little riad overlooking the city. Had a beer (along w/ my Muslim guide!) on the rooftop terrace, dinner, and then set off for Marrakesh the next morning.



(Click on any of the thumbnails to start the slide show…)
---
Fast-forward 5 years:
Ah yes, my supremely beautiful Moroccan rugs. Makes me a bit misty-eyed here just thinking about them. Such is the woe of a nomad with only a backpack to her name. Alas, those beloved rugs lie rolled up in the dark cubicle of my 5ft. x 5ft. storage locker back in Seattle – along with my equally beloved handmade art quilts that I couldn't bear to get rid of when I bought that one-way ticket to Hanoi nearly 3 years ago.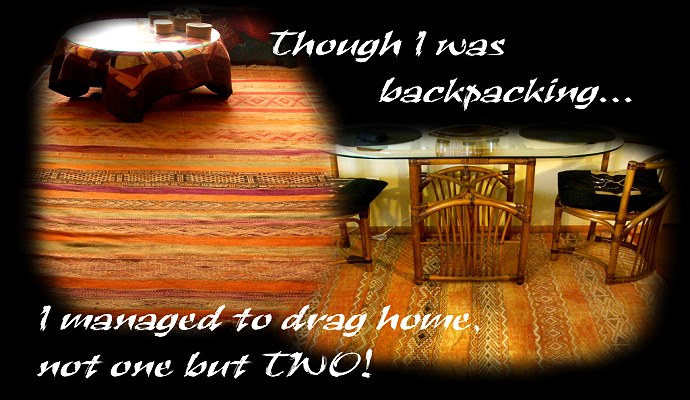 Will I ever see those treasures again? Who knows? Surely my wanderlust can't propel me forever… or can it?