Morocco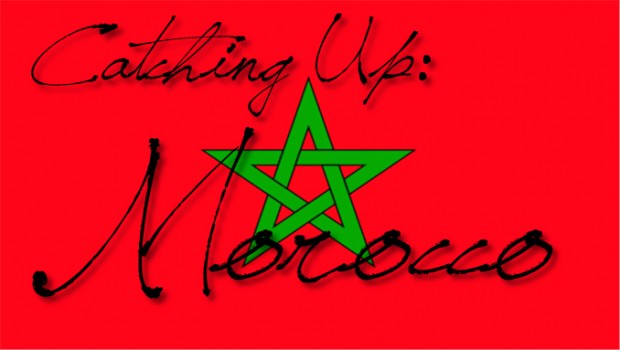 Published on May 9th, 2014
2
Catching Up Series: Morocco 3 of 8
Once again we momentarily interrupt the goings-on here in my new Ecuadorian home, to continue the saga of my 2009 adventures in Morocco:
Moving on from the idyllic mountain haven of Chefchaouen, to my 2nd favorite corner of Morocco – Fes.  Founded in AD 859, the maze of narrow cobbled lanes of Fes' ancient Medina (the "Fes el Bali") is listed as a UNESCO World Heritage Site.
Date: 26 September 2009
Pecked from: Fes, Morocco
Fabulous Fes
Bonjour mon amis – I hadn't planned to blog this soon again, but suffice I made it to Fes ever so sweetly, and this morning am seeking the riad that does the cooking class I want to do in Fes. So I had to first find an Internet cafe to glean the address.
Ah but you don't want to hear all the boring background mutterings, yes? 😉
Yesterday morning I had breakfast in Chefchaouen w/ my new BFF dear Ester from Spain, then jumped on the CTM bus to Fes. Met a lovely young woman from NY (Cecilia) who's been traveling 'round the world for the past 10 months. She apparently had a most harrowing experience in Tangier and lost about 800 Dirhams in the process (verily a 2 week budget for these young backpackers.) ANYWAY, suffice she spoke fluent French and was able to help me get the Fes bus to the old city (Medina – indeed THE oldest continuous shopping mall in the entire world!) Cecilia was looking to sleep on the roof of a cheap hotel for 50 Dh but…
While I actually momentarily considered the roof (I mean, why not? You only get a chance to sleep on a rooftop in Fes Morocco once in your life, yes?), suffice it began to rain so I instead took a double room that is quite comfy with shared bath for 160 Dh (about 8 Dh to US$1 so about $20 and I offered to share it with Cecilia for the 40 it would have cost her on the roof.
Suffice what goes around comes around, and I was just paying forward the kindness that my Spanish Ester angel had done for me in Tangier/Chefchaouen.
ANYWAY…
First of all Fes: We both had heard that Morocco in general and Fes in particular would find us beset w/ constant harassment by touts/faux guides, etc. So after such a gentle stay in tranquil Chefchaouen we were prepared for the grim worst: lots of aggression/harassment. BUT…
Suffice, not a bit of it! Everyone here has been ever so kind and helpful. A few youngsters pestered slightly whilst Cecilia and I were wandering the Medina last night, but seriously…
Not a bit of the horrors we were led to expect here. Fes is absolutely AWESOME! And everyone – and I mean everyone everywhere so far has been completely wonderful. Giving us free tea on the rooftop terrace of the hotel last night; free cup of coffee latte and a croissant this morning; 15 different people that I asked in the Medina this morning trying to find A. an ATM, B. this Internet cafe, C. the cooking class riad, etc. etc.
I swear – absolutely the OPPOSITE of what everybody warned us about.
LOL – or maybe… it's just my gray hair! Indeed, there may well be great advantages for we dodderin' grannys traveling the world! ;D
That's about it for now, will try once again to upload a couple of pics from here in Fes, but not holding my breath…
Thanks again to those who comment, send me little notes. It's great fun to read them.
Dyanne
P.S. And yes, I believe I have now earned my Moroccan "stripes": I have officially been nearly run over in the narrow Medina "streets" by a donkey loaded with propane cans! 😉
Oh, and MONUMENTAL ACHIEVEMENT! This morning for the first time I am ambling about WITHOUT my stupid cane!
xxxxxx
Fast-forward 5 years:
You must be wondering about that "cane"…
Little more than a month before my scheduled trip to Morocco I foolishly stepped up onto a stool in my bedroom and… the stool tipped over and I came crashing down ON MY KNEE! Fortunately no broken bones, but a serious sprain that had me on crutches for weeks. At first I wasn't sure if I could/should try to backpack solo around Morocco in but a few weeks after the accident. But I was determined, and by the time I left, I was able to hobble around fairly well with just a cane.
Interestingly, I believe it was precisely those gazillion cobbled steps of Chefchaoeun that was a blessing. Hobbling slowly with the help of the cane – one steep step at time, the exercise did my knee a world of good, and I ended up giving the cane to a lame beggar in Marrakech on my final day in Morocco!

Now what about you? Did you find Morocco a perpetual den of pestering touts or. . . like me, a most wondrously diverse and exotic land filled with lovely folk, friendly and eager to help?