Cambodia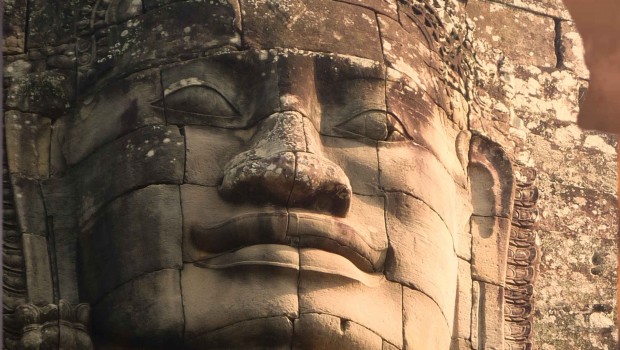 Published on May 23rd, 2012
8
Angkor Wat, Cambodia: Smiling Faces Through Centuries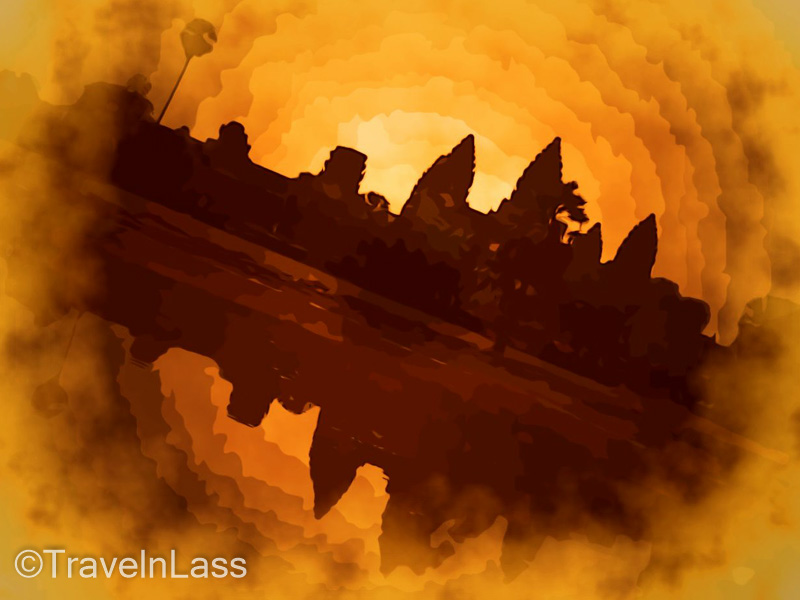 And now for this week's featured attraction: a wrap-up of my visit to the legendary temples of Angkor Wat.
First of all – I am EVER so glad I opted to fly to Siem Reap (vs. taking the far cheaper, but mind- and body-numbing 12 hr. bus.) Indeed. No contest. Best 323 bucks I ever spent.  And though I'll ever be an avid budget traveler (both by ruble necessity, as well as by personal choice), there are surely times when an extra bundle of green makes life a whole lot sweeter.
Which is to say – in this case I oh so sweetly arrived at the Siem Reap International Airport at 10:35 am on Monday morning, all rested and fresh – with a full 4 days to play.

Click on each pic to view an enlargement.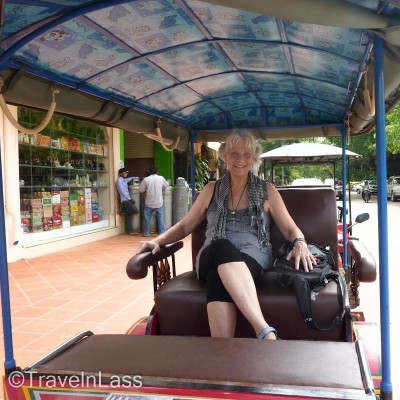 First impressions?  The Siem Reap airport has got to be the most charming and beautiful I've ever seen.  Abounding in lush tropical greenery, it felt more like arriving at a resort than an airport.  And immigration was a breeze.  $20 (yes, yes, USD is the currency of choice for most everything in Siem Reap – so refreshing after muddling for months now with thousands of dong) for a 30 day tourist visa, and I was swiftly out the airport doors and…

…into the OMG sultry humidity of Cambodia!  I'd heard that Cambodia was "hot", but I figured – how could it possibly be hotter than Ho Chi Minh City in May?

Uh, it could.  And it was.  Hotter.  More humid.  Seriously.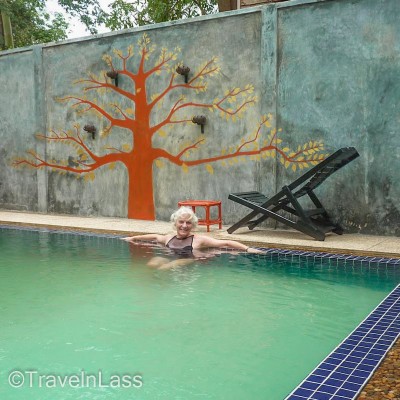 Ah but I quickly nabbed a mototaxi (for just $2) for the 7 km whiz to my hotel, and soon I was happily frigid amid the a/c coolness of my $21/night room at La Villa Loti.  The hotel (that I booked online through an Agoda.com "Flash" sale for half price) was divine.   Just 5 rooms on a quiet lane along the river, a tad removed from the busy downtown, Night Market, etc. district.  My hammock hung invitingly waiting, and the pool proved most refreshing for afternoon dips.
So much to tell.  Just four days, but I packed a lot in (without seeming at all rushed.)  It was just that everything was so easy in Cambodia.  Indeed, so much easier than the months I've spent here in Vietnam.  Mainly because most everyone speaks ENGLISH in Siem Reap.  And while I have little problem getting around most any country in the world with but a smattering of the local lingo, I must admit, it was awfully nice to be able to chat freely with the locals in Cambodia.
Now, a quick rundown on the highlights of a most excellent four days in Cambodia:
The mototaxi driver – Sak – that I happened upon at the airport turned out to be a key asset to much of my visit.  For starters,  he tipped me off on how to save a bundle on a pass to the Angkor Wat temple complex.  They offer a 1 day pass ($20), a 3 day pass ($40) and a 7 day pass ($60).  BUT on the day of my arrival, Sak urged me to wait until after 4:30 pm to head to the complex for sunset, 'cuz they close down the ticket booths for the day at that time, and then REOPEN them 10 minutes later to sell the tickets for the following day.  Which is to say – I bought a 1 day pass, but was able to get in for the first night's sunset for free.  Kewl!
The weather was mixed for my stay.  Ever sunny and hot by day, followed by torrential rain most evenings for a few hours.  I actually loved the nightly deluges (being from Seattle, it's "only water" after all, yes?) especially the night we got caught in a downpour while at Bayon temple (the one noted for the tree roots).  The torrent in the fading light only added to the eerie mystique of the centuries-old temples.The only weather downside was that the cloudy skies made for decidedly ho-hum photos of the temples. Indeed – photographer confession: in the photos posted here and at my Through the Eyes of TravelnLass Cambodia gallery, suffice I tinkered quite a lot adding dramatic sky backgrounds and lighting effects to many of the temple shots.
Nonetheless, sunset atop Phnom Bakheng was wonderful, and sunrise…
Yup, I got up BEFORE the crack of dawn (4 am!) so as to make my way to Angkor Wat and be in place to watch dawn break over those lofty spires.  And though the sunrise itself proved less than jaw-dropping, the best part was before dawn as I stumbled solo in the dark, walking slowly through the ancient temples to sit quietly at the edge of a pond awaiting the dawn.  It truly was a special kind of spiritual experience.
 Other highlights:  The Night Market.  A bit "touristy" true.  But nonetheless most refreshing after the months of shopping dearth here in HCMC, with some really nice trinkets and especially scarves (I bought two, along with some very nifty "Khmer pants" and a most fabulous purple top with handmade Thai Hill Tribe embroidery), along with great food.  Best of all, on my final night, I opted for an hour-long, full-body massage at "Seeing Hands" (all the masseurs are sightless – brilliant way to provide jobs for the blind, yes?)
Took a boat trip down the river to Tonle Sap Lake to visit the floating villages.  Had hoped to do an overnight with a family there, but when we got to the boat launch, the "brass" nixed the idea saying it was "too dangerous".  Sak, my dear mototaxi driver tried hard to convince them that he'd be my "body guard", etc.,  but in the end they wouldn't budge.  It was No Dice. ;(
Still, the boat ride was great fun, and the boat driver took me to a school amid the floating village and I was able to distribute the school supplies that I'd bought in Vietnam (a bundle of mini-whiteboards, dry erase pens, crayons, pencil sharpeners, etc.)  Alas, Cambodian Angkor Air had confiscated the handful of kid's scissors I'd tucked in my backpack (but… they're harmless ROUNDED points, see???)  Nonetheless, the kids and the teachers welcomed what I'd brought, and for me, the school visit was the HIGHLIGHT of my trip to Cambodia.
Enjoyed a Khmer cooking class at the Angkor Palm Hotel.  Oh my goodness, it was such fun!  A PRIVATE class for just me (only $24!) with my own chef to instruct me in the art of Khmer cookery.  First we strolled through the market buying fresh ingredients, then back to the verandah at the hotel for a 2 hr. lesson.  We made 4 dishes:  Fish Amok (a most traditional Khmer dish much like curry), Sour Soup with Chicken (utterly divine flavor made with oh so simple Asian ingredients), Morning Glory Greens, and Sweet Potato Dessert (again, very simple, made with toasted mung beans, tapioca, sea salt, a bit of sugar, sweet potatoes and coconut milk.)
Oh, and I found a geocache (natch!)
AND… I had my fortune told in the market whilst we were shopping for the ingredients for the cooking class (my cooking instructor was kind enough to interpret.)  My future?  All good.  Apparently 2012 will be a fine year for me (it already IS!)
I took more than 500 pics, but (you'll be relieved to know) I kindly whittled them down to just a little over 100.  You can view them all at my Flickr Cambodia Album.
All in all, I honestly couldn't have asked for a more splendid visit to Cambodia.  Indeed, I was so enchanted with Siem Reap as a promising place to live, I checked out a couple of private English schools to see what the teaching options might be.  Suffice, if it weren't for the tropical heat (like here in Saigon) I could very easily see myself spending a year or so there.  Especially volunteering for some of the excellent projects implemented by ChildSafe International.