Europe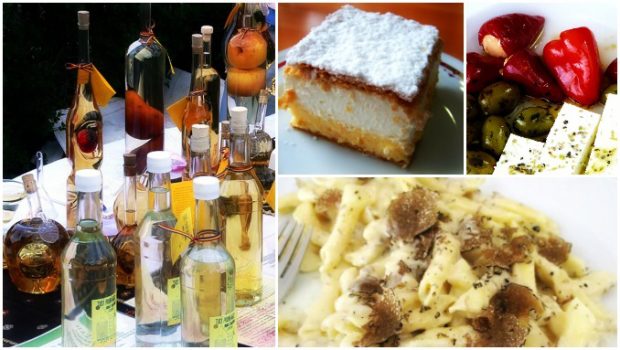 Published on July 30th, 2016
4
Balkan Trip Prep: Foodie Edition
Travel as a whole is exceedingly magnificent.   Exploring ever new corners of our wondrous globe – I mean, what could be better than that?
Well yes, each of the 40+ countries (soon to be closer to 50) that I've been blessed to visit has of course gifted me with sights and experiences that boggle the mind.   BUT…
The truth is, my long-time travel refrain has ever been "Only 1/3 of the fun of traveling is the trip itself."   For the weeks and months of planning and dreaming about the coming trip is nearly equally as sublime. And "the final third is the bounty of memories you'll have for eternity."
Which brings me to – yes, yes, the planning and the dreaming.   That's the delicious third I've been enjoying for weeks now.   Actually, this trip even more so than most because (unlike a simple week on – purely glorious, don't get me wrong – Easter Island, or 11 days in those luscious Galapagos), this trip promises to be a doozy – more than a full month skipping through at least a half dozen different lands.
Nothing is ever set in stone prior to any of my trips of course, but I do like to get an idea of what things will cost, accommodation options, the logistics of getting from one locale/country to another, etc.   And especially what unique sights and activities (both "must sees" as well as the more obscure which are often even better) I might find in each country on my itinerary.
Oh and… the foods.   Ah yes, the traditional taste treats unique to each region that I might pass through.
Which bring me (finally) to the thrust of this particular Balkan trip prep post:   the Foodie Edition.
Suffice I've been diligently cramming my beloved "Evernote" for weeks now (free software for online filing/organizing – if you've not tried it, GO GET IT NOW!), with tidbits on the countries I plan to explore.   I've got "Notebooks" on each country, and within each country notebook, a page for "Munich Accommodations", "Slovenia Things To Do", "Croatia General Notes", etc.  lol, it's like I'm writing my own "Guidebook to the Balkans" (actually, I may well turn my itinerary into a how-to e-book one day).
And as one of my main loves in my travels is sampling any and all the unique tastes as I roam the Planet (check out the tome on my personal "Foodography" history HERE), I've now created a set of notes on the many regional eats special to each country.   So I thought I'd share at least the skeleton of my collection here:
MUNICH
For starters, I found this:
"Weisswurst to start the day.   Start early and courageously by learning to suck Weisswurst out of the skin, following it with a beer or two (well, the Müncheners do)."
Given that I'm of 50% German heritage, and apparently there's no fewer than 1,200 different kinds of German "wursts" (sausages), yes indeedy I look forward to "sucking on a weisswurst" (made from minced veal and pork back bacon, flavored with parsley, lemon, mace, onions, ginger, and cardamom) for breakfast.
Then there's Munich's Viktualienmarkt, described as:  "Not all marketplaces are created equal. This is one of the largest and finest in Germany.   Imagine, for example, a shop where you can buy 100 varieties of olives or 200 different cheeses."
And THEN I discovered that Munich has a full-blown STREET FOOD MARKET – every Friday, May through September!   Needless to say, I shall try my level best to be there on a Friday:
Other specific Bavarian specialties include Leberkase which literally translates to "liver cheese".    Um, I think we can all agree that that sounds perfectly awful, yes?   But I've ever been game for just about anything when I travel (silkworms? crickets, anyone?), and this particular dish is apparently more closely related to good ol' bologna.
Apparently it's concocted by combining finely grated corned beef, pork, bacon and onion, and then baking it in a loaf pan until it has a crunchy brown crust.    To me, that sounds LOTS better than "liver cheese" so I'll give it the benefit of the doubt and try it first chance I get.

And Steckerlfisch – a small fish grilled on a stick in the traditional way of a fisherman or camper, commonly served in Munich beer gardens.
Also, spaetzle, sauerkraut, sweet mustard, and of course as many as I can possibly stuff in my mouth of those many "wursts"…

AUSTRIA
More beer gardens, and plenty of wiener schnitzel of course. But also schnapps in a bazillion different flavors.
SLOVENIA
Potica Rolls (Slovenian Nut Roll)
Traditional mashed potatoes (with onion)
Carniolian sausage
Honey and walnut liqueur
Oh and… marinated beef tongue with horseradish.   Um… well o.k. "when in Rome" I guess – so why not?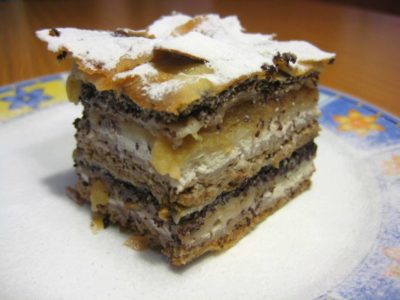 And Prekmurska gibanica – a type of Slovenian layered cake that contains poppy seeds, walnuts, apples, raisins and ricotta fillings.
Better still – it turns out that Ljublijanna (Slovenia's charming capital) likewise has a street food extravaganza every Friday from May to October, dubbed "Odprta Kuhna" (which translates to "Open Kitchen" – yay, my first Slovenian words!)
There's also apparently (at least one) Ljubljana Food Tour which at 30 Euros seems pretty reasonable (for 5 restaurant samples and 5 drink samples).   Then again, I think it would be fun to create my own similar DIY Ljubljanna Foodie itinerary and post the results of my Slovenia grazing here.
CROATIA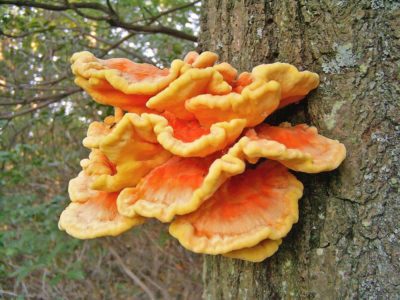 For Croatia, well Croatia – first and foremost I've got my eye on the northwest Istria region, with hopes of not only sampling the legendary truffles (underground mushrooms, traditionally sniffed out by trained dogs), but hopefully going on such a hunt myself.
I've had quite a bit of experience with wild mushroom hunting (have taken courses to be able to distinguish between the tasty edibles vs. the eeek poisonous!) and long ago romped often amid the woods of the Pacific Northwest (with my young daughters in tow) snatching golden Chanterelles, Inky Caps, Shaggy Manes and King Boletus (with caps the size of dinner plates and stems as thick as your arm!)   And once, in Bern, Switzerland, I even happened upon an elusive golden "Chicken of the Woods" (the color of pumpkins with yellow velvet underside) on a felled tree.   The girls and I sliced it up and cooked it over our little camp stove – it makes it's own "cheese sauce"!
ANYWAY, needless to say I'm definitely headed into the Istrian countryside (probably Motovun, as that seems to be the heart of "truffle country").   And the good news? September/October is apparently the season for the prized "white truffle".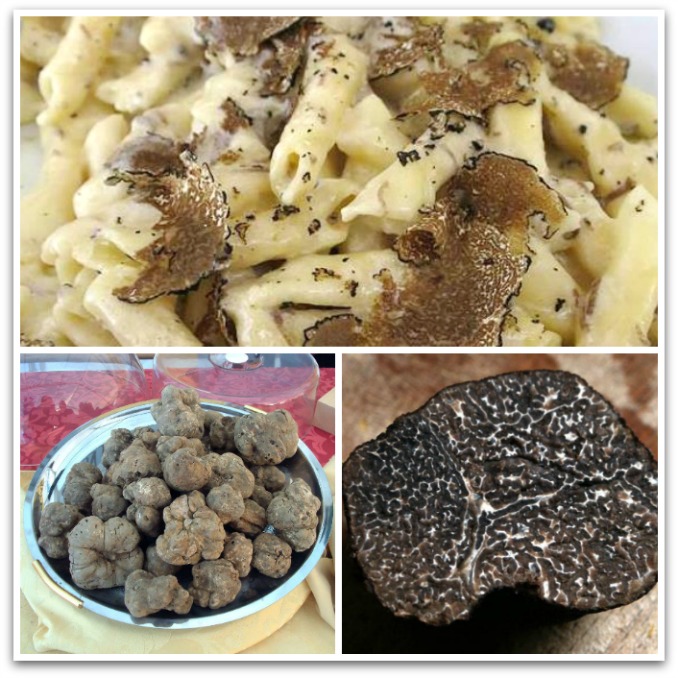 Note: the pic of those lacy truffle shavings atop the pasta above – compliments of my Seattle chum Peter (who recently explored Croatia and is pretty much solely "to blame" for my own current obsession with following in his Balkan footsteps).
Unfortunately, looks like I'll be passing through Croatia a little too early to enjoy the famous "Marunada" (the chestnut festival) as that's not til October.   But there's still plenty of unique taste treats to sample as I wander Croatia from north to south, like: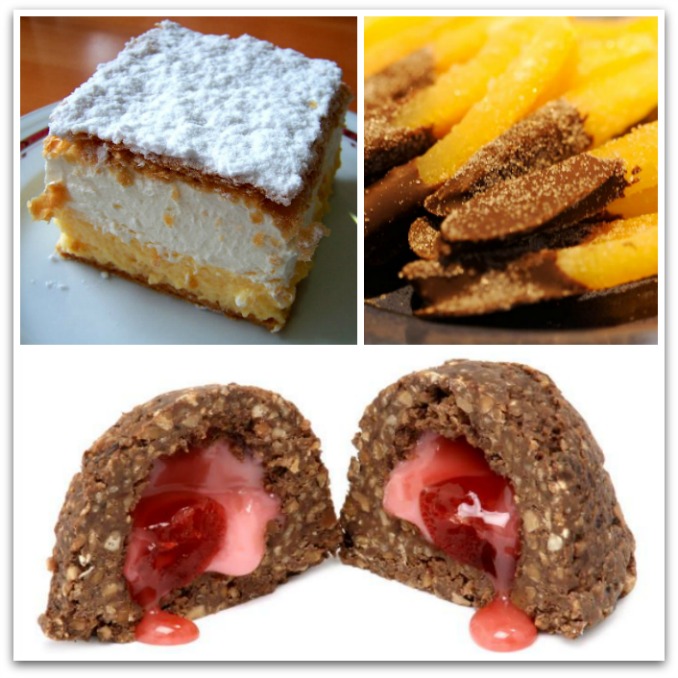 The heavenly Croatian "kremšnita" or cream cake
Sour Cherry Strudel
A chocolate shop in Zadar famous for its Maraschino Pralines filled with the region's Maraschino cherry liqueur
local candied orange peels called "arancini"
And gelato of course. But that goes without saying. 😉
TURKEY
Ah yes, Turkey. It is here that I fully intend to eat my brains out.   The plethora of street-eats in Istanbul alone so boggles the mind – it's impossible to list them all.  Nonetheless, here's a few yummies I've collected for starters:
Lahmacun – a.k.a. a cheap but tasty "Turkish pizza", apparently best eaten with "ayran", a salty yogurt drink.
Sarma, meaning "to wrap" – usually grape leaves (but also cabbage) stuffed with a mixture of rice, toasted pine nuts, dill, currants, and lemon juice.
Dolma, or stuffed vegetable – stuffed peppers, tomatoes, eggplant and zucchini.   The stuffing is usually a mixture of rice, minced meat, and spices – often served with a ladleful of yogurt poured on top.
Kebabs of course, but oh so many!  Apparently there are "şiş" kebabs and "döner" kebabs as well as specialities like çağ kebab and adana kebab, along with İskender kebab – juicy, tender pieces of lamb meat spread over chunks of pita bread with steaming hot butter poured over the entire plate.   Now I ask ya – are we talkin' delish here, or what?
şira, a slightly fermented, (but non-alcoholic) grape juice.
Rakı – the unofficial Turkish national drink, an anise-flavored spirit. Similar to Greek ouzo or French pastiss but with a higher alcohol content (45%!), both of which I fondly remember sipping many years ago when went to school in France, and backpacked 'round Greece with my young daughters.
Mezes – somewhat akin to Spanish tapas, these include eggplant dip, halloumi (a type of Turkish cheese made from a mixture of sheep's and goat's milk), calamari, hummus, hot pepper paste with walnuts, kalamata olives, pilaki (white beans with olive oil) and octopus,
Manti – a type of miniature dumpling filled with minced meat, cooked, and then served with a dressing of garlicky yogurt, and a drizzle of butter spiced with red pepper flakes.   Mantı is often translated as "ravioli" instead of "dumpling", so I'll be keeping my eyes peeled for "Turkish ravioli" on the menu.
Kısır – Turkey's answer to Middle Eastern tabouli (a favorite of mine).   Kisir is simply cooked bulgur with tomato paste, chopped lettuce, parsley, and dill, a bit of olive oil and a spritz of lemon juice and spices to taste.
Ciğ Köfte (pronounced: chee kooftey) little wads of finely ground bulgur wheat kneaded with scallions, parsley, green pepper and tomato sauce, served on a sheath of lettuce with a lemon slice and looking like orangeish termite mounds. Apparently Ciğ Köfte literally means "raw meatball" as originally they were made with raw minced beef or lamb meat. That dubiously innocuous custom has since generally been outlawed and now the meat has been replaced by ground walnuts, hazelnuts and potato.
Kumpir – a huge, stuffed baked potato with a myriad of delectable topping options.
And eggplant. I LOVE eggplant, and apparently Turkey has perfected all manner of ways to fix it:   karniyarık (eggplant stuffed with minced meat, garlic, onions, tomatoes and spices); hünkar beğendi, chunks of tender lamb served on a bed of grilled and pureed creamy eggplant; along with good ol' moussaka of course.
Authentic baklava of course, but also:
pomegranate juice seems to be big in Istanbul.
Katmer – a breakfast pastry stuffed with cream and covered in crunchy pistachio pieces – reminiscent of baklava.
The famous wild lotus root "stretchy" ice cream.
gözleme – thin "Turkish pancakes" (though apparently it's rude to call these savory treats mere "pancakes") filled with a mouthwatering selection of mashed potatoes, mixed greens, crumbled white cheese, and mushrooms
And speaking of "mouthwatering" – excerpts like this have me drooling: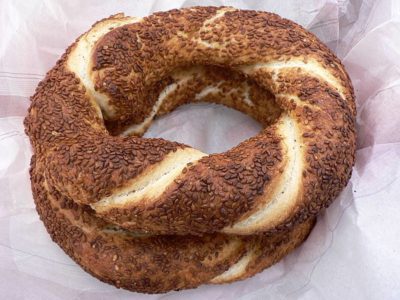 Simit:  a pretzel-like, twisted bread, much like a bagel, covered in sesame seeds – slightly chewy with a crunchy exterior.   "We dipped freshly baked simit in fresh honey and buffalo-milk clotted cream, called kaymak, made from the restaurant's own buffalo herd. The kaymak was so creamy and delicious. Add a cup of strong Turkish tea and you have a great breakfast."
"Midye" – stuffed mussels, along with "hamsi"(fried Black Sea anchovies – another of my favorites), both of which are apparently sold everywhere.
And finally, trust that I shall merrily eat my fill of hummus, tabbouleh and boatloads of babba ganoush.
Oh and… there's nothing I like better in my travels than digging in and getting my hands dirty alongside countryside locals.   So when I stumbled across this video, my wanderlust heart went pitty-pat.   While in Cappadocia, I'm hoping to be able to likewise try my hand at picking Turkish grapes and making traditional "pekmez" – a sweet molasses-like syrup obtained by boiling/condensing the juices – and mixing it with DIRT!
ENOUGH!  Jolly-well more than plenty of foodie treats to look forward to.   No doubt I'll be stuffing my face with many of these (and more!) as I skip across Germany, Austria, the Balkans and Turkey come September/October.
Did I miss anything?   Any favorite taste treats unique to that corner of the globe that I should try?   Do drop a note in the comments and I'll be sure to keep a foodie eye out.
Did you enjoy this post?
Then you might want to subscribe to my email list so you're sure to catch my next one.
(trust that I'll not clog your precious inbox – I generally only post but once a week.)