Eatn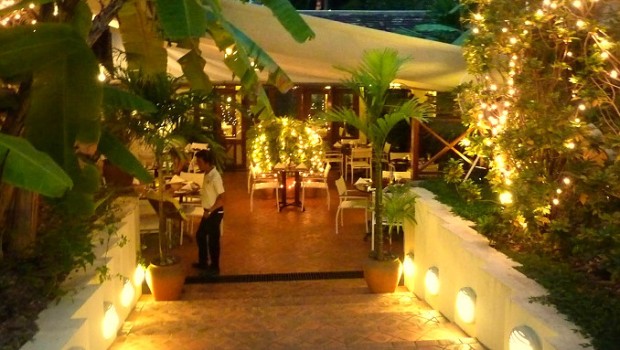 Published on March 23rd, 2013
8
Foodography: A Geography of My Tastiest Travel Memories
Though I don't presume to be no la-dee-dah "foodie" (I mean, we're talkin' about a lass who isn't above eating SILKWORMS when culturally pressed), nonetheless I've ever had a propensity to link my travels with some stray local food or foodie experience that I've had in each country.
Take Greece for example. In my mind the isles of Corfu, Santorini and Crete that I visited with my young daughters back in the 70's shall always be synonymous with "yogurt". Not just any ol' yogurt mind you, but THE most delectable authentic Greek version – so thick it's served as a veritable SLAB of creamy goodness, smothered with honey from the descendants of bees that no doubt pollinated the flowers that bloomed around the Acropolis when Plato was a lad, for heaven's sake. In short, although those many isles that dot the blue Aegean are surely spectacular, as far as I'm concerned Greece = Heavenly Yogurt, period.
Then there's Amsterdam – a city so charming it almost hurts, Amsterdam will ever be my "herring" place. The corner street carts selling plump, freshly caught herring served up with finely diced onions and sweet gherkin pickles – a combo that makes me swoon just thinking about it.
Of course France is a foodie land unto itself. But as my young daughters and I were on a shoestring budget while I was studying there, it is but humble Camembert cheese on freshly baked baguettes that first springs deliciously to my mind whenever I remember our days in Paris.
Italy: The gelati, divine.  But even more so – strangely enough, it is the deep fried zucchini flowers that I so fondly remember from my days attending the University of Foreigners in Perugia (the Perugina "Baci" – Italian for "kiss" – the legendary chocolate confection that Perugia is famous for, wasn't all that bad either!)
Belize:  As an international tour operator specializing in travel to Belize (back when few had even HEARD of it) I of course have made dozens of trips to most every corner of that little gem.  Conch fritters and scrambled eggs with chunks of fresh lobster stand out as culinary winners of course.  But it is the legendary "Glenda's Lemon Meringue Pie" on Caye Caulker that still makes my mouth water even today.  Indeed, I used to deliberately schedule a guided group trip there for my birthday in March each year – just so I could have Glenda's pie for my birthday "cake".
South Africa? No, not the mopane worms that I finally found at one of THE best restaurants in all of southern Africa, but rather, my mouth ever yearns for the fresh, raw oysters – make that WILD oysters on the half shell slurped with white wine along the shores of the Indian Ocean at Knysna.
Egypt: Icy cold hibiscus tea (I toted home an entire kilo of the dried blossoms to make my own.)
Morocco: Mint tea of course, but also the snails from a street cart in Chefchaouen.  Daintily coaxed out of their shells with the spike of a safety pin (with a side of the broth they were simmered in) – I went back 4 nights in a row to get my "snail fix".
Mongolia:  Uh… let's just say – if I NEVER sip another bowl of "milk tea" (warmed yak milk with a smidge of dried tea leaves and a generous dash of salt), it will be too soon.  Indeed, though I'm not the least bit fussy in my culinary travel tastes, given the dearth of vegetables and fruits in the Mongolian diet one surely has to wonder that the locals don't suffer from perpetual scurvy.
And here in Vietnam?  Well the coffee of course – that unique concoction of hair-on-your-chest caffeine mixed with a layer of condensed milk creating a caramely coffee goodness that Starbucks can only dream of.  And the multitude of other amazing Vietnamese street-eats?  Uh, the jury remains out – I'm still happily sampling…
And now I have a whole new yummers treat to add to my growing travel food memories "collection".  A most memorable culinary experience from my recent visit to northern Laos.  Not just a single dish, but an entire multi-course dinner to mark "Laos" on my foodie memory map. Sure, the Elephant Festival was spectacular (more pics coming soon), but Laos foodie-wise…
Yes, the orgasmic peanut butter and mango crepes in the night market for a buck stand out (uh, let's just say it's a good thing I don't live in Luang Prabang else I'd be a blimp from the nightly crepe addiction).  And another favorite was – surprisingly, the Laos "dried seaweed" sprinkled with sesame seeds.
But even those incredible crepes bursting with peanut butter pale in comparison to a single dinner that I enjoyed at one of the most outstanding restaurants in Luang Prabang – perhaps in all of Laos.  Maybe even all of Southeast Asia!
I'm talking here about the Blue Lagoon. Just steps off the Night Market, this softly lit hideaway beckons those who can appreciate the art of fine dining.  And as a guest there seated in the "garden", I can tell you I appreciated, and  appreciated, and appreciated.  Trust me, as I nibbled and gobbled, all thoughts of street-eats utterly vanished.  Indeed, for awhile there I completely forgot that I was in Laos, and actually imagined I'd been transported to Europe.
Peter, the owner of the Blue Lagoon is Swiss (as evidenced by the many Swiss specialties on the menu) but Somsack, the chef is Laotian – trained in Switzerland.  Thus the restaurant offers a most eclectic mix of European and Laotian dishes.  Everything from Zürich-Geschnetzeltes (a mouthwatering Swiss specialty of thinly sliced veal originating in the town of Zurich) served with Rosti (Swiss hashbrowns) to Schnitzel and Duck a l'Orange.  These, right alongside Lao specialties like Mok (fish streamed in a banana leaf) and Larb (a warm meat salad), as well as an array of homemade pasta and traditional Asian curries.
Selecting a starter was easy: I simply HAD to go with the "Blue Lagoon Salmon Plate" – a delectable trio of smoked salmon rolls garnished with caviar and capers.  I mean it's SALMON people – just thinking of those silvery swimmers darting up the Ballard Locks back in Seattle makes me tear up.
But choosing an entree proved a bit more of a dilemma.  Passing on the "Roasted Pork Neck" (no doubt delicious, but still…) I deliberated between the Salmon Filet (hah! there I go again – can you tell I'm a transplant in Asia from Seattle?), the Duck a l'Orange, the Homemade Ravioli (a delicacy I used to make fresh, from scratch with my sorely missed pasta maker in Seattle), and the enticing "Gordon Bleu" (not sure if that was a deliberate reference to some guy named "Gordon", or just another zany menu translation here in Asia).  In any case, I finally settled on the latter  (the Cordon Bleu) mainly for the chance to sink my teeth into REAL CHEESE again (the one reliably elusive Western edible here in Asia).
And for dessert?   The "Coupe Colonel" – an irresistibly refreshing scoop of lime sorbet, swimming in a puddle of vodka.  Indeed, in retrospect it seems most fitting to have finished off this most memorable Laos dinner with "lime", because…
From the complimentary amuse-bouche (creamy mixed vegetable soup served in a shot glass topped with a single crunchy garlic toast cube – apparently the selection changes daily), to the goblet of house wine from South Africa, the smoked salmon and caviar (garnished with grapefruit bits and fennel), the sinfully succulent Cordon Bleu utterly oozing with ham and melted heaven errr… Gruyère cheese, and the vodka spiked citrus dessert…
The entire dinner was simply SUB-LIME!
Disclosure: While I was a dinner guest at the Blue Lagoon Restaurant in Luang Prabang – as always, the opinionated blather expressed here at TravelnLass is ever my very own (seriously, I'm still dreaming of the smoked S.A.L.M.O.N. and Gruyère C.H.E.E.S.E.!)