Cuba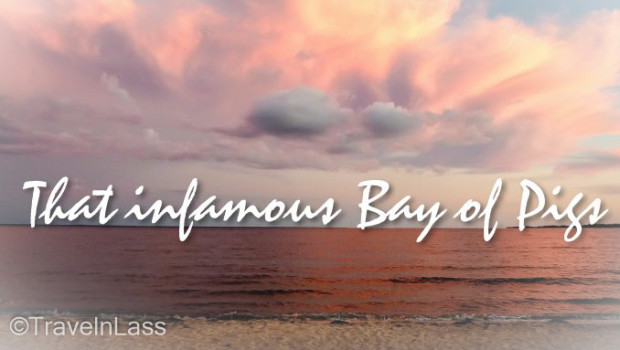 Published on February 5th, 2016
2
CUBA: Playa Larga
Not to be confused with CAYO LargO – which is a posh island off the southern coast reachable only by air or iffy boat.
PLAYA Larga on the other hand, is a somewhat lesser visited spot tucked next to Cienaga de Zapata National Park (note: "Cienaga" means "swamp", thus… notable for mosquitoes and alligators, but also an impressive assortment of exotic wildlife) and (more importantly for my purposes) situated on the infamous Bahía de Cochinos – the Bay of Pigs.
ANYWAY, getting from Viñales to Playa Larga initially seemed elusive as the latter didn't seem to be a stop on the regular public buses that ply the various loops around the island. But it turned out to be easy-peasy to set up a collective taxi (a.k.a. spiffy, a/c van) from Vinales. It's a good idea though to stop in the tourist office a few days in advance to get your name on a list and hope that – as the passengers go up, naturally the price of the ride goes significantly down. In my case, it took a couple of days of breath-hold but by the day of my planned departure, I was among 7 passengers so the tab was just $30 pp. for the 4.5 hr. drive (more than 2 hrs. quicker than the Viazul tourist bus which heads first back to Habana, and then to Trinidad – dropping you off on the highway near, but not in, PL)
En route, I chatted at length with a lass about my own age from Scotland (Susan), and it turned out that of the 7 passengers, only she and I were headed to Playa Larga – the rest would continue on to Trinidad, several more hours down the road. As so many seem to do, Susan had pre-arranged her lodging at Playa Larga via the "casa particular trail" I spoke of in earlier posts.

Cuba's "Casa Particular Grapevine"
An arguably handy reservation system whereby your first Havana casa particular host happily telephones ahead (to their brother, cousin, friend, natch) to reserve a room for you, and so on down the line as you travel across Cuba. All well and good, but… there's an extra commission involved of course, and there's no opportunity to negotiate a lower rate as a solo traveler.
Furthermore (and to me this is the biggest downside to the "grapevine") – call me crazy, but I much prefer to personally inspect the place where I'm going to spend several nights – as the casa's location, proximity to local transport, cleanliness, noise, etc. are all decidedly important. So unless it's the high season holidays, I'm happy to take my chances by simply showing up and poking around.
Note: This free-spirited accommodation guideline has never failed me yet (40+ countries and counting), but… the only exception I make for pre-arranged lodging is when arriving in a new country after dark – far better to search online (at least there's pics/reviews) and book the first night or two in a new land where you don't know the language, nor the neighborhoods to avoid whilst traipsing around in the dark with your backpack.
The PERFECT Casa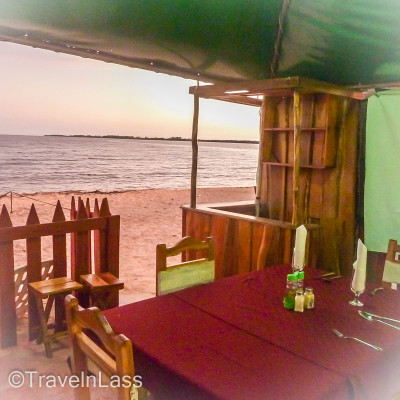 So upon arrival in the tiny town of Playa Larga, we dropped Susan off at her place first, and then continued around the bend to… what turned out to be a string of casas located right.on.the.beach. Admittedly I did have to try a few casas before I found one that had availability for the 3 nts. that I planned to stay, but… oh my! – within 10 minutes I'd found the PERFECT little casa with a screened in dining porch and it's own private beach!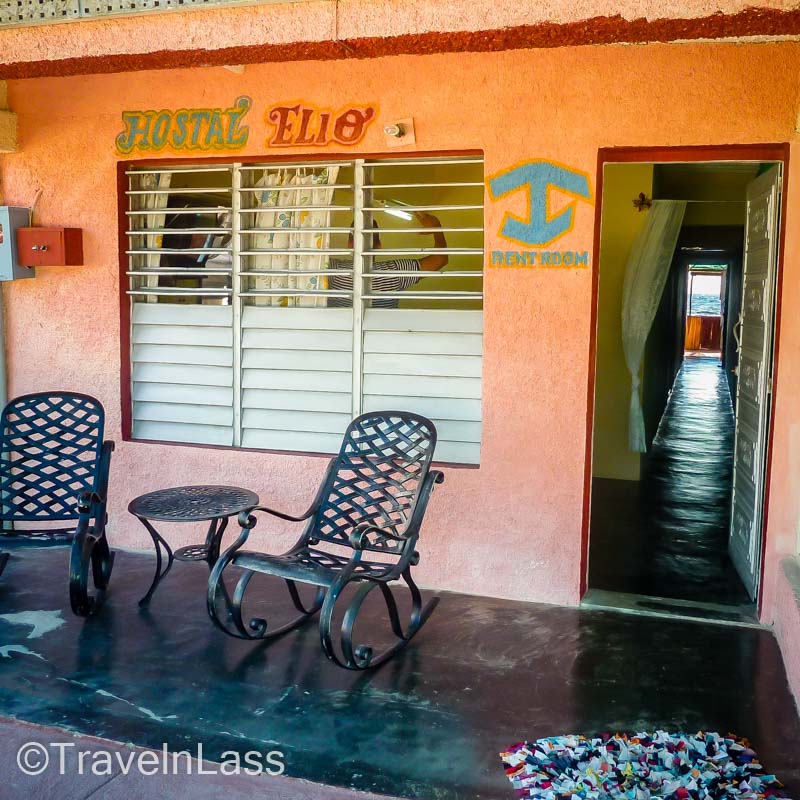 Even better, they had an extra room (just $20 sgl. with breakfast) so… after dumping my backpack in my (didImention air-conditioned?) room, I swiftly ambled over to Susan's place across the road and invited her to share my wondrous beachfront find. Turns out, her "reservation" was filled by somebody else, and the alternate they assigned to her was less than stellar (not to mention more expensive than mine, and the place was on a street back from the beach), so she was only too happy to join me at "Hostal Elio" for the next few days.
Seriously, my 3 nt. stay at Playa Larga turned out to be the most idyllic locale in my entire Cuban itinerary. Our casa host (a most diligent young man and his girlfriend) was ever at the ready with icy mojitos and cuba libres, as well as a fantastic cook! Thus, unlike my usual running around trying to see and do everything in a new locale, instead I pretty much just vegged out most every day right there on that enchanting beachside patch of Cuba.
In Search of the World's Smallest Bird
Susan and I did manage to rustle up the energy one day to slather on mosquito repellent and head into Zapata National Park in hot (and I mean that literally) pursuit of the the World's SMALLEST bird: the Bee Hummingbird.
Hopping in a peditaxi, we rode out to the park entrance early one morning, and hired a jeep and driver plus a park guide (all for $35 pp. for a half day). An expert ornithologist, the guide proved amazing. Not only did he point out an astounding array of endemic birds (with his most clever "green spot" laser pointer) but he took us straight to the garden of a charming old local couple with a flowering tree that was verily chock full of the tiny (~ 2″ long, weighing little more than .05 oz!) Bee hummingbirds.
But other than that single morning of avian stalking, my days at Playa Larga consisted of bountiful tasty breakfasts served in our little seaside porch, slow meanders along the beach, a dip or three in the Caribbean sea, reading my Kindle in a chaise (something I rarely do in my usual, more adventuresome travels) and dining on fresh lobster for $7.
Indeed, there is precious little to do in Playa Larga (save for traipsing though the park, and I understand there's a dive/snorkeling center somewhere but we never saw it – but then, we didn't look to very hard 🙂 ), and but a few restaurants (most casas serve both full breakfasts and the freshest seafood dinners). Even better – NOT.A.SINGLE. tourist/souvenir shop in sight. In short, my absolute FAVORITE kind of place. Indeed, just pecking this post and editing these photos makes me wish I were again relaxing on that peaceful stretch of Cuban sand.
Oh and… the crème de la crème, the frosting on the cake, the cherry on the hot fudge sundae?
Oh yeah – I SWAM IN THE BAY.OF.PIGS!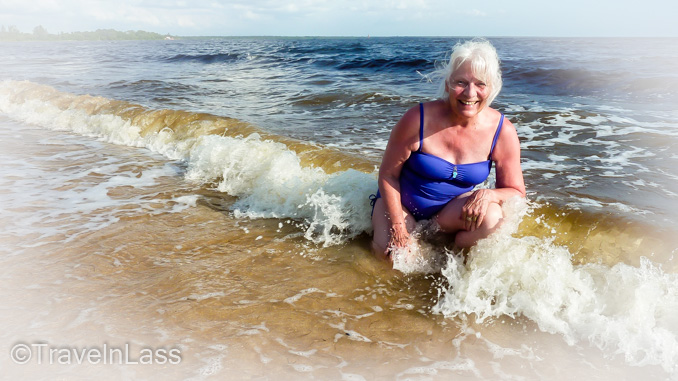 Click on any image to view an enlarged slideshow.
Still more to come – the colonial city of Trinidad, along with Playa Boca and Playa Ancón – stay tuned!