Cuba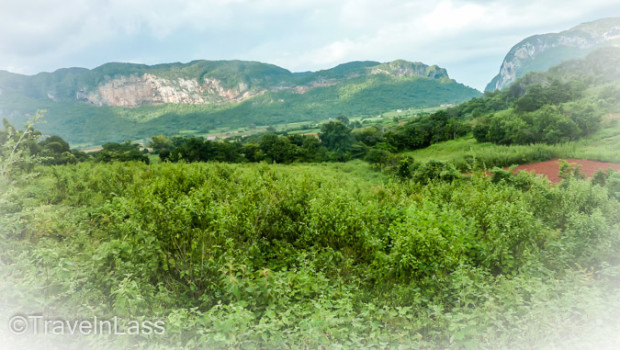 Published on December 17th, 2015
0
CUBA: The Viñales Valley
Viñales was tops on my list of locales to visit in Cuba, and it didn't disappoint. Easy to get to – just a 3.5 hour (air-conditioned -yay!) bus ride from Havana – apparently some folks choose to visit on a day trip. But I opted for 3 nights there and could have had another day or two.
The Viñales Valley is situated in Cuba's Pinar del Rio Province on the northwestern edge of the island, and is surrounded by the Sierra de los Órganos mountains. There's a couple of beaches nearby (Cayo Levisa, reachable by 30 min. boat, and Cayo Jutías, connected to the mainland by a causeway – both doable on a day trip from the little town of Viñales).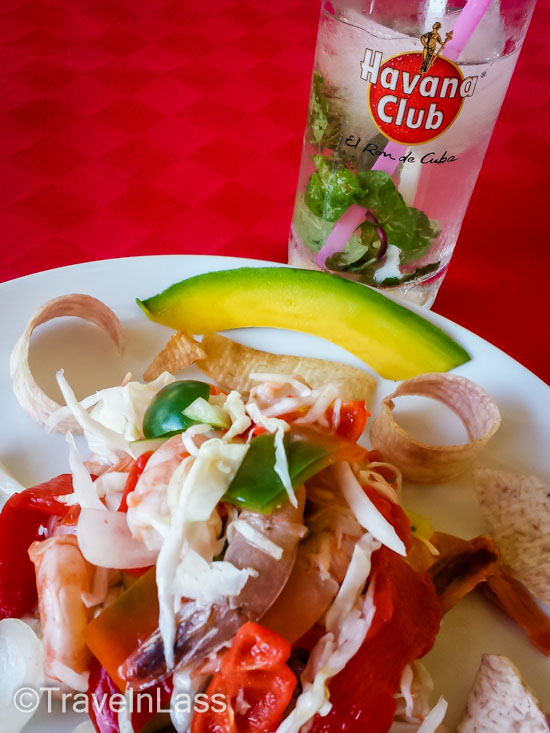 But neither destination interested me because A. I'm not much of a "beach person" to begin with, plus B. I was later headed to both Playa Larga for a few days, as well as Playa Ancón near Trinidad for some beach time.
Instead, I spent my time in Viñales just mosyin' around – finding a couple of (geocaches, and hopping on/off the HOHO bus (highly recommended, full route to caves, a tobacco plantation, a lovely viewpoint overlooking the valley, "the mural", etc. for just 5 CUC).
Oh and – did I mention? munching ceviche and sipping icy mojitos every chance I got.
---
One day I visited the Botanical Garden: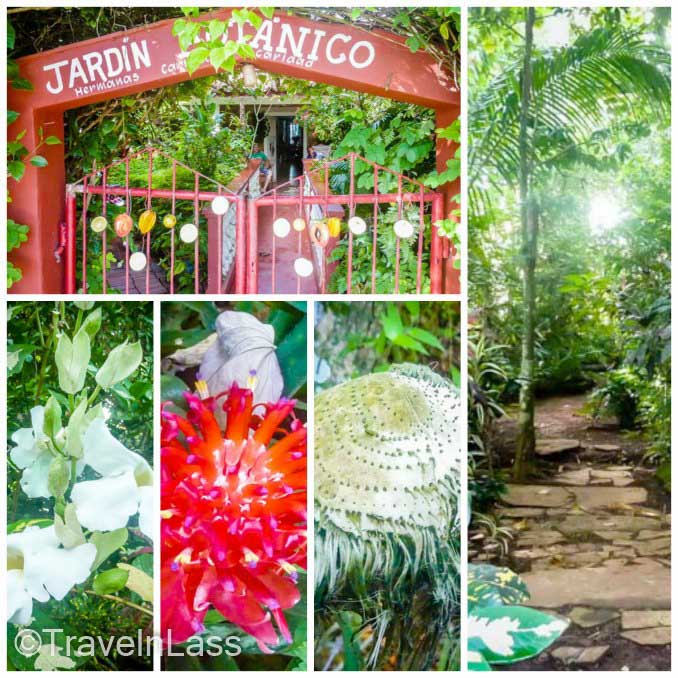 ---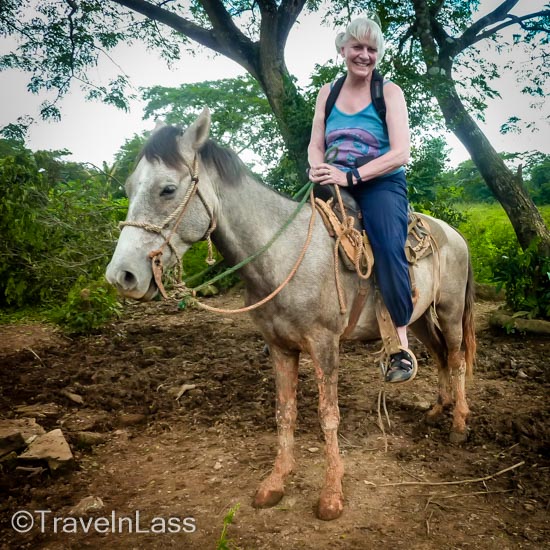 And another day I got reeeeely ambitious…
(in the – did I mention freekin'? H.E.A.T.) and opted for a 4 hour horseback tour (what was I THINKING?) for 15 CUC. The ride proved a good bit dicey as the path was extreeemly muddy (up to the horse's KNEES!) And to make matters worse – as we plodded back to town, it POURED down rain.
Nonetheless it was a very organic way to experience the bucolic beauty of the mogotes landscape that surrounds the valley, and learn how tobacco is grown, harvested and rolled into cigars.
(Click on any of the thumbnails to start the slide show…)

A note on that last smokin' pic: Though I don't smoke (quit 15 years ago – best.thing.I.ever.did), I must say, the mouth end of the rolled cigar is covered with a small square of tobacco leaf that is "glued" in place with a dab of honey.  Makes for a mighty sweet toke indeed.
---
Casa El China
I found the "casa particulars" accommodations system in Cuba to be a fabulous way to meet Cubans and experience the genuine warmth of their hospitality. For around 25 CUC you can enjoy an air-conditioned room with private bath (optional breakfast – generally HUGE: 5 CUC; dinner: 8-10 CUC).
Many travelers choose to follow the "casa particular trail" when they first arrive in Havana: i.e. your first Havana casa particular host will happily telephone ahead (to their brother, cousin, friend, natch) to reserve a room for you, and so on down the line as you travel across Cuba. All well and good, but… there's an extra commission involved of course, and there's no opportunity to negotiate a lower rate as a solo traveler.
Besides – I favor seeing my accommodations before I commit, so I gently declined when my lovely hostess at Casa Luly in Havana offered to phone ahead for a room in Viñales. I was fairly confident there'd be lots of casas available, and indeed there were. Before the bus had even come to a full stop in Viñales, a crowd of casa owners were clamoring at the bus exit, and one grabbed me offering photos of her place at a rate of just 15 CUC. So I followed her to "Casa El China" which was very nicely located near the town center – and I had a quiet, a/c bedroom with a private entrance at the back of the house all to myself.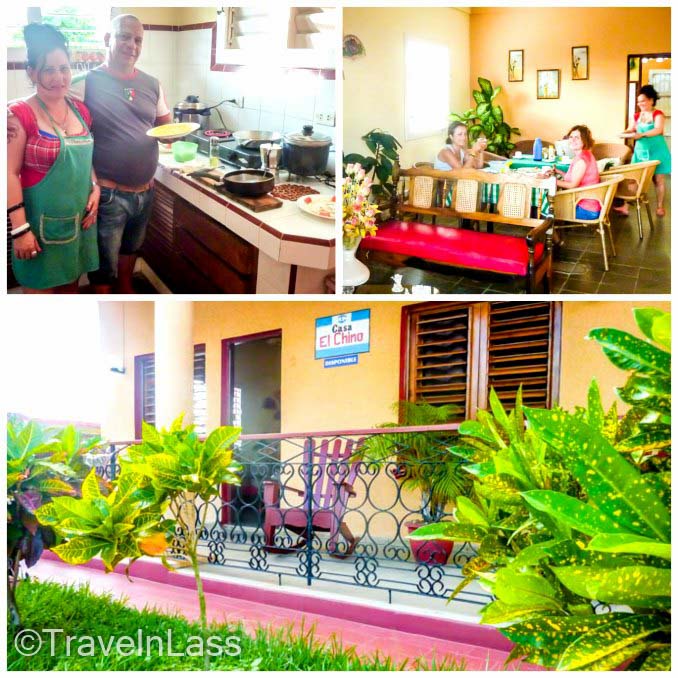 My hosts at Casa El China were both excellent cooks so I enjoyed bountiful breakfasts and delicious dinners (including lobster!) during my stay. The casa was also right across the street from the ETECSA internet office. As wifi is all but non-existent in private homes in Cuba, I was able to shoot off a quick Facebook update there via purchasing a 60 minute card for just 2 CUC.
That said, I'm happy to report that I went (necessarily) pretty much "cold-turkey" on digital connection for the entire 2 weeks I was in Cuba, and…
I SURVIVED!
Indeed, I actually found it a pleasure to step away from a keyboard (including my phone), and break-off the insatiable compulsion to perpetually "share" every blessed moment with all my "friends". The experience proved surprisingly easy for me, and I can highly recommend a "digital detox" every once in awhile.
---
And lastly, a gallery of stray Viñales scenes:
(Click on any of the thumbnails to start the slide show…)
---
Still more to come on Cuba – next stop: that infamous puddle of water, "La Bahía de Cochinos" (The Bay of Pigs).