Eatn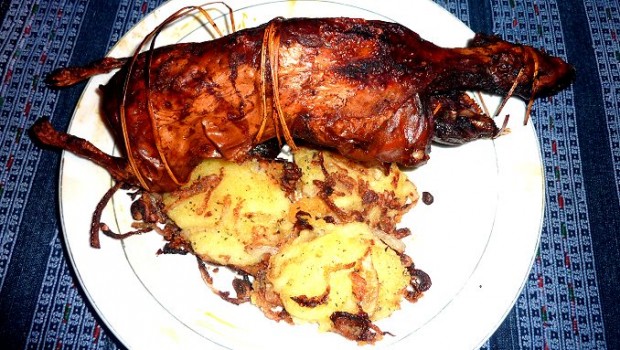 Published on August 2nd, 2014
10
The Requisite Ecuador CUY Dinner
If you're a tourist in Ecuador, within days of your arrival you have two choices for tackling the (arguably) national dish – that cute little iconic "cuy" (guinea pig) critter:
1. Find a cuy stand and pause there gawking and snapping photos of the crispy brown hairless rodents roasting on a stick – whilst simultaneously muttering "Ick!", "How barbaric!" "OMG, I'd NEVER be able to swallow even a BITE!".
OR…
2. Likewise snap a bazillion photos of the poor creature spinning above the coals, and – enjoy nibbling the (decidedly spare, but nonetheless succulent) "chicken-like" flesh of this South American delicacy.
Either way, the scenes above normally take place within days of landing in "The Land of Cuy".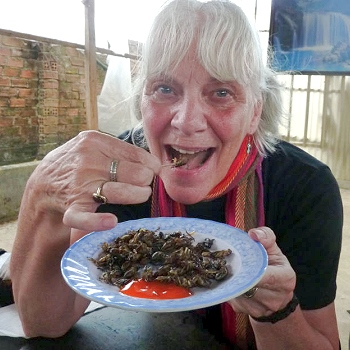 Me?  As a slow traveler who planned to stick around Ecuador for a spell, it took a full 5 months before I ventured forth to see what all the cuy fuss was about.  Five months – not because I'm the least bit squeamish about my vittles. Indeed, I've ever been game to try most any edible on the Planet (including delish crickets in Vietnam and Laos, not-so-much silk worms in Thailand, and seriously dubious "mopane" worms in South Africa).  Rather, I've just been so busy settling in here at 8,000+ feet in Cuenca, I'd just never gotten around to sampling the miniature "pigs" until now.
So off I went last Saturday, to my favorite neighborhood mercado (9 Octuber) and headed to the little cuy stand there out on the plaza amid the fluttering/clucking/pecking pigeons (speaking of which, I've eaten pigeon too – in Egypt, quite tasty if a bit dicey to eat around all the bitty bones).  ANYWAY…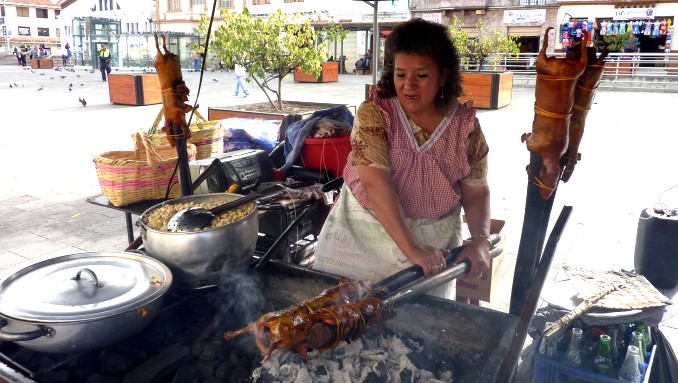 There were a pair of cuy spinning on the spit – a gargantuan hulk nearly the size of a small DOG, barely cooked, and twirling beside it, a demure little one – all nice 'n brown and crispy. So I opted for the dainty one and asked the price: "Seis dolares" – goodness, not exactly cheap (by Cuenca streetfood standards).
Oh well, sez I – o.k. wrap that puppy err… cuy up, por favor!
Once I had the crispy little critter home, I rustled up a batch of my own humble facsimile of the luscious fried mashed potato patties that are often served here with the ubiquitous "hornado" (pulled pork), and…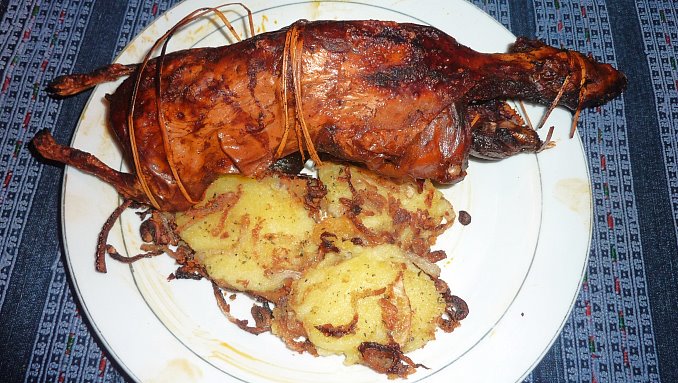 Now I ask ya – little different than a plateful of KFC chicken wings, no?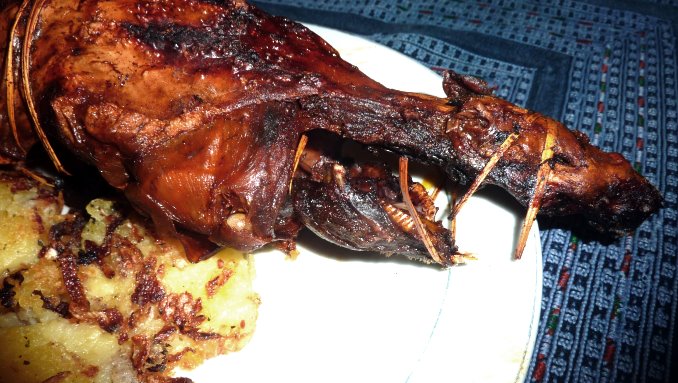 Well o.k. the teeth a dead give-away: Toto, we're definitely not dining at KFC anymore.

My Cuy Cuisine Review?
Meh.  Not so much.  No doubt a larger cuy would yield more to munch on, but my scrawny critter proved extremely dry, and offered precious little to nibble save a bit of thigh and a few shreds of shoulder meat.  Otherwise tasty though, with a slightly salty, smokey chicken flavor. In short, the jury's still out, I'll most definitely try it again – perhaps a larger/meatier cuy more gently cooked so as to taste a tad better than seasoned shoe leather.
Btw, for those in category "1." above (i.e. gagging at the barbaric practice of eating what is considered somebody's "pet" in your neck of the global woods), do bear in mind that "ick!" is clearly in the eyes of the beholder and/or merely what you happen to be used to/ate when you were growing up. The French love their lip-smackin' frog legs after all, and consider snails (ala "escargot") très, très chic. Muslims wouldn't be caught dead munching a pork chop, and Hindus gag at the thought of eating a Big Mac.
So next time somebody passes you a bowl of roast crickets or a plate of rodent in your travels, do try to keep a polite (straight) face and at least give it a respectful taste, before you roll your eyes at the ghastly grub preferred by the locals.
And meanwhile, I would feel remiss were I to write a post on the merits of chowing down on a poor, helpless cuy – without likewise giving a guinea pig his say:

What about you – have you ever tried cuy? What was your most unusual new food in your travels?