Chiang Mai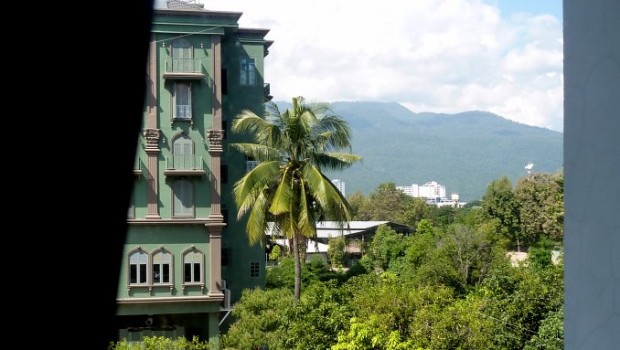 Published on November 27th, 2013
5
New Country, New Digs: a.k.a. "I Always Wanted a Summer Home in Asia"
I've now been more or less settled here in Chiang Mai, Thailand for – goodness, nearly two months! Upon arrival at the tail end of September (following 6 weeks skipping 'round Nepal, Malaysian Borneo and Brunei) I grabbed a monthly place at Smith Residence on the south edge of the CM moat, just a block outside the "Old City" – conveniently within steps of the legendary streetfood sensations at the Night Market, as well as the amazing weekly "Saturday Walking Street" market.
Smith Residence is a favorite goto for newbie farang (foreigner) arrivals here in Chiang Mai – very nice, clean studio rooms with fridge, TV, maid service, a/c and wifi (well… the latter a bit wonky but still) at a very nice price of about 8,000 baht (about $250) plus water and electricity (the latter extra fees uniformly additional at most any rental in CM).
But there are lots better long-term rentals to be had here, and thanks to a stray posting on the "I ♥ Chiang Mai" Facebook page (thanks Steven – I still owe you a beer!) I found a great place (brand new, all modern, spiffy clean, and above all – q.u.i.e.t.) in an equally good location (albeit difficult to locate – none of the tuk-tuk drivers seem to know the address and I got lost twice on foot trying to get there) – just off the northwest corner of the Old City, a 10 min. walk to uh… that SALAD BAR I mentioned previously.
Best of all… the tab? An unbelievable 3,500 baht per MONTH! That's little more than a hundred bucks for a very nice little place to call "home" here in Asia. Of course I opted to upgrade a tad (a room with 2 windows plus a balcony with sliding glass doors – lots of light, making the place seem lots bigger) plus rented both a fridge and a flat-screen TV – all for but an additional 1,000 baht ($30). Bringing my monthly digs tab (incl. free wifi) to all of $137 plus electricity/water.
In short, I now have a perpetual "summer home" here in Asia, where I can keep my extra clothes and paraphernalia (you know, the laptop, iPhone speakers, etc. – the few "luxuries" I keep to make my nomadic life a bit more comfy than that of a perpetual backpacker) whilst I traipse off to exotic lands like Myanmar et al…
…for less than $200 per month.
Shoot, that's less than some in my native land spend monthly on LATTES!
And while it may not be Nantucket, nor certainly no Hyannis Port,  leastwise I have my own little summer home here in Southeast Asia.
Then again – though I've been enjoying the 5-kinds-of-lettuce 'n such here in Chiang Mai, and g-knows there's TONS of farang-ish stuff to do… I must say – The Land of Smiles just isn't quite doin' it for me.   So not sure how long I'll continue to stay.
Nonetheless, the digs price is surely right, and I'm keeping all my options open.   So meanwhile – just thought I'd post some pics of where the TL is presently calling "home".

(Click on any of the thumbnails to start the slide show…)