Mongolia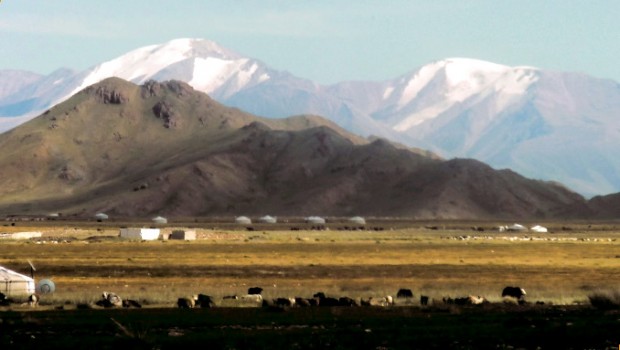 Published on October 20th, 2012
18
A Month in Mongolia – Chapter 2: Milking Yaks in the Wild
As I'm soon to take off on yet another new adventure ( in Oz) I'm anxious to wrap up the tale of the remainder of my month-long adventure in Mongolia.
But goodness – I recently waded through my 600+ pics (now honed down to < 200 but still…) of the two weeks I spent trekking on foot and by horseback in the Altai mountains in western Mongolia, and… Suffice I'm convinced that my many adventures there will take at least several more separate posts.
Nonetheless, I shall begin to make a dent in sharing the tale of:
sleeping on the frigid floors of unheated gers (that is, when we weren't otherwise camped out under the stars – likewise freezing our patooties off.),
riding for a solid week (or til my bum was so sore I could barely walk, whichever came first – and trust that the latter most painfully proved to come first – after but the first HOUR on my steed.),
stumbling in the dark amid fields of yak dung to demurely squat…,
slurping BOATLOADS of steaming "milk tea" (I swear, if I NEVER see another bowl of milk tea, it will be too soon),
witnessing the vividly colorful butcher of a goat for our dinner (we were "guests" and thus it was a "special occasion" after all…),
playing scrabble by candlelight, huddled around the dung-fueled stove,
climbing up a sheer cliff to peek over the edge at an eagle's nest.
holding a live EAGLE on my arm(!),
blowing up balloons and handing out stickers to squealing Mongolian kids (even the 17 yrs. olds were fighting for a sticker!),
helping a Khasak lass make fried bread and churn yak milk into butter,
desperately searching for – even ONE, single ripe TOMATO after two solid weeks of absolutely NO VEGETABLES whatsoever!,
tossing down shots of vodka at a community potluck – on the MENS side of the ger,
gaping nervously as our camel (loaded with all our precious water, propane, food and camp gear) suddenly went NUTS, shaking off pots, pans, etc.,
And yes, even milking a yak.
But first, let me say this – alarmingly, I very nearly didn't make my (so eagerly anticipated) Eagle Hunter tour.  Indeed, I came THIS close to bowing out – not getting on the plane to western Mongolia at all.  You see, upon arriving back in Ulaanbaatar after my week in the Gobi, I allowed but a slim 15 hours overnight before checking in for my Ezna flight to Ulgii the next morning, where my little Back-to-Bek tour group would be waiting to head out into the boonies of Nowheresville, Mongolia.
And in that slim 15 hours…  I got sick*.  Very, very, COBE (Coming Out Both…) a-traveler's-worst-nightmare sick.  And "nightMARE" is a most apt word here, 'cuz I'm convinced that it was that last (reluctant) sip of fermented "mare's milk" in the Gobi that did me in.  In short, not long after I arrived back at the Lotus Guesthouse, I was headed for the (oh so sadly, shared) bathroom.  And I pretty much spent the rest of the night there, retching and so on (the "so on" is kindly used here as a genteel euphemism for all manner of grossness).  Seriously.  I was one miserable, messed-up lass.
Not as seriously messed up as when I landed in an Indonesian HOSPITAL in Sumatra (that I only briefly alluded to in THIS post), but still…  Trust that by morning, I was only the teensiest bit better (leastwise able to exit the bathroom floor, and stand on my own two feet), and thus…  You can only imagine my internal struggle – the one in my gut notwithstanding, but we're talkin' here about the mental struggle/anguish of facing the hard, cold fact that – I might well be NUTS to try to embark on what was sure to be a tough 2 week trek (in the BEST of health conditions) in my wobbly state that morning.
*sick – Though the above two episodes of ugh might lead you to believe that such acky travelers' woe happens frequently in my travels, suffice that's simply not the case at all.  Indeed, though at the imminent moment when one is retching, it might seem like you will never, EVER leave the comfy, hygienic confines of home-sweet-home, the truth is – I can count on one hand the number of times I've been ill in 30+ years of travel.
Nonetheless, by sheer force of will (and against even MY better judgement) I simply put one shaky foot in front of the other, packed up all my stuff, headed to the airport, and – still decidedly queasy, somehow managed to get myself all the way to Ulgii (no less than 1,700 miles west).
At which point of course, there was simply no turning back.
And oh my but am I ever glad I pushed myself forward that morning.  'Cuz – though I remained wobbly for several more days, the two week trek proved to be among the most incredible of all my travels.

Indeed, had I given in to my more prudent (some would argue, sensible) side…
Tune it for future installments with more details and pics of "Life on the Mongolian Trail", "Mongolian Fishing Expedition", "Nomadic Ger Life", "The Mysteries of Mongolian Felt-making", "Mongolian Kids", and/or possibly "A Camel Comparison".
And do tell – would YOU have wobbled your way out of that bathroom, and queasily hopped on a plane to embark on a (formidable, by any standards) 14 day trek in the wilds of Mongolia?