South Africa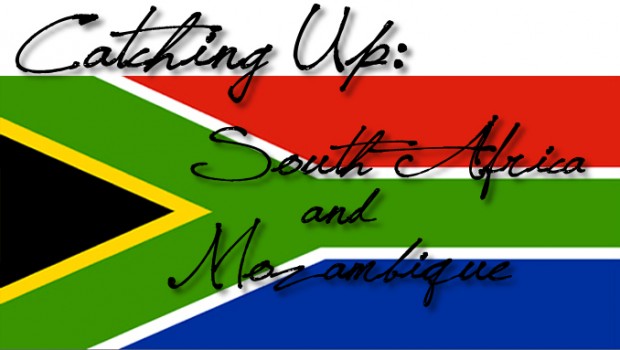 Published on August 27th, 2012
0
Catching Up Series: South Africa 1 of 12
Hmmm… Dunno why this post didn't see the light of day whilst I've been milking yaks here in western Mongolia – I "scheduled" it to air on the 15th automatically. ;(. Likewise the 2nd installment in the new "Catching Up" series on my 2004 solo backpack across South Africa was s'pose to auto publish on the 22nd. Oh well, here it is now (to keep you TL blather satiated til I'm done milking yaks here in the boonies of Mongolia.)
I've actually been blogging long before TravelnLass came to be.  Indeed, back in 2004 I first blogged on travelpod.com (then, one of few "travel blogs" in existence) when I set out on my (lifetime dream) trip to South Africa. That 6 week solo backpack (at the tender age of *6-Oh*) was followed by a short, but oh so sweet trip to Bali (2008), along with Morocco (2009, among my favorite destinations to date), and Egypt (2010).
Admittedly, I wasn't all that reliable in chronicling my adventures on those trips, but I'm grateful for what I did manage to post back then.  For those words and pics surely jog fond memories for me today, of an amazing array of wondrous places and experiences.
So I thought it would be nice to gather up all those stray travel posts and periodically drop them here in TravelnLass, tagged as "CUS" (Catching Up Series) to differentiate them from my more current adventures here in Asia. It might also help me to occasionally fill in the gaps when I'm not able to drum up a current post to keep you, my dear followers regularly satiated with TL blather.
(like, uh… when I'm hunkered down in some remote ger, sans electricity let alone an internet connection, in Mongolia.)
In any case, without further ado, I present to you, my first two travel blog posts EVER:
Catching Up on…
South Africa, Swaziland, Lesotho & Mozambique
(February 12, 2004)
Pecked from: A a frozen cornfield in northern Illinois
Anticipation
Welcome to the Great Adventure – my life-long travel dream-come-true. A 6 week journey to South Africa, and especially Kruger National Park – established in 1884 by my great, great, great Uncle Paul Kruger.
Anticipation indeed – as I've often said (in my Belize and Costa Rica travel classes), perhaps surprisingly, only 1/3 of the joy of traveling is the trip itself. Fully 33% of the fun lies in the weeks, months (years?) of planning and dreaming about the adventure to come. And the remaining 33%? Ah, the memories that you'll have for a lifetime…

(February 14, 2004 )
Pecked from: Still on that frozen cornfield in Illinois
The (tentative) Itinerary: 42 sweet days to play!
When I booked my air (incredibly cheap through Travel Zoo – just $745 rt. from Chicago to Johannesburg!) to South Africa, I opted to use the maximum number of days allowed for the fare – 42 days to play in the South African sandbox. Now wouldn't you think that would be plenty of time to explore a single African nation? Wrong! Once I began the delightful (if mind-numbing) process of researching the many and varied corners of RSA, along with a myriad of remarkable things to do – it soon became clear that even with 6 full weeks, I could barely scratch the surface.
Nonetheless, with the help of my handy-dandy Lonely Planet guide to "South Africa, Lesotho & Swaziland", plus the opulent digital resources on the Web (most every conceivable hostel, game reserve, transport service, younameit – it's all there, just a click away), I slowly began to get a feel for what I want to see and do (and how much time to do it.)
No doubt each traveler has their own unique interests for a trip to South Africa, but for me, the important priorities are: a goodly visit to Kruger NP, oodles of wildlife stalking (including reviving my passion for bird-watching), experiencing (as best a foreigner might) the true indigenous cultures (including homestays with local families whenever possible), and… (well sure, when your freezing your tootsies amid a frozen Midwest cornfield, you too might well lust for) lots 'n LOTS of toasty beaches and dipping of toes in the warm Indian Ocean.
Another priority is of course, budget. With 6 weeks to roam, my budget necessarily must be a slim one – my paltry few rand (the South African currency) eked out ever so prudently. But then exotic travel on a shoestring has always been my forte. Indeed, I sincerely believe that budget travel is the BEST way to explore the Planet. It gently nudges you off the beaten path, and puts you far more in touch with the local culture.
Thus after hours and hours of research and soul searching, the following (tentative) 42 night itinerary was born:
March 31: Arrive Johannesburg just about noon (after 19 hrs. of flight via Madrid) O/N in JBurg probably… the Backpackers Ritz)
April 1 – 2: See a few of the JBurg sights + an overnight in the Soweto township.
April 3 – 7: 6 day/5 nt. tour of Kruger National Park with Livingstone Tours. While I normally prefer to travel fully independently, suffice that everybody recommended that Kruger NP be done by private vehicle, and… this Livingstone tour is great value – far cheaper than renting a car and doing the same itinerary myself.
April 8: End of Livingstone tour and return to JBurg.
April 9: Bus to North Drakensberg, O/N Amphitheatre Backpacker (hostel)
April 10: Shuttle (I hope, as it only runs a few times per week) into Lesotho (a separate sovereign nation surrounded by South Africa and set at an altitude of 3,000 feet – "The Kingdom in the Sky") to Maleala Lodge.
April 11: (Easter) and I plan to be hop-hop-hopping on a pony trek and O/N in Basotho village huts.
April 12: Minibus to Thaba-Tseka, O/N with a Bsotho family
April 13: Bus to Cape Town (O/N probably… St. Johns Waterfront Lodge, a hostel in the Green Point district along the waterfront.)
April 14 – 16: See the sights of Cape Town – primary interest: penguins at Boulders Beach, Robben Island (where Mandela was incarcerated for 27 years), Table Mountain, possibly a bicycle tour of the Cape of Good Hope Nature Reserve and wine tasting. I'm also looking forward to a Turkish bath and massage (apparently just $8) as I've been "collecting" massages at every place I've traveled 'round the world.
April 17 – 19: Head east by bus (possibly Baz, or maybe not…) along the Garden Route, hopping on the Outeniqua Choo-Tjoe steam train at George to Krysna (pronounced "nie-snah"). Poke into Mitchell's Brewery for a spot of beer tasting, possibly tour the Witlokasia township with a visit to a tribal witch doctor and a shebeen, check out Monkeyland, and slurp my fill of fresh oysters – YESSS! (O/N probably… Wild Side Backpackers at Buffalo Bay, else… Weldon Kaya or Abolone Beach House at Plettenberg Bay.)
April 20 – 22: Onward along the Sunshine coast to Cintsa Bay on the Shipwreck coast for a spell (possibly a stop at Storm's River for some "black water tubing" but doubt I'll have time). Definitely a stop at Addo Elephant N.P. as well as an overnight at "Away with the Fairies" near Hogsback, a magical resort set high in the Amatola Moutains (about 60 miles inland) where Tolkien was inspired to write The Hobbit.
April 23 – 25: A short (by South Africa standards) 4 hr. sprint east up the Wild Coast, a.k.a. the "Transkei" where Xhosa villages dot the hillsides. Here, the plan is utter relaxation at Ikaya Le Intlabati ("House on the Beach") at Port St. Johns.
April 26: Today I've planned a very special experience – a rural homestay with a Zulu family in the Umzumbe Valley of KwaZulu-Natal. And the best part – the visit and township tours are part of a community tourism project sponsored by the local Vulindlela Tourism Association – so all the monies help alleviate poverty and uplift the community.
April 27: Whizzing (deliberately) past Durban (clearly Backpacker blasphemy and no doubt Durban a nice enough town, but… a robust coastal town of 3 million plus a magnet for the surfing crowd, just doesn't tickle my travel toes.), I set my sights on exploring Zululand and Maputaland. And in that spirit, my itinerary for the day is to check in to the Inyezane backpacker at Gingindlovu, and partake of various Zulu craft workshops, music, and a private session with a local witch doctor/medicinal herbalist. I hear you can even get a ritual mud bath!
April 28 – May 2: Here's where my itinerary begins to get dicey 'cuz I'm running out of time and there's still so darn much to do in the Zululand/St. Lucia area. But suffice I plan to base myself somewhere in the middle of it all (likely the Isinkwe Backpackers Lodge at Hluhluwe) and then scurry to 'n fro to see all that this last leg of the coast has to offer. That would include… the Zululand Historical Museum and the Dlinza Forest Aerial Boardwalk near Eshowe, possibly KwaBhekithunga (a craft and cultural center), Shakaland, the Dumazulu Cultural Village, and of course Hluhluwe-Umfolozi Park. Then there's the glorious Greater St. Lucia Wetland Park, the St. Lucia & Maputaland Marine Reserves, Cape Vidal, Sodwana Bay, the Mkhuzi Game Reserve, Kosi Bay Nature Reserve and Tembe Elephant Park (the latter 2, right on the Mozambique border. Goodness but I could spend a month in this one area alone!
May 3 – May 5: But of course there's still more. Indeed, two more major destinations that I've saved for the very last. The plan is to spend 3 full days exploring the Kingdom of Swaziland (another separate sovereign nation tucked into South Africa) including craft centers selling exquisitely woven grass baskets, and the most wondrous Swazi candles (hey friends/family – guess what you may find in your Christmas stockings!). Also, the Swazi cultural village, the hot mineral springs at Royal Valley, more Swazi art and crafts including the Ngwenya Glass factory, African batiks, and luscious mohair tapestries, and the twin wilderness parks of Hlane Royal N.P.and Mlawula Nature Reserve.
May 6 – 10: And finally… with Mozambique just around the corner, I decided to end my African adventure with a relaxing stay amid the islands of the Bazaruto Archipelago off the coast of Mozambique.
May 11: Return to Johannesburg for 1 last evening in South Africa.
Whew! Goodness but all this research and planning makes me DIZZY! And while it's surely fun to while away these frigid days here in this snowy cornfield, no doubt much of the plan will begin to warp and unravel – the moment I step foot on the African continent. (and that's perfectly o.k. too!)
In any case, I hope you'll tune in as I go along – to see if the actual trip remotely resembles the plan…

Fast-forward 9 years:
Suffice… the proposed itinerary did indeed fall into shreds pretty much the moment I hit the South African tarmac (stay tuned here to the "Catching Up" series, to see just how it went).  Nonetheless, all that research proved mighty handy (not to mention, whiled away many frigid nights on that cornfield!)
Check out all in the "Catching Up" South Africa series HERE