Ecuador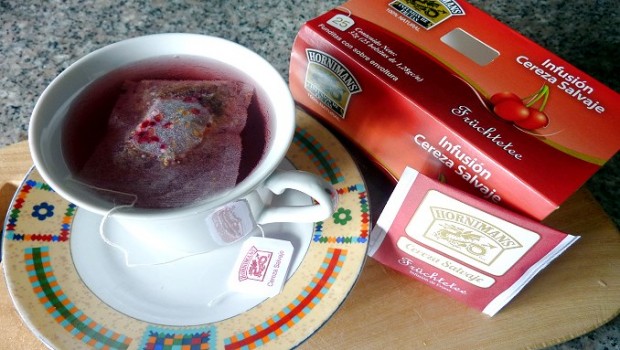 Published on July 22nd, 2014
12
Spanish: Ah, the Difference a Single Letter Makes…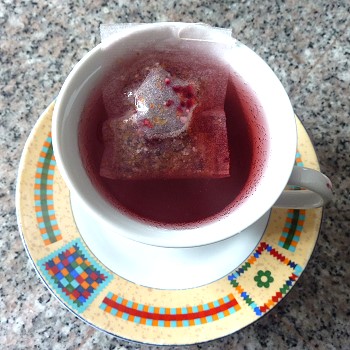 Slowly but surely, poco a poco, I'm learning the ropes of my new Ecuadorian culture, and with it – how to decipher the names of strange herbs, spices, fruits and vegetables in Spanish.
So there I am, in a new (for me) neighborhood supermercado (think: a step up from the open air mercados of hanging-pig-hoof fame, all spiffy with chrome and glass, and neat shelves of canned frijoles and even a stray package of Edam cheese – woa!)
Errr, excuse me but that Edam rather made me lose my train of thought for a moment.
O.k. so there I am, an aisle or two beyond that luscious crimson round of Edam, pondering the many packages of teas. With names like "té verde" (green tea) and fruities like "té de limón", "naranja" and "fresa" (lemon, orange and strawberry), as well as somewhat more exotics like "té de anís" and…
"infusión salvaje cereza" – the latter with a handy image of what can only be cherries on the box, so clearly "cereza" is the Spanish word for "cherry", yes?
So I bought a box of the "Salvaje Cereza"* and when I got home, I put the kettle on to boil to make a nice cup of hot fruity goodness. And while it was steeping – just to be certain of what I was going to be sipping, I Googled "cereza" – only…
By mistake I pecked the word with an "s" instead of the "z" (i.e. "ceresa") and…
OMG, Google pops up all these pics and articles about some ughy little BUG called a "treehopper"!!!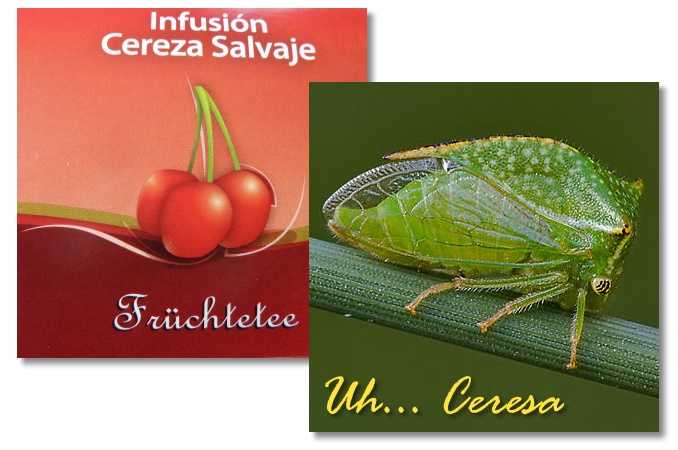 Needless to say, for a few terrifying moments there, I thought I was about to sip a tea of infused BUGS!
*Note: "salvaje cereza" actually means "wild cherry" – and that concludes our Spanish lesson for today. 😉
What about you – have you ever messed up a foreign word big time (either spelling or pronouncing), and it turned out to have a majorly different meaning?