Foto Flip Friday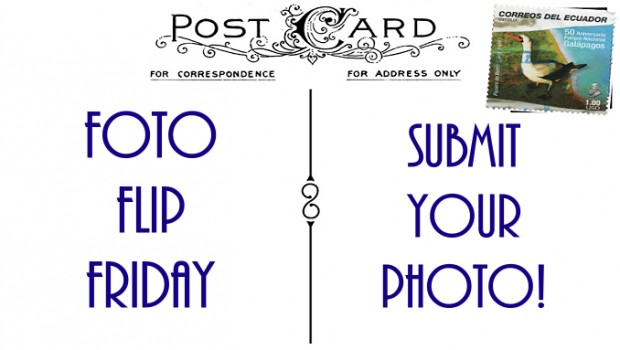 Published on June 6th, 2014
34
Foto Flip Friday: Follow Your Dreams (Submit Week 1)

I'm EX.CITE.ED. I recently discovered a nifty new plugin that allows me to post fun "flip" photos like the one below:
(simply mouseover the image and watch the *magic!)

* Well o.k. for those viewing in IE, not so much a magical "flip" as a fading change. If you want to see the flip/flop, try viewing in Chrome or Firefox.
By some miracle I got the code to work sweetly, and I thought I'd use it to revive my long neglected "Random Photo Memory" series. As I'm a complete sucker when it comes to fiddling with anything digitally graphic, I figured maybe the novelty of the "flip postcard" notion might keep me on track – posting a photo of my past travels each week.
Then again… probably not.
But THEN, it suddenly occurred to me that it would be even more fun (and quite possibly actually keep me on track) if… I turned the "Foto Flip Friday" series into a friendly contest that YOU ALL could participate in. A little photo competition (with a monthly "theme") where you could submit a photo, and I'd showcase the monthly winner's image – like so:
(again, mouseover the image silly, so you can read the message on the back of the postcard)

Imagine that – the chance for YOUR photo, happily flipping to 'n fro here – with YOUR personal message on the back for all the gazillion TL readers (well o.k. maybe a smidge less than a million) to see! PLUS… for those who like – a link back to your website/blog (a kindly link back here to TravelnLass not required, but nonetheless appreciated) 😉
All you need do to participate in the new TravelnLass monthly Foto Flip Friday fun (yes, yes, I agree my penchant for alliteration gets a tad annoying at times.) ANYWAY, all you need do is:
Choose a pic (that YOU have taken!) that fits this month's theme – one that's in "landscape" orientation (to fit the "postcard" profile). Make sure it's at least 700 pixels wide and in .jpg format. The pic needn't be fabulous nor professional quality (mine surely aren't!), but do choose one that showcases your best work (a bit of postprocessing is fine).
Upload your photo to the Web (in a blog post, on Facebook, Flickr, Photobucket, Instagram, Picasa, etc. – many options for photo hosting – just make sure wherever you put it, the privacy is set to "public"), and then…
In the comments below, post a link to your photo, plus…
A short (no more than 10 – 15 words) "postcard" message of the story behind the photo/why it fits the theme, and whatever name you want as a signature. This I will put on the flip side of the winning postcard(s).
Also include a short (1-3 short words) title (where the photo was taken or some such) that you want on the postcard front, plus a link to your website if you like.
The winning postcard(s) will remain displayed for the last week each month, and the following Friday I will launch a new theme. All the winning entries will be archived so you can view them any time.
Any questions? (do drop a note in the comments) Otherwise – the theme for this first month's (June) Foto Flip Friday is…
FOLLOW YOUR DREAMS
e.g. any pic that you've taken that inspires you to follow your dreams (be they travel, or career, or art, hobby, sport, or whatever), *or an image (like me on that elephant in the sample above) that shows you gleefully enjoying your dream-come-true.
* Note: though normally your photo must be one that YOU took – for this "Follow Your Dreams" theme, we'll let you slide if YOU are in the pic – and thus obviously didn't have your finger on the shutter.
Here's another example of what "Follow Your Dreams" might mean to you…
Okay, let's get started.
Starting today, you can submit a photo (one per person/website) for the June theme via the comments below, anytime during the next 2 weeks (til Friday, June 20th)
Note, photos submitted after the June 20 deadline, will NOT be considered.
Meanwhile, I'll post a "Foto Flip Friday" pic or two of my own each Friday to give you ideas of the kind of photos that fit this month's theme.
After submissions are closed, I'll study all the entries and select up to 3 photos I fancy the most (I mean, this is MY blog after all, so I get to be the judge, no?) and whittle them into nifty digital flipping postcards.
On the last Friday of each month, I'll post the winner(s) here on TravelnLass where they will sweetly flip to and fro for all the world to see.
Added bonus: The winners will be eligible to display a Foto Flip Friday Winner's Badge on their site (linked back to their winning Flip Postcard here at TL), and…

ANYBODY that submits a photo (even if it's not in the top 3) will get a link to their site beneath the winning postcards.
Ready? Get set… GO!