Cuenca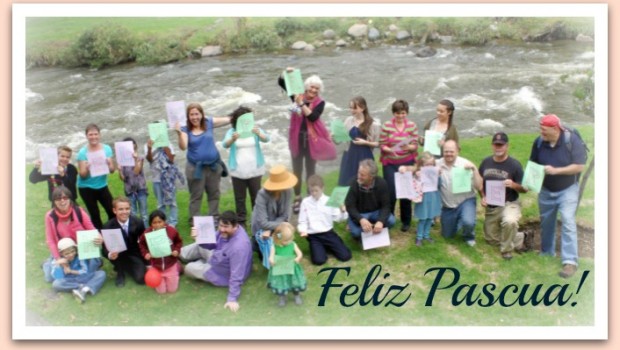 Published on May 3rd, 2014
6
Easter in Ecuador – Sharing Traditions
(btw, the group pic above, of everybody holding up those green papers?
They spell out: back row (Spanish) "Feliz Pasqua", and front row (English) "Happy Easter"!)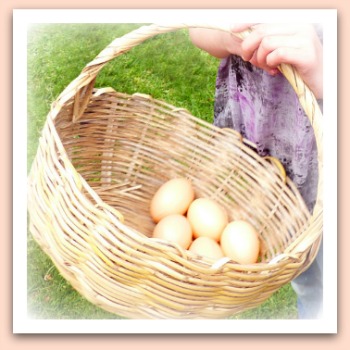 My entire life could be said to be one long jolly Easter Egg Hunt. Whether it was actually toddlin' around my childhood backyard pokin' among tulips, or seeking a glimpse of ancient temples in Bagan, Myanmar.  Indeed, the very definition of travel might well be described as:
travel, v. [trav-uh
l]  Ever seeking out hidden wonders scattered about this Big Blue Dot.
The truth is, I guess I never got over that lovely "aha!" thrill when my 4 yr. old self spied a colorful blob of red, or blue, green or yellow nestled amid the dandelions.  Thus, as I grew older, I continued my quest for "treasure" in all manner of Sherlock and Indiana Jones style.
In college it was after-dark car rallies – driving willy-nilly all over Chicago following numbers on a map and noodling out cryptic clues like bars of Lava soap hanging on chains from picnic tables (i.e. the chain ran through holes in the two "a"s leaving just Roman numeral "LV" = 55, of course!)
Then there were the treasure hunts I devised for the intrepid groups that I dragged down to Belize in the 90's – where better to stage a hunt for "treasure" than a tiny island set amid the blue Caribbean?
Ah but the supreme elixir for my life-long treasure hunting penchant emerged in 2004 when I discovered the epitome of "aha!" – the world-wide game of geocaching.  I mean, what could be better for a wanderlust "Indy" wannabe like me, than skipping around the globe seeking hidden trinkets (and racking up more than a THOUSAND finds)?
In short, no matter where I roam (or in this case, light for a somewhat permanent stay), my insatiable quest for "treasure hunting" lies ever ready to be sparked by the slightest hint of sleuthing fun.
The Great Cuenca Easter Egg Hunt
And so it was… when a fellow solo expat lass here in Cuenca (fresh off the plane from the U.S.of All-things-Hallmark holiday fame) happened to ask in the Cuenca expat forums: "Do they have Easter Egg Hunts here? Do they color Easter eggs? Easter bunnies and chicks and colored eggs are my happiest things and I want to see some!"
To which I (naturally) hastily replied:  "Hey girl – there's nothing to stop us from staging our own Easter egg hunt here in Cuenca, is there?"
And thusly – the (First Annual?) "Great Cuenca Easter Egg Hunt" was born.
Predictably, my subsequent announcement of the event in the forums drew the grumpy attention of those who view children (as well as we "Young at Heart" adults) joyfully skipping through the park seeking colorful bobbles hidden amid the grass… as somehow "imposing" U.S. decadence on an unsuspecting foreign nation.  But such sniveling prattle was swiftly snuffed out by more rational forum folk ("I don't get it, Ecuadorians living in other countries still observe their traditions. Sharing our traditions is part of what "cultural diversity" is all about." and "There's nothing wrong with celebrating holiday traditions from your homeland. Immigrants in the U.S. do that all the time. The key is inviting Ecuadorians, so they can learn about your traditions.")
Indeed.  Surely no harm in inviting any and all along with their wee ones to… have a little fun hunting pretty colored orbs in the grass.  And soon, we had a merry bunch of both expats and locals, all gathered with a sweet gaggle of tykes, happily skipping through the grass along the lovely Rio Tomebamba here in Cuenca.
The tough part was finding "huevos plasticos" (of ANY color) to hide, but I finally unearthed a cool hundred(!) dandys (albeit all a rather ho-hum shade of beige).  We also had a "special" glittery ball hidden especially deviously – found by one of the older kids who got a special "lei" prize for his extraordinary sleuthing.  I scribbled number points on each egg (ranging from 1 to 5 to 10 to 20) and helpful volunteers hid them accordingly from easy grass tucks for the little ones, to tougher hides in tree crooks for the older kids.
To round out the event, I devised a couple of additional games:  a "spoon egg relay race"  (each kid paired with an adult – the kids carried their spoons, while the adults had to hold them in their mouths!) plus a rousing game of "Ankle Balloon Stomp" that ended in a tense duel between two of the older kids.  Oh, and prizes, Prizes, PRIZES – we had a boatload of little trinkets for everyone that played.
Al in all – a most fun time for my first Easter in my new adopted "home". And already there's talk of making the Great Cuenca Egg Hunt an annual event!
What about you – when was the last time you hunted for Easter eggs?
Or any other kind of "treasure" for that matter?