Cuenca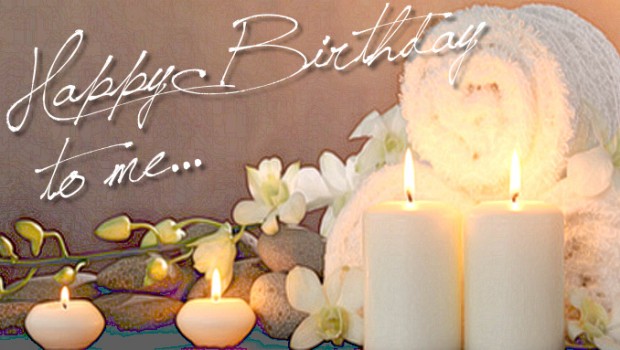 Published on March 16th, 2014
14
Birthday Indulgence: Piedra de Agua Hot Spring & Spa
Oh joy, yet another birthday. The truth is, when you get up here in the rarified numbers of my dodderin' age, yet another reminder of just how long you've been spinning on the Planet is… arguably not all that much of a thrill.
On the other hand, I must say – when I look at it instead as… looking back on what all I managed to do in the past 365 days (Nepal, Borneo, Myanmar, etc. – and btw dear followers, trust that you WILL hear more about my adventures in the latter two countries soon) – I can only be grateful that I'm still able to romp around the world at all.
And in that spirit, I generally try to do something a bit festive, unusual, indeed (for me) uncharacteristically decadent (read: pricey) to mark my bountiful joy to simply be able to… well, do ANYTHING save wobble fore and aft in a rocking chair.
Thus, I opted for a duet of decadence to celebrate this 60-nth "cumpliaños" in my new home here on this (not so) "g-forsaken mountain top in the Andes".
Dinner at Paladar's
First, on the eve of my birthday I enjoyed a most lovely dinner with new Cuenca acquaintances – 3 charming lasses likewise "of a certain age" – at Paladar's, a newly opened "dinner club" presently serving a single set dinner just two days each week.  Situated just a few blocks from my apartment amid the cobbled streets of El Centro, the restaurant features a lovely garden atrium with fountain and bar where guests gather for "social hour".  Sufficiently mellowed by cocktails, folks then proceed to eight intimate dining rooms (each seating 4-10 guests), all lovingly restored and artfully hand painted by Cuencano artist, Fausto Merchán.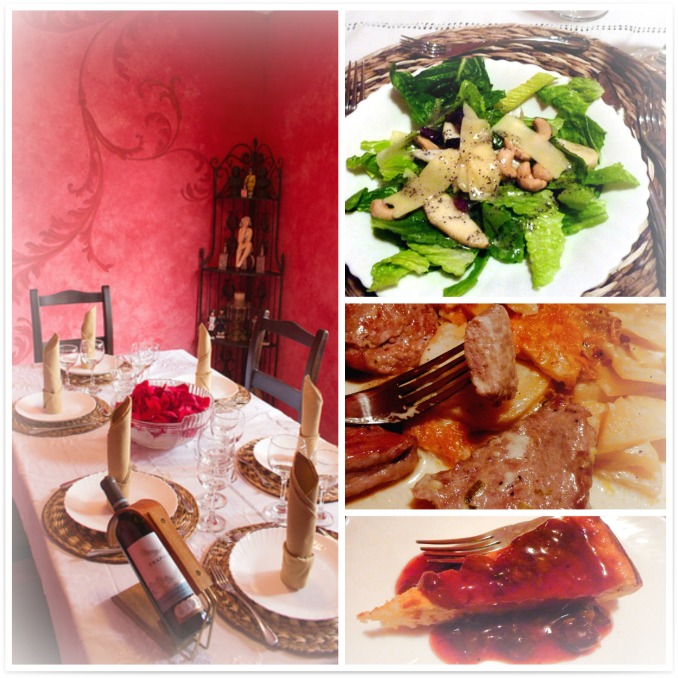 For less than $20, my birthday dinner included appetizers, wine, salad with pears, mozzarella and cashews drizzled with poppy seed dressing, a  bountiful helping of tender pork medallions accompanied by au gratin potatoes, and a sublime slice of cheesecake smothered in sweet cherry sauce.
La Piedra de Agua Spa
Ah but that delish culinary indulgence paled in comparison to the following day, when the birthday girl hopped in a cab for a 20 minute ride to the nearby town of Baños for a full afternoon of hedonistic sensual pampering at La Piedra de Agua Fuente Termal y Spa  (The Stone Water Hot Spring & Spa).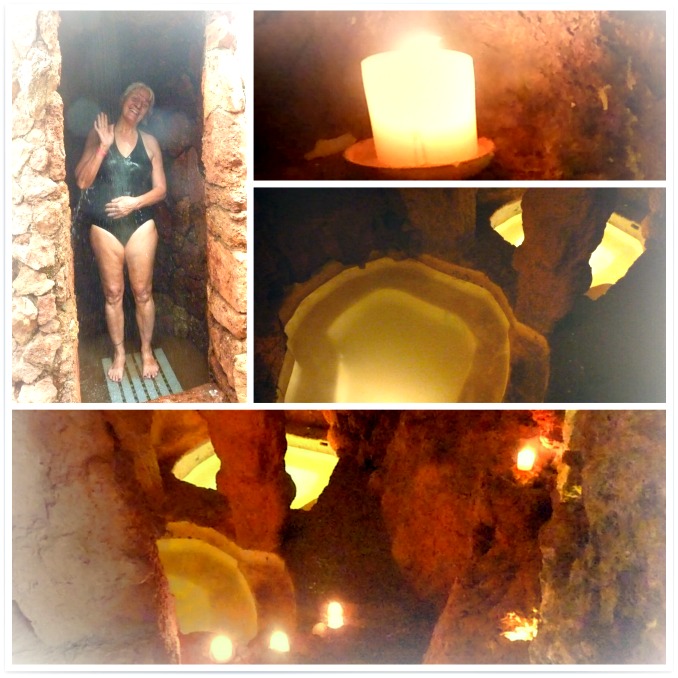 While the spa offers a wide choice of decadence levels (e.g. a mere $10 will get you access to the outdoor thermal swimming pool, mineral showers and the standard steam baths for the entire day), I opted for the full-meal-deal "Relaxation Pack" including:
my own private host to guide me to each uniquely sensual treat
outdoor thermal pool
standard steam bath
volcanic red mud pool (natural exfoliate mineral mud – you slather yourself with it, relax on a chaise to dry, then rinse off in the outdoor thermal shower)
volcanic blue mud pool (skin softening mineral mud – ditto slather, dry, rinse – leaving your entire body smoother than a babies bottom)
underground contrast pools (a languid soak in an underground, cave-like thermal pool lit by flickering candles, followed by a 30 second dunk in the adjacent frigid pool, rinse and repeat until your entire body is a limp, tingly, worthless bag of bliss)
underground box steam bath (with your head sticking out!)
Japanse pool
30 minute aroma therapy massage, set in a candlelit cave (the masseuse, excellent and far more merciful than the slap-happy Thai's that gleefully perform acrobatics whilst perched atop your bum)
30 minute herb and mud pack facial (my first ever facial!)
champagne and fruit plate with melted chocolate dip
chocolate chip cheesecake (special for the birthday girl)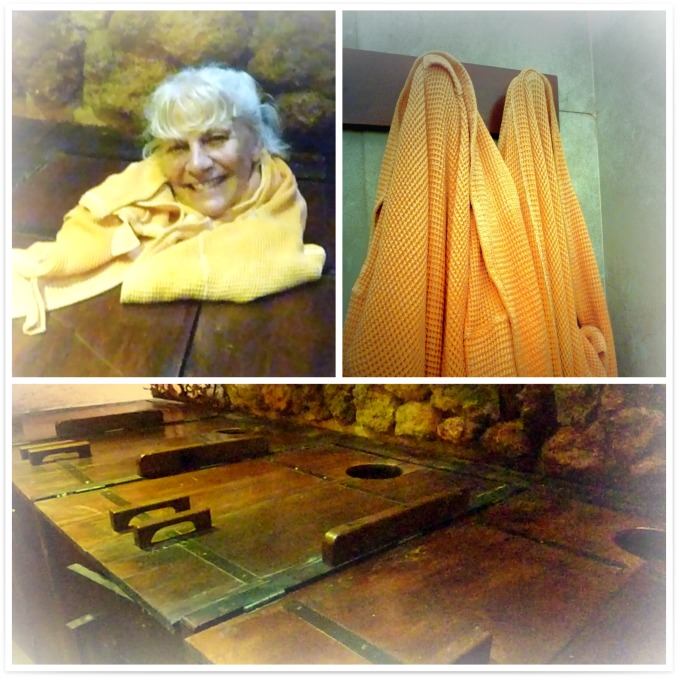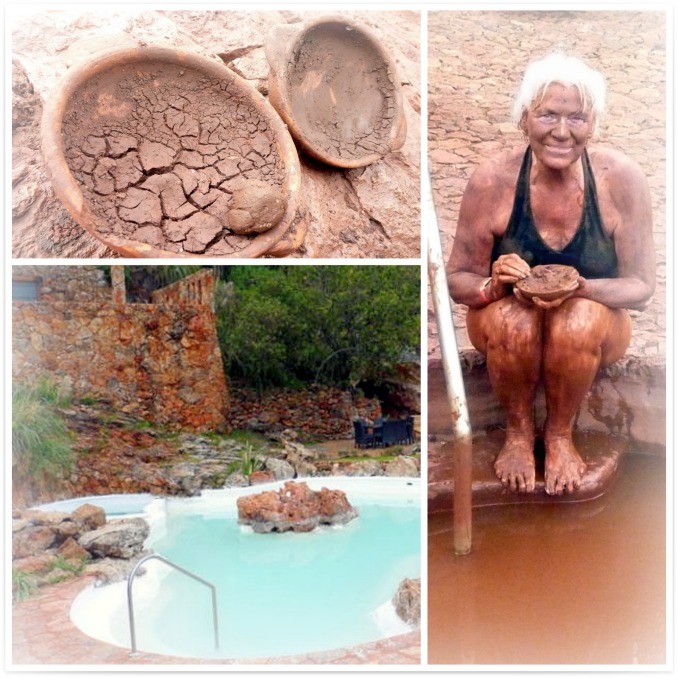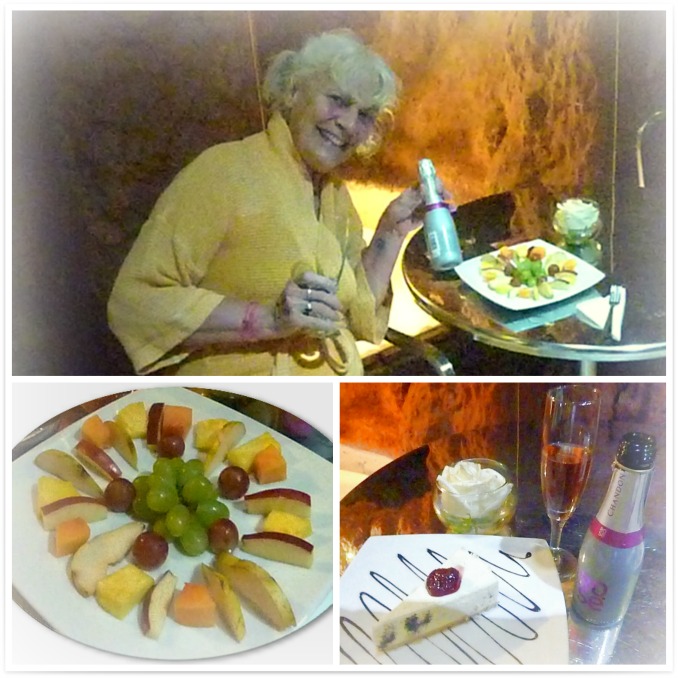 Seriously.  It was divine.  Indeed, my most hedonistic "Feliz Cumpleaños" ever!