Nepal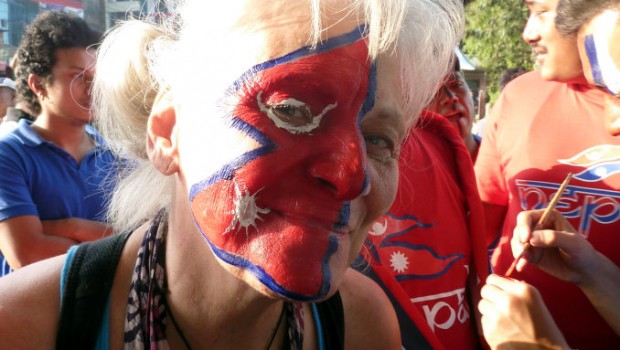 Published on January 5th, 2014
28
Kathmandu: Sardine-fest with 20,000 Nepal Soccer Fans!
Yes, we're STILL catching up on Nepal here.  That's 'cuz there's just so very many pics and fun tales left to tell.  Slowly but surely I'll get through all of them.
If there's one aspect of traveling that I most cherish, it's the serendipity of mingling with locals at stray festivals, weddings, etc. And happily, such spontaneous moments happen a LOT for me  (heck, I even once stumbled upon a Balinese funeral!) likely because A. I deliberately try my best to steer clear of the usual tourist corners (favoring instead, to wander down the back lanes where folks are simply living their daily lives), and B. as a solo traveler, the locals view me as more approachable, and often invite me into their homes, to family celebrations, etc. – offering me a peek into the inner-sanctum of their lives that most tourists never get to see.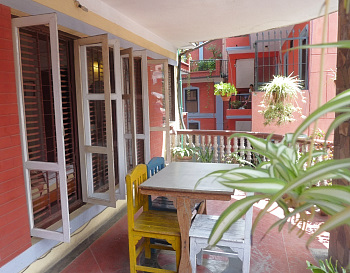 Such was the serendipity of meeting dear Dipak – the manager of an art gallery attached to my tiny guesthouse in Kathmandu.  Shortly after I'd checked in, we struck up a chat and thereafter, he most kindly took me under his wing, tagging along to interpret (he speaks excellent English) as I shopped for a new battery for my camera, and leading me to Durban Square – wisely after 5:00pm to avoid the daytime $8 tourist fee.
<——– the patio of my sweet "Up Town" ($8/nt. sgl. en suite) room in Kathmandu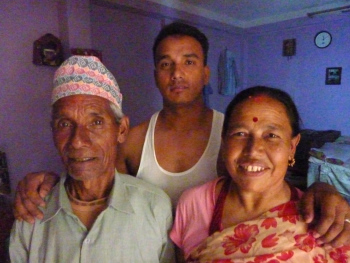 Married with an 11 yr. old son, Dipak helped me in oh so many ways: walking me through the dizzying streets of Kathmandu to catch the – yeah, like I would have ever been able to choose the right one on my own – local bus to Bhaktapur, holding my hand whilst I endured an hour of p.a.i.n getting my (now beloved, but still…) ankle bracelet tattoo and better yet – his kind invitation to have lunch at his home where I met his entire family including his mother and father from the countryside.
But perhaps the very best gift that my Kathmandu guardian angel gave me, was taking me to the Semi-final SAFF (South Asian Football Federation – think: Asia's NFL) soccer (well o.k. in all but my native land, "football") game.
Nepal was slated to go up against Afghanistan and early in the run up to the Saturday night game, the price for game tickets was in the stratosphere, or worse – tickets were rumored to be fully sold out.  But then… Dipak's beautiful wife was able to get 2 tickets from her work, so Dipak and I could attend the game.
Now I've personally never been much of a spectator sports fan (though I will admit to being a fair-weather fan of both the Seattle Mariners and the U of O Ducks on the – rare – ocassions when they've been on a brief winning streak).  Nonetheless, I was thrilled to be able to join the local frenzy of socc, errr… football fans beneath the majestic peaks of the Himalayas.  And "frenzy" is the operative word here – for I was a tad apprehensive to be jammed shoulder-to-shoulder amid a swarm of 20,000 rabid fans of a sport that is infamous for alarmingly zealous mobs – in a country where I didn't speak the language.
Ah but words are apparently superfluous when it comes to Nepalese football – the sea of grinning red and blue-painted faces told the whole story, and I felt only the happy euphoria that was contagious around me.
Heck, we even did "the WAVE"! 😉
(Click on any of the thumbnails to start the slide show)