Published on January 1st, 2014
Ringing In The New Year In Chiang Mai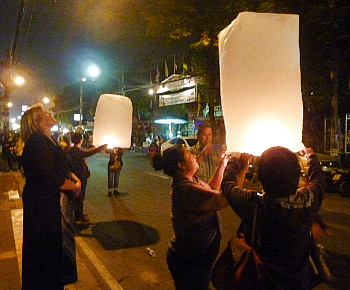 When it comes to ringing in the New Year…
Times Square in NYC has NOTHING on Chiang Mai, Thailand!
Just a quick one here – to share the first few seconds of 2014 with my dear TL readers.  Admittedly a less than sterling quality video, but nonetheless, at least it captures the spirit of celebrating the countdown here in Chiang Mai.
Note, the bitty gold specs wafting slowly upwards in the sky – thousands of lanterns (much like the glorious Yi Peng festival I witnessed, spell-bound last November).  Folks were launching them on every street corner, and for hours 'n hours, a stream of them floated in the skies above Chiang Mai like bitty, magical fireflies.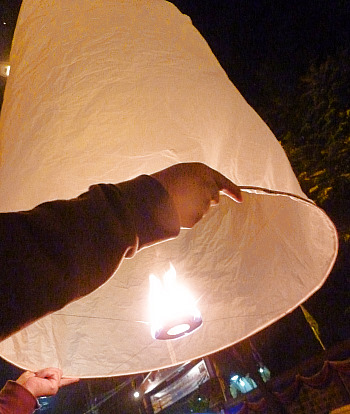 Also note the (rather stern?) "marching" song that played at midnight.  Clearly not the usual (world-wide?) traditional "Auld Lang Syne"  – so… we (the visiting mother of a New Zealand chum and I) belted out our own "Should old acquaintance be forgot…"!
3:17 pm Thai time (00.17 am NYC time) Update:
15 hrs. after my own celebration here in Thailand, I just watched the Times Square countdown and OMG – that crystal ball is AWESOME, the crowds, the confetti, John Lennon's "Imagine" and Frank Sinatra's "New York, New York".  Holy smokes – it all nearly brought TEARS to this wanderin' lass' eyes!
That settles it – my one (and ONLY) New Year's Resolution for 2014 is this:
I SHALL be in Times Square next year to ring in 2015!
Actually, that should prove fairly easy 'cuz… next year I'll likely be living pretty much due south of New York – somewhere in ECUADOR.  Shoot, unlike the 8,000+ miles from here in Thailand, Ecuador to NYC is less than 3,000 miles!
O.k. so who's with me on this – who's up for meeting me in Times Square next year to ring in 2015???