Myanmar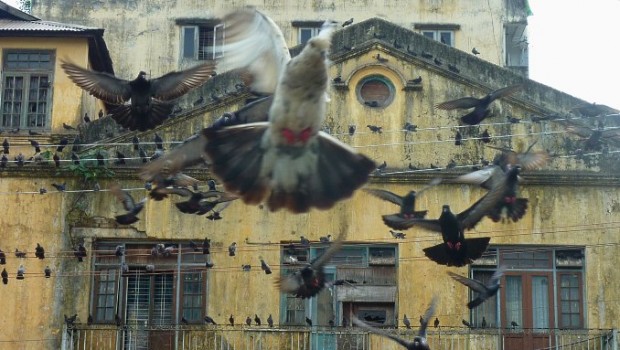 Published on December 2nd, 2013
4
A Sunday Stroll in Yangon…
Given that I have to wait til Monday to pick up my Thai visa (grumble, grumble, Thailand why must you always give me grief?), I have more days in Yangon than I might otherwise like (5 days/4 nts.)  Nonetheless, I like nothing better than "slow travel" and never tire of aimlessly wandering around the streets of a new and exotic city. And I must say, Yangon (formerly Rangoon) in Myanmar (formerly Burma) offers an especially diverse assortment of surprising sights.
My only Sunday chore was to locate an ATM that accepts VISA plastic – no easy task in this land so recently opened to travelers. While there ARE more ATMs here than had been rumored, comparatively there's still but a dearth of them, and many/most seem to be A. out of order, or B. they don't accept VISA cards (I KNOW, it's such an obscure credit card after all).
I did manage to eventually locate a proper ATM, and grabbed a thick bundle of kyats (pronounced "chats", 1,000 kyats = about US$1, so very easy for we Americans to do the math) to serve me over the coming weeks should I find ATMs even less handy in more rural areas. Btw, I'm also carrying a boatload of crisply pressed US dollars as they are accepted at many hotels and other Myanmar services.
So my Sunday was pretty low-key – mainly…
My morning spent here at the keyboard doing research on my *planned itinerary.
And my afternoon – strolling the streets of Yangon, snapping photos hither 'n yon, finding a (most unusual for Myanmar) modern shopping center, complete with the ubiquitous "Cinaplex" on the 5th floor (currently playing some Thai film dubbed in Burmese) and a swimming pool on the roof! I opted for a dish of coconut ice cream, and marveled at the Burmese teens playing Wii and other games in the 4th floor arcade.
mmm
Streetside, there were amazingly picturesque crumbling old buildings with a bazillion pigeons flapping about (for a moment, I actually thought I'd been transported to some stray plaza in Italy!), and plenty of streetfood to sample. I was especially delighted to find a lass mixing up fresh "Tea Leaf Salad" and ordered a bag to take home ("home" here being a relative term for my current hostel, Agga Guest House).
All in all, a most lovely leisurely Sunday.
And what did YOU do on your Sunday?

(Click on any of the thumbnails to start the slide show…)
*(an overnight bus to Kalaw Monday night, followed by a comfy room HERE to recuperate from the 11 hr. bus trip; then likely a 2 nt. trek to Inle Lake (the trekking said to be wondrous) plus a couple of nights at Inle Lake. After that – dunno, the bazillion stunning temples at Bagan of course, but not sure if I'll take a train, bus or plane. Following Bagan, the plan is to take a slow (overnight) boat to Mandalay plus possibly a couple nights around Hsipaw – northeast of Mandalay. All very loose right now (the way I like it) but will firm things up as I go along.)