Laos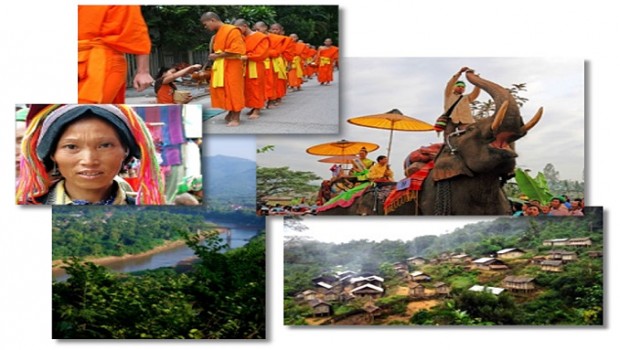 Published on February 9th, 2013
6
Let's Go See What Laos Is All About
I mean you didn't really expect me to sit tight for too very long – even here in my beloved Dalat, did you?  The thing is, I AM a tad "traveled out" (never dreamed I'd ever peck those words) these days after whizzing to  Thailand, Mongolia, Singapore and Australia in just the past six months.
And that's not even counting jetting from Seattle to Vietnam in the first place, little more than a year ago – whizzing to Ha Long Bay, Sapa, Phu Quoc Island, and skipping off to gawk at those wondrous ancient temples at Angkor Wat in Cambodia. Not to mention moving from sultry Saigon up here to the cool mountains of Dalat.  But still…
I just signed a contract to start teaching again – a 6 month commitment starting in March – at The American Academy (AMA), one of the best private English schools here in Dalat.  And while I'm excited to get back in the teach-groove, and thrilled to be working at AMA, I must say…
The moment I penned my moniker to that contract – all I could think of was… OMG, I'll not be able to whiz off to foreign lands for six whole months – GASP!
(Yeah, like I'm not ALREADY living in a decidedly "foreign land" here,
but… well, you know what I mean.)
Repeat: SIX.WHOLE.MONTHS. Needless to say, a most frightening prospect for a wanderlust like me. So naturally, I quickly scanned the options for squeezing one last travel fling in before the March 1 guillotine falls upon my nomadic neck.
As I have a Canadian chum from Bhutan visiting just now, along with the Tet festivities here these days, that gives me but little more than 2 weeks to roam.  Looking to play somewhat close to "home" my travel lust turned naturally to Vietnam's neighbor to the west: Laos, the "Land of a Million Elephants".
Sadly, the number of elephants in Laos isn't nearly a million today (more like 1,000), but what luck!  Turns out that the annual Elephant Festival is being held in northern Laos Feb 17-19, so that's where I've opted to head.
Founded by ElefantAsia.org in 2007, the Laos Elephant Festival's goal is:  "…to draw the public's attention to the endangered status of the elephant, while acknowledging and celebrating the ancestral tradition of elephant domestication and the mahout way of life."  It is held in different regions of Laos each year and in 2013 the 3 day festivities will take place in Sayabouly (also spelled "Xayaboury"), about a 4 hour bus ride from Luang Prabang (a UNESCO World Heritage Site).
I've now booked my air (saving over $100 by routing myself through Hanoi rather than Saigon, and booking directly though the JetAir and Lao Airlines websites) departing Dalat on the 12th, and returning on the 26th.  So that gives me two weeks to wander in Laos.
But speaking of "wander" – it seems more and more I've begun to favor a "slow travel" style (vs. frantically whizzing to 'n fro trying to see every blessed corner of a country in but a couple of weeks). Thus on this little getaway, I plan to spend the entire 2 weeks in northern Laos, in and around Luang Prabang.  There seems to be TONS of things to do apart from the 3 day Elephant Festival, including no fewer than 30 Buddhist temples in Luang Prabang alone, plus cooking, natural dyes and weaving classes, along with treks and overnight home-stays amid the Hmong and Akha hill tribe villages scattered around northern Laos.
In any case, it will be nose back to EFL teach grindstone here come March, so I'm looking forward to my last fling before I hunker down to begin a new chapter in EFL teaching at AMA here in Dalat.
And meanwhile – given that tonight is officially "New Year's Eve" here in Asia (leastwise on the lunar calendar), tonight I shall head to beautiful Xuan Huong lake just down the street here in Dalat, to watch the fireworks and welcome in the "Year of the Snake".
Chúc mừng năm mới!


(Happy New Year one and All!)