Dalat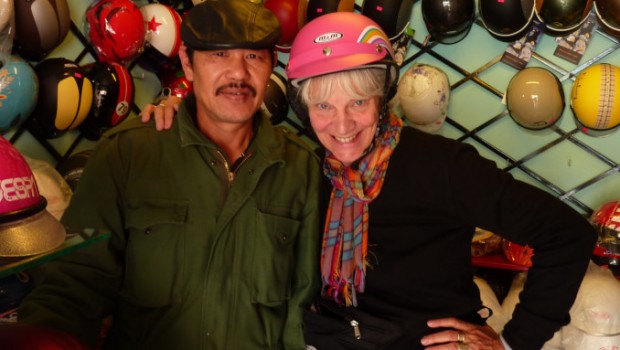 Published on October 1st, 2012
8
Wobbly Whiz on a Motorbike in Dalat
Reeeeeeeely quick one here, 'cuz g-knows I've been peckin' my brains out here lately.  But I DID promise a follow-up on the scarey motorbike thing, and…
I DID it!!!

I actually drove a motorbike all by myself (even a bit on a real road – with TRAFFIC and everything!
And LIVED TO TELL THE TALE.

Still not fully steady, nor ready for the big time (i.e. zippity traffic in downtown Dalat  and/or at night or heaven-forbid, at-night-in-the-RAIN), but still…  Leastwise I can spin around doing figure-eight turns, whilst keeping my wits about me enough to flick a turn signal on 'n off, and honk the horn at curves and intersections.
My teacher (Manh) is excellent.  Great fun, very patient and encouraging, and extremely conscientious about safety matters.  First thing we did was stop to buy me my very own (PINK!) helmet.  Then we headed out to one of the most GORGEOUS lakes on the outskirts of Dalat, and the wee video below tells the story – Woo HOO!
I plan to take a few more lessons, and then begin a search for a used motorbike.  Then (finally, after nearly a full year without my own car or any kind of personal transport), I'll again have my own wheels!

---
Did you enjoy this post?
Then you might want to subscribe to my email list so you're sure to catch my next one.
(trust that I'll not clog your precious inbox – I generally only post but once a week.)