HCMC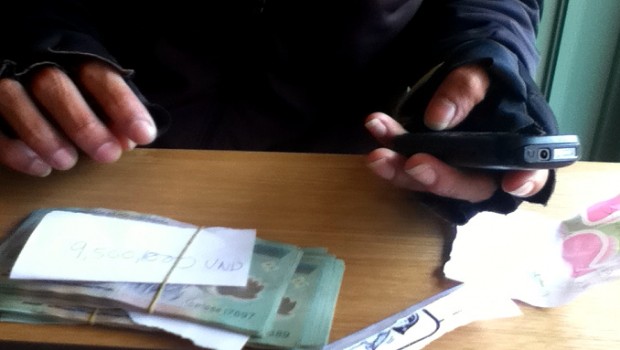 Published on July 30th, 2012
4
Heh, heh – The TravelnLass Dabbles in Being an International SPY!
Well o.k. not exactly Mata Hari here, but nonetheless today I dipped my lily-white tippy-toe into a bit of clandestine international espionage.  Indeed.  Apparently a covert ILLEGAL act right here at my favorite Saigon bakery.
In short, I withdrew nearly my entire bundle of dong from my Vietnamese bank account (I'm just not keen on keeping that much dough in a bank in a country I may well not be returning to, least not permanently).  Plus I just settled up w/ my landlady who kindly returned my full $450 damage deposit (albeit likewise in VND) no questions asked (yay!).
So… Suffice I was suddenly awash in Vietnamese dong which are verily useless in Thailand, Mongolia, or anywhere else on the globe for that matter.
While there are apparently a smattering of currency exchange kiosk's in HCMC (I used one to exchange a bit of dong for USD when I went to Cambodia), my friend Hang advised better for such large amounts to use a… uh, I dunno, I guess a black market contact.  Furthermore, such slippery folk apparently "deliver" (i.e. will come to your place to make the exchange).
But to be on the safe side, I thought it better not to meet here in my apartment  – which no doubt the gov't has long been aware where this foreigner is staying (not to mention every blessed local within a 2 mile radius knows precisely where the white-haired, pig-tailed lass lives).  So we set up the "drop" at Tous Les Jours bakery.
Long story short?  My "contact" shows up – an (arguably shady looking) young man dressed in black leather jacket and fingerless black gloves – which was a bit disconcerting to say the least.  Nonetheless, a quick call to Hang confirmed the lad was legit, and we hastily set to exchanging my thick pile of dong for his stack of crisp new $100 bills.
Mission Accomplished.
(guess now I need only hope that the VN gubberment doesn't read my blog) 😉