Cambodia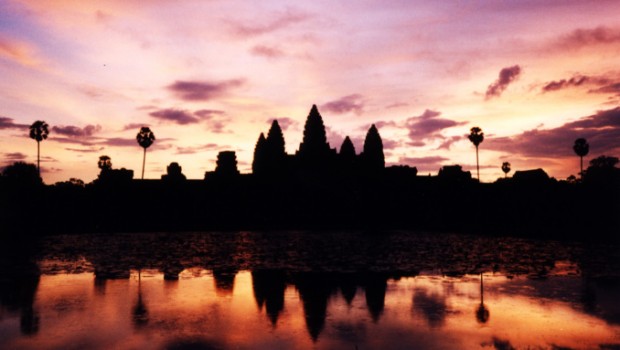 Published on May 11th, 2012
3
I'm Off On A Mini Adventure To… Cambodia!
Often the plethora of dizzying options on our beloved www can seem more of a curse than a blessing.  But with patience and persistence I've finally nailed down the gist of my short jaunt into neighboring Cambodia to drop-jaw at the legendary temples of Angkor Wat.
First there was research as to the various means of transport to get to Siem Reap, Cambodia from here in Ho Chi Minh City. Suffice, there are but two options – each (frustratingly) equal in tantalizing pros and cons.
Option A: Bus to Angkor Wat
Pros: Achingly cheap! A mere $40 round trip
Cons: HCMC to Siem Reap is a (blisteringly tedious) 12+ hrs. ride including 6+ hrs. HCMC to Phnom Penh (incl. a border stop for $20 Cambodian visa), then another 6+ hrs. from PP to Siem Reap, arriving in the evening: 2 full days of my precious 5 shot just in tedious transport.
While I've certainly endured such marathon bus trips in my travels, suffice that I've lately come to my senses and will now consider only bus trips of a maximum of 8 hours (and even then, I dread them.)
But… alternately, I could still go the cheapo bus route to Angkor Wat, by overnighting in PP en route to and from Saigon: Though now we're talkin' 1.5 days lost each way = 3 full days in transit, with a single full day (Wednesday) plus 2 half days in the (did I mention l-e-g-e-n-d-a-r-y?) Angkor Wat. Ugh. Sounds like a recipe for a thrifty nightmare.
Ah but the alternative was equally daunting:
Option B: Fly to Angkor Wat
Pros: A single hour flight – I could be in Siem Reap before noon on Monday! Wouldn't have to fly back to HCMC til Friday afternoon! Majorly maximizing my limited time to explore this exquisite corner of the globe: 3 full days plus 2 sweet half-days of pure play (i.e. I could gawk at the splendor of the temples at sunset on Day 1 AND gaze at them blushing at sunrise on Day 5!)
Cons: Spennnnnnndy. Very spendy.  Especially when you consider it's but a one hour flight. We're talkin' nearly $350 vs. the bus for $40.
Decisions, decisions.
Suffice I pondered the two opposing transport options for two weeks (whilst I anxiously awaited the return of my passport embellished with a crisp new 3 month Vietnamese visa extension) and slowly came to the conclusion:  "You're squeezing a quick weekday visit to the LEGENDARY temples of Angkor Wat, girl.  No question.  No way are you going to squander more than half that time in transit on a stupid bus.  This is clearly one of those times to splurge.  Bite-bullet, dear – and buy that air ticket!"
It was really
a no-brainer.
So that's what I did.  And at least by doing a bit more research, I managed to get the fare down a smidge (to $323) by flying Cambodia Angkor Air.  I depart on Monday at 9:25 am and arrive in Siem Reap at 10:45 – ready to ROCK!  Return Friday at 11:15 am, so plenty of time to gawk to my heart's content.
I also hope to do a homestay at a stilt-village at Kampong Khleang on Tonle Sap Lake, and spend some time (possibly teaching a bit of EFL) at a rural school at the International Volunteer Development Center (this, thanks to a facebook chum who's done a lot of volunteer work there in the past, and hopes to return in December (hi, Mary!)  In any case, I've packed a bundle of school supplies (mini white boards and a bunch of dry-erase pens), and have already volunteered to fiddle with their website in the future.  Then there's the Night Market, and a Cambodian Food Walk, oh and did I mention – there's no fewer than *5* geocaches hidden amid those crumbling temples?
O.K. so with the transport dilemma resolved, the only thing left (other than tossing a few things in my backpack) was a place to stay.  Normally when I travel for any length of time (beyond a week) I only book the first night's lodging in advance.  But with time so short on this trip I opted to pre-book all 4 nts. through Agoda.com (my fave!)
There were lots of good options, several for less than $15 per night (including a highly rated hostel with a pool!)  But Agoda had a special half-price "Flash Deal" at a beautiful boutique hotel called "La Villa Loti" for but a few bucks more.  Indeed, I even opted for an upgrade to a "Superior Deluxe" for just $21/nt. single.
So now I'm ready to go.  Just my four teaching classes this weekend, and come Monday morn I'm off on a mini adventure.  No doubt I'll have lots to tell and tons of pics, so stay tuned to find out how it all turns out.