Morocco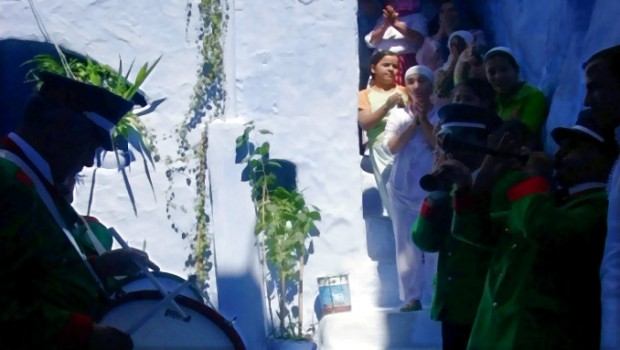 Published on February 19th, 2011
1
Random Photo Memory: Moroccan Pied Piper Serendipity
Travel serendipity strikes when you least expect it  (indeed, by definition that's what "serendipity" is all about: "a happy accident".)  And in this case, my Moroccan serendipity started on a bright sun-shiny morning in the charming mountain village of Chefchaouen.
Rising early on my first morning there, I set off with no plan whatsoever but to simply explore this lovely new corner of the globe.  As I stepped outside my pensione I heard the faint sound of live music.  Much like following the Pied Piper (albeit with a much happier ending), I meandered amid the narrow cobblestone lanes, going up and down, left, then right, in a cerulean maze of twists 'n turns as the music grew louder and louder.
As I rounded the final turn I spied the source of the music:  there in a narrow blue cubby, was a small group of musicians with drums rumbling and horns tooting.
And gathered nearby was a bevy of Muslim lasses all dressed up in festive finery, clustered up the stairs and disappearing into the shade of the private rooms beyond.  Clearly there was something special going on here, but of course I had no idea what it was all about.  So I just stood there watching and clapping to the gay music.  When the set ended, one of the musicians passed his cap around and I happily added a few dirham to the mix.  The women watched me closely, and my donation (plus the fact that I'd not dared to raise my camera), I believe endeared me as friend not foe.  They motioned that I could take a photo if I liked, and then (surprisingly!) invited me upstairs for tea.
Needless to say, to be invited into the sacrosanct domain of Muslim women was a most precious honor indeed. Inside, was a large room with long cushioned seats lining each wall.  The women moved gracefully about, and a few children sat placidly on colorful wool carpets that covered the floor.  Not a single person spoke a word of English, and I knew little more than "shokran" (thank you).  So I capitalized on that one phrase over and over, as they served me hot mint tea and tiny sweet sandwiches.  They showed me beautiful beaded dresses, and one woman was packing a suitcase.  Somehow I managed to glean that the music and the finery were in preparation for a wedding, and the bride was packing to move to her new husband's household.  One young woman pantomimed that she was the bride's sister and had sewn each of the many glistening beads on her sister's wedding dress by hand.  I of course oohed and aahed liberally (happily, such gasps of delight translate the same in Arabic and English!) as the dress truly was a work of art.
And the children – ranging in age from about five to ten years old – crept ever closer to me, shyly touching the edges of my skirt, and staring (no doubt curious of my light hair and blue eyes.)  And suddenly I remembered…  I took my iPod Touch out of my satchel and showed them the simple game of "Paper Toss".  The one with the wastebasket and the fan that moves from side to side – you need only flick your finger to toss the wadded ball of paper and try to get it into the wastebasket.  Silly game.  But oh so very handy when words fail.  Both the ladies and the kids loved it, and it proved a simple way for me to share a little piece of my world, as they had so kindly shared a piece of theirs with me.
To be a guest amid such an intimate scene, in a foreign culture on a distant continent, was a most memorable occasion indeed.  For a traveler, it is just such rare bits of serendipity that quench our wanderlust and keep us ever seeking more.