Where I've Traveled
Many have asked, so…
Though I actually think "counting countries" is a bit silly, and I'd surely never dream of checking off an entire country unless I'd spent at least a good bit of time exploring it. Nonetheless for those curious, I totaled them up (as of December 2017) and…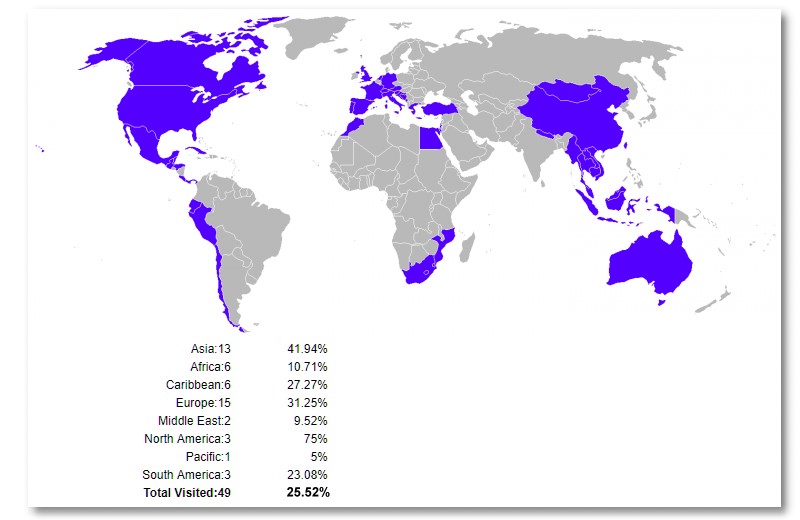 ​Australia, Austria, Belize, Bosnia-Herzegovina, Brunei​​​, Cambodia, Canada, Chile, China, Costa Rica, Croatia, Cuba, Ecuador​, Egypt, England, France, Germany, Greece, Guatemala, Honduras, Indonesia (Bali & Sumatra), Israel, Italy, Laos, Lesotho, Malaysia (Borneo), Mexico, Mongolia, Montenegro, Morocco, Mozambique, Myanmar, Nepal, Netherlands, Peru, Panama, Portugal (The Azore Islands), Singapore, Slovenia, South Africa, Spain, Swaziland, Switzerland, Taiwan, Thailand, Turkey, United States, Vatican City, Vietnam
Pretty sad actually – clearly I'm still missing nearly *75%* of this Big Blue Dot. But trust that I've now got a whole new CONTINENT (South America) at my fingertips, and I fully intend to explore at least a few more nations sooner rather than later.
Since landing here as a permanent resident of Ecuador more than 3 years ago, I thought sure I'd head forthwith to that iconic bump (Machu Picchu) in neighboring Peru. But instead, my first foray was to those luscious Galapagos Islands of course, and soon after I added that legendary gem of Easter Island (out in the middle of freekin' NOWHERE!) off the coast of Chile. Next, I opted to hie my (naughty U.S. citizen) self to "The Forbidden Land": Cuba. And in 2016 I completed a doozy of a marathon (44 days) solo backpack through the Balkans and Turkey – adding *7* new countries to the map above (Austria, Bosnia-Herzegovina, Croatia, Germany, Montenegro, Slovenia and… ballooning amid the fairy chimney caves of Cappadocia in Turkey – woo-HOO!
Last February I headed back to an old favorite (Mexico) – this time to gawk in utter wonder at the annual Monarch butterfly migration (seriously, imagine… THOUSANDS of butterflies verily *dripping* from the trees!), and…
Just recently (October 2017) I finally made it to Inca-Land (Peru) and gazed spell-bound at that magnificent citadel of Machu Picchu!
Stay tuned though – for my itchy wanderlust feet never stay still for long. Already I'm scouting out a new corner of the globe (Bolivia? Colombia? SomeMysteryCountry?) to celebrate my birthday next March.
In short, all I can say is: it's surely a great big ol' wondrous World out there, and…
this here surely "ain't no dress rehearsal"!