Mexico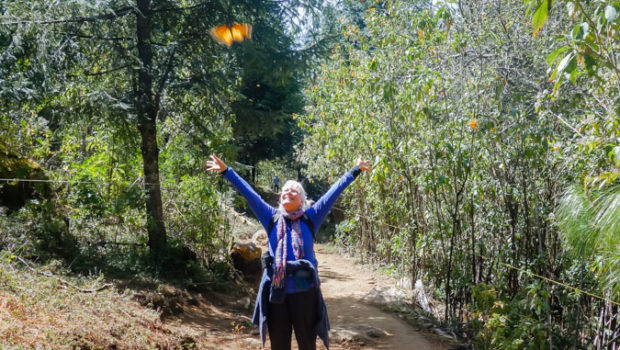 Published on March 12th, 2017
10
MEXICO: Butterflies DRIPPING from the Trees!
Whew! Fair warning: This turned out to be quite the hefty package of mots and pics, so grab a cuppa your favorite beverage, and settle in for a long read.
I finally knocked down my near 500 Mexico pics to (a somewhat more manageable) 214. But still…
Far too many to post here, so I've culled further and will (necessarily) drop them into scattered collages and slideshows – in two separate posts: A; Those amazing butterflies, and B: The incredible food in Mexico City.
So let's get started – about those bazillion butterflies – yes, yes, literally DRIPPING from the trees!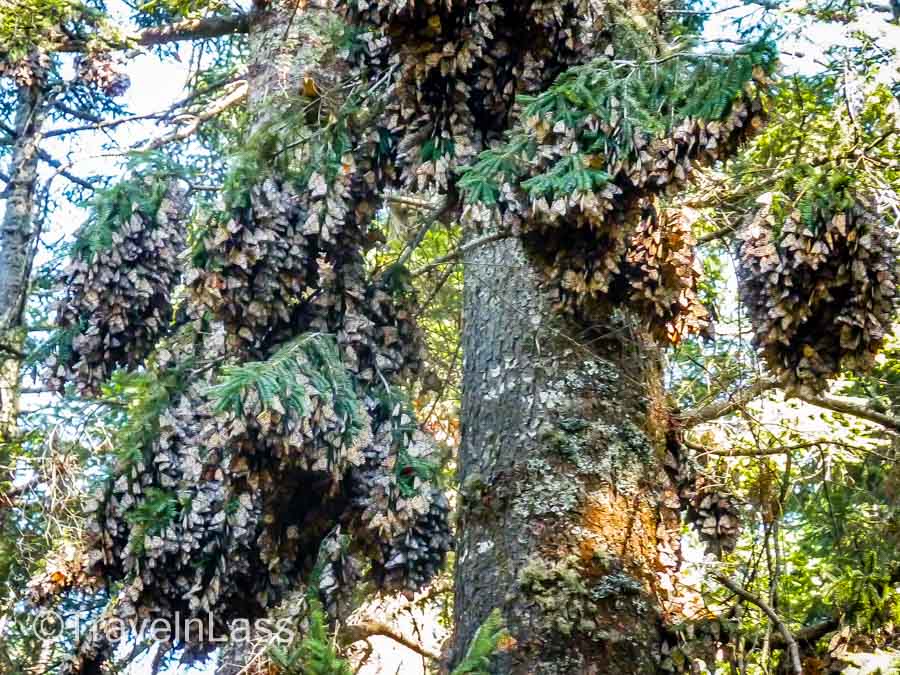 But before we get to all the pretty pics – let's back up a bit with a quick nutshell of the nitty-gritty on how I managed to get there, rubles, accommodations 'n such.

For starters, the initial impetus for this (decidedly impromptu) adventure (detailed here) was a long-ago promise to myself that "SOMEDAY" I would witness this amazing, nowhere-else-on-the-Planet butterfly spectacle with my own baby-blues. Years and years passed (as annoyingly they are wont to do) and I'd utterly forgotten that promise until this past January when I stumbled across a stray video about this year's annual Monarch migration in Mexico. OMG! Yes, yes – those butterflies are only dripping from those tree branches until early March, so – suffice I was hell-bent on realizing my long ago travel dream THIS YEAR!

Still… I'd dropped quite a boatload of rubles skipping around the Balkans for 6 full weeks just a few months ago, so I honestly couldn't afford to linger for weeks on end exploring all the many corners of Mexico. In short, if I hoped to realize my dream this winter, it would have to be but a brief dash to Mexico City and then straight up into those mountain forests to gawk at those butterflies with no time to spare.

And as it turned out – my 6 night dash proved to be the PERFECT little adventure. Plenty of time for the butterflies, plus some amazing Mexican eats – and the tab didn't break the travel piggy-bank:

Operation "Mariposas" Nitty-Gritty
RT. bus from Cuenca down/up the (8,000+ foot) hill to/from Guayaquil: $8

RT. air GYE-CDMX: $430

RT. airport transfers: $20

CDMX hostal 3 nts. (2 w/ private room/shared bath, and the final night a 4-bed female dorm 'cuz they didn't have a private available). Hostel Mundo Joven Catedral (practically ON TOP of the Metropolitan Cathedral in the heart of Mexico City): $60

Angangueo private room, 3 nts. Plaza Don Gabino Hotel – a bit of a splurge for me, but suffice there's few alternatives in the tiny hamlet of Angangueo: $148

Excursion to El Rosario sanctuary (1200 pesos, split 4 ways with a trio of folks I met at Don Gabino, plus 50 peso sanctuary entry fee): $18

Full day excursion to Cerro Pelón sanctuary – a 1.5 hrs. ride away, including $50 to Graciela, my driver, plus 550 pesos for a (mandatory) guide and horse for the 1.5 hr. trek up to the butterflies: $80

Evening Mezcal Tasting (more on this in another post): $25

Afternoon Mexico City Food Tour (ditto – mucho more pics and details to come): $60

Transportation: A mere 5 pesos (25¢) subway ride to the "Observatorio" bus station on the outskirts of CDMX plus rt. comfy 3.5 hr. bus to Angangueo: $11

Plus… a bit for stray eats say… $60 at most

The requisite fridge magnet plus small gifts (sweet treats for Cuenca chums and the Ecuadorian lass that cared for mi gata Dulce while I was gone)
Oh and my "Sugar-Skull" t-shirt, say… $30

1 nt. accommodations in GYE on the return (I arrived at 9 pm – not wise to weave through those foggy mountains up to Cuenca after dark): Mundial City (a stone's throw from both the GYE int'l airport and the terminal terrestre – my perrenial "go-to" whenever I need to overnight in Guayaquil): $25 with breakfast

Total: $975


O.k. so, call it a grand. Question is… were those butterflies worth it?
YOU BETCHA!
Indeed, so incredible that it's honestly impossible to convey just what it feels like to be in the presence of such an amazing natural spectacle. Photos simply don't do it justice.
I might also add that it takes a slew of zoom lenses, tripods and whatnot to truly capture the close-up majesty of it all (both at Rosario and Cerro Pelón, folks are necessarily not permitted to get too very close to the trees laden with butterflies). And alas, I have neither a tripod, nor an uber-zoom lens on my (otherwise fabulous) Sony MX100-II.
Ah, but to compensate, I do have a secret weapon in my photography savvy arsenal – an easy trick for making the most of tiny, far-away objects (like… um, bitty butterflies hanging from tree branches). The trick? C-R-O-P the bjeezus out of them! After all, most of us are shooting at mega pixel resolutions that far exceed what's needed to display a sharp image online (e.g. on my own camera, I have it set for a "Medium/Fine" resolution which gives me images with a 3,648 pixel width – when I only need about 900 to display nicely enlarged in slideshows here on TravelnLass). In short, we've all got plenty of pixels to spare for cropping…
Like THIS:
| | |
| --- | --- |
| BEFORE | AFTER |
| | |
And here's the SECRET to how I did it (oh so easy-peasy in Lightroom):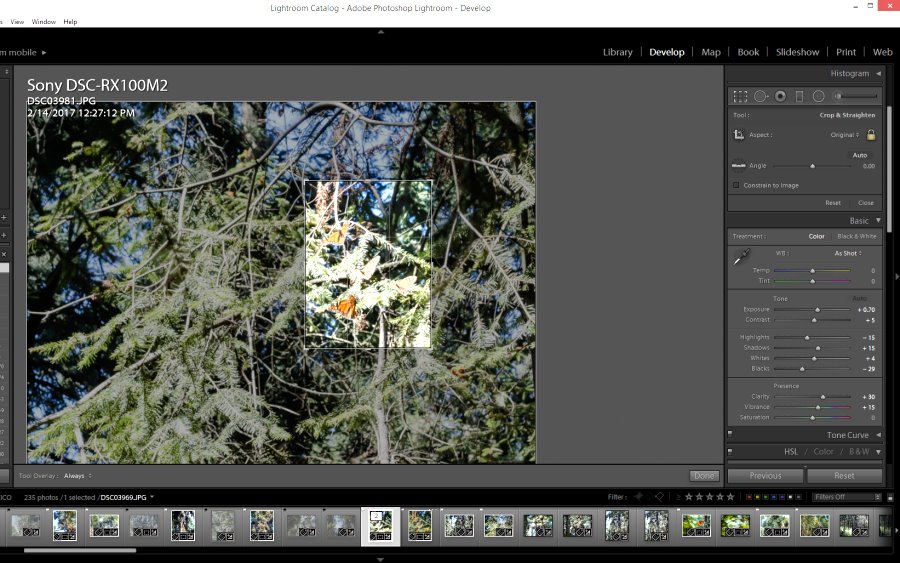 Now then – on to the pics!
Let's start with a collage of the Mexico City Metro. I'm somewhat proud that I've managed to navigate my way on many a convoluted subway in my solo travels. My first metro adventure was many years ago in Beijing of all places! And more recently I've hopped on subways in Munich, Istanbul (at night even!) and Athens. Nonetheless, the challenge of noodling out those many colored routes and stations in a foreign language always looms a bit daunting. Such was true of CDMX too (the most populous city in North America after all). But suffice (with the help of a map and counting down 11 "estaciónes" on my fingers) it turned out to be super easy!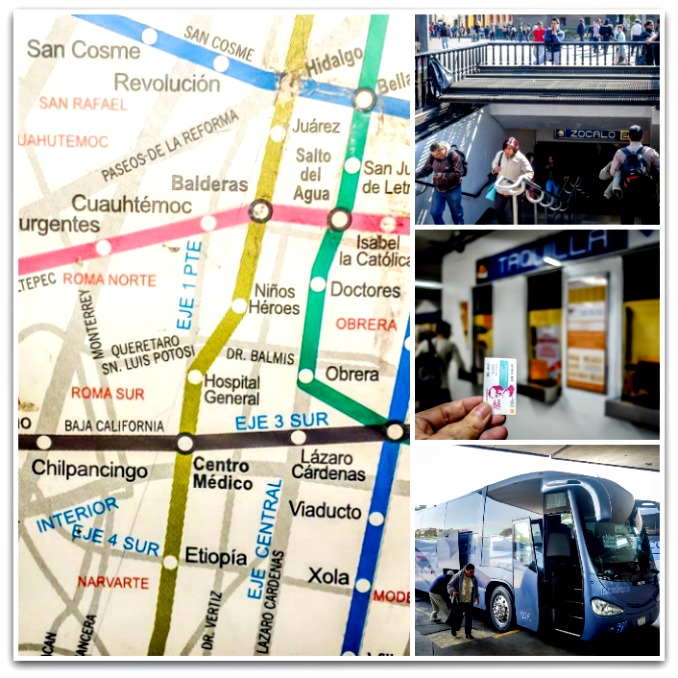 And the reward? As I emerged from beneath the earth at the "Observatorio" station, not only was the bus station right across the street from the metro – but upon mumbling "tercera edad" (and pointing to my white pigtails), the bus ticket vendor likewise (as here in Ecuador) honored my dodderin' "third age" status and my bus ticket to Angangueo was half price!
Which nicely segues to the slide shows – starting with…
Click on any pic to enlarge the images
and enjoy the full **62 pics** slide show!
The charming colonial hamlet of Angangueo:
Plus a few pics of my comfy digs there:
And finally, finally – what you've all been waiting for – those BUTTERFLIES!
El Rosario Butterfly Sanctuary
Cerro Pelón Butterfly Sanctuary
Phew! That's a boatload of pics!
I hope you enjoyed the show. But my greatest hope, is that one day you'll witness this amazing butterfly spectacle yourself. And in that spirit – I'll polish this tome off with a handful of tips for when (not "if") you do!
Tips for Visiting the Butterflies
DO NOT VISIT ON A WEEKEND. There were only about 50 visitors on the Wednesday that I hiked up to Rosario, but our guide said on weekends there is often 1,500! Alternately (i.e. if you MUST visit on a weekend), then better to tackle the longer, harder trek at Cerro Pelón, as I'm told far fewer visit that sanctuary (there were less than a dozen other visitors when I was there on a Thursday).
The Rosario sanctuary sits at nearly 10,000 feet, so if you've been living at sea-level – DO allow a few days in either CDMX or Angangueo to allow your body to adjust to less oxygen. The trail to El Rosario isn't very steep, but you'll no doubt be huffing and puffing (even I was, and I live at 8,400 feet altitude!) Alternatively you can opt to ride up on a horse, but that poses its own set of discomforts.
Cerro Pelón on the other hand… unless you're a fit athlete AND used to high elevations, you're much better off taking a horse. Even then, the trail is narrow, rocky and muddy. Definitely doable, but much tougher than Rosario.
Wear layers that you can strip off or add on. Mornings and late afternoons the temps can drop significantly, especially on cloudy, sunless days. Even with sunshine though, the temps vary greatly as you ascend/descend the mountain. And even in chilly temps, you'll be huffing as you hike so likely will need to shed layers – only to add them again when you're at the top sitting still gazing at the butterflies.
And finally, DO.NOT. put off witnessing this once-in-a-life-time natural wonder yourself. What with logging and global-warming, no telling how many more years those dainty orange and black butterflies will manage to survive their 4,000 mile annual flight from Canada to return to drip from the branches of this single spot on the Planet. And of course, then there's YOU. Need I remind you that "This ain't no dress rehearsal"? And none of us can be sure if we'll be here tomorrow – much less next year, yes?
Oh, and do stay tuned – with any luck, I'll have even more pics and details of my O-M-G eats in Mexico City soon!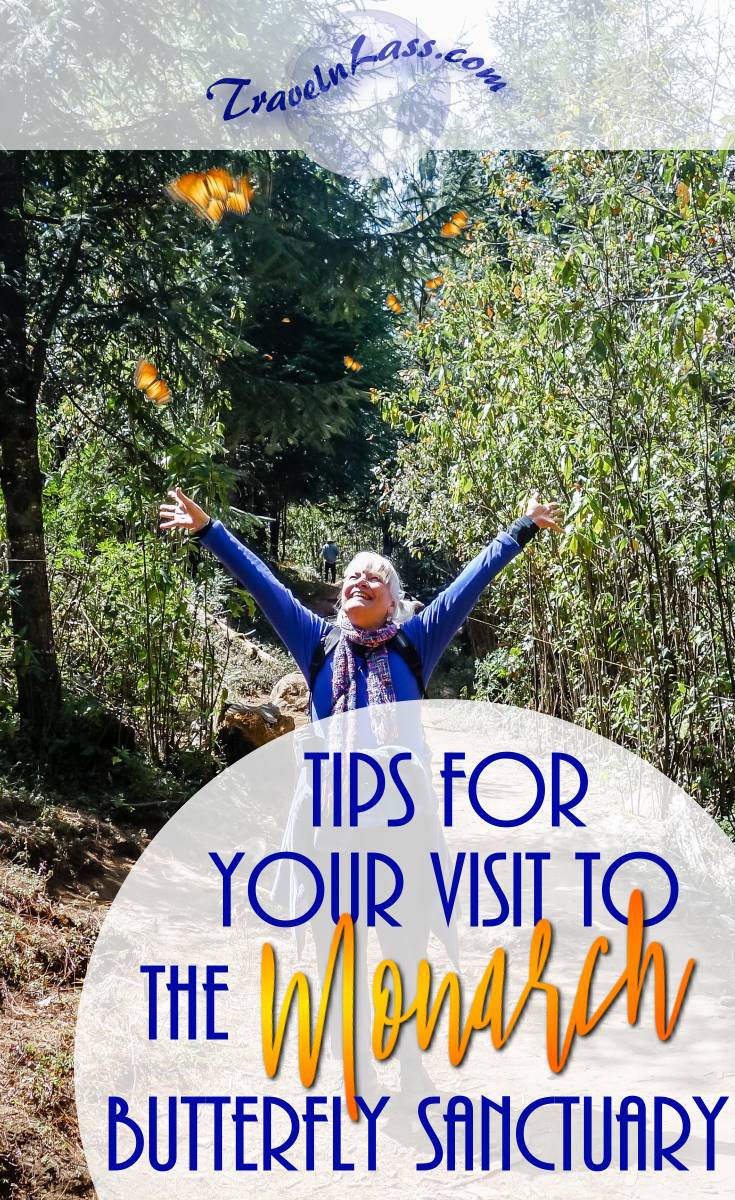 ---
Did you enjoy this post?
Then you might want to subscribe to my email list so you're sure to catch my next one.
(trust that I'll not clog your precious inbox – I generally only post but once a week.)