Cuba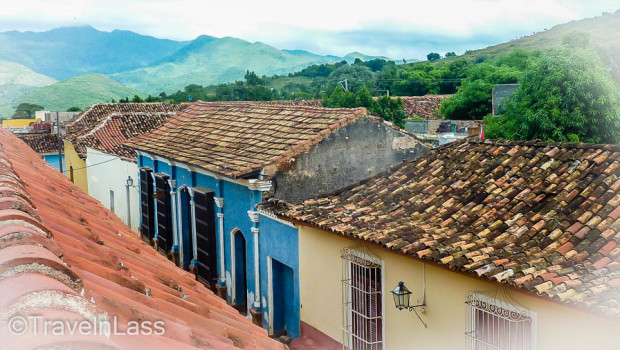 Published on May 14th, 2016
2
CUBA: Trinidad
Ha! And YOU thought I was done blathering about Cuba. No way. Though this will be the 8th post on my visit to "The Forbidden Land", I still have plenty of pics and oodles of memories I haven't shared here. So let's get on with it shall we?
When last we left off, I was blissfully wiggling my toes in the sands of Playa Larga (the infamous "Bay of Pigs") along the southern Caribbean shores of Cuba. Indeed, I always deliberately leave my itinerary freely open as I skip around a new land, rarely making any advanced reservations – precisely so as to move about as swiftly or slowly as I choose. And while I'd originally thought but a night or two at Playa Larga would be plenty (as I've never been much of a "beach person"), after a third night I remained reluctant to peel myself away from that idyllic beach-side corner. Nonetheless, my remaining time in Cuba was swiftly running out, and I still wanted to check out…
Yes, Trinidad.
Interestingly, when I was researching my Cuba itinerary (a chore that I enjoy almost as much as my trips!), Trinidad was reported by many to be an absolute "must see" – a "gorgeous colonial town" chock full of charm. O.k. great, thought I, but as I gazed at online photos of Trinidad's cobbled streets, I couldn't help but think "But… I already live in a wondrously beautiful colonial town with spectacular cathedrals at every turn, and cobbled streets oozing with charm." Could Trinidad possibly be better?
Hopping on a Playa Larga bus bound for Trinidad – less than 3 hours later, I had my answer.
Um… nice enough, I suppose. Cobbled streets and brightly painted facades on the many tourist tiendas lining the central lanes, plus a single pretty, but alas a bit ordinary (sorry Trinidad, but compared to Cuenca, I can only be honest) iglesia in the center of the plaza.
Don't get me wrong – definitely worth a visit, and – if you don't happen to already live in a spectacular World Heritage site like me – I'm certain you'll swoon at Trinidad's many charms.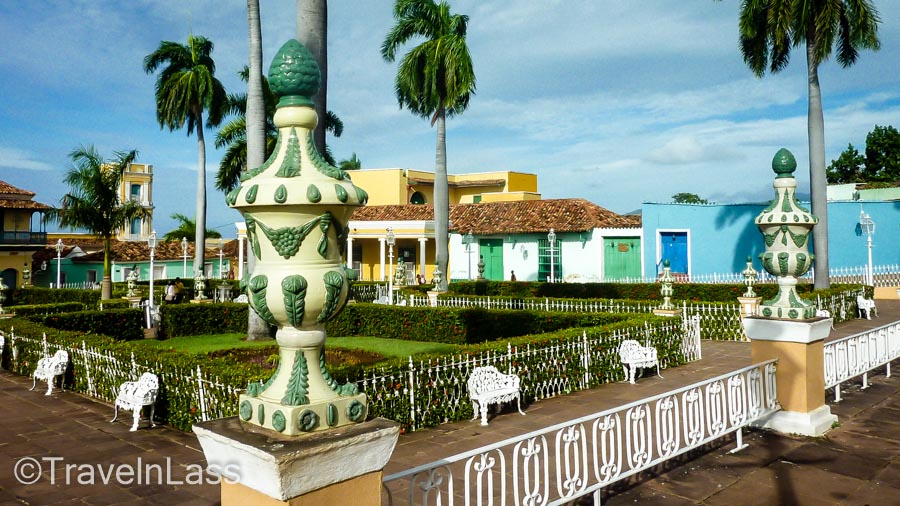 And I did find plenty to do there including grabbing a geocache (natch), (uncharacteristically) tossing down multiple icy mojitos every night at a tiny stand along the curb (I mean, at a mere $1 each for a cup of minty rum goodness – wouldn't you?), buying a requisite souvenir scarf (hand crocheted in a riot of delicious color), and holding the hand of my travel chum from Playa Larga as she got her first ever tattoo.
I also snagged some great air-conditioned (of course) digs (negotiated) for $20/nt. including a humongous breakfast each morning on the rooftop patio. I should add – this, after first checking out a casa particular that my Scottish travel chum (who I'd met at Playa Larga) had arranged in advance (based on a year-old newspaper article).
Uh, what the newspaper dubbed a "charming" room turned out to be a dark, stuffy cubicle up a rickety staircase, with NO.AIR.CONDITIONING, on the opposite side of town, far from Trinidad's main attractions, and MORE expensive than the digs I found on the fly, within 15 minutes of arrival.
In short: yet another example of "I wanna SEE where I'm going to sleep, before I commit to sleeping there, thankyouerymuch!" And while the place I found for myself didn't have a 2nd room available, I was able (in less than another 5 minutes) to snag a fine room nearby for my travel chum.
And I enjoyed a full day choo-chooing my way into the countryside on the "Valle de los Ingenios" (Valley of the Sugar Mills) steam train:
Click on the bitty arrows icon on the lower right to view an enlarged slideshow.
And finally – a bountiful potpourri of pics I snapped as I wandered about Trinidad:
Click on any image to view an enlarged slideshow.
But as my Cuba departure flight loomed ever nearer, after 3 nights in Trinidad, I still had one more corner of Cuba up my sleeve. Nearby Playa Boca was said to be more off-the-beaten path (less touristy, more tranquil), plus I wanted to take a peek at the beach at Playa Ancón.
So stay tuned for (at least) one more tale here on my many adventures in Cuba.
See? I TOLD I wasn't even near done with blathering about Cuba!