Eatn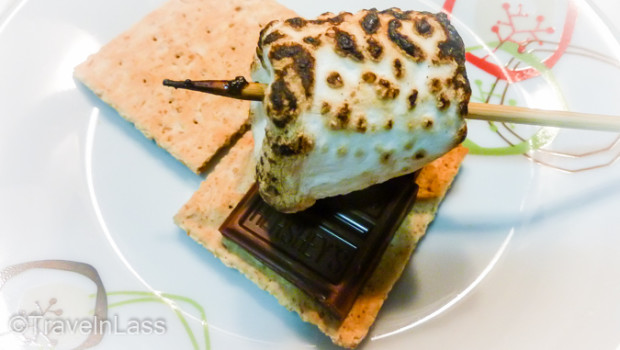 Published on January 6th, 2016
2
Expat Comfort Foods: S'mores!
Don't get me wrong – slurping a steaming bowl of "pho" in the streets of Vietnam is a delight bordering on orgasm. And a luscious plate of freshly tossed "pad thai" in Chiang Mai, or that divine "tea leaf salad" in Myanmar?  Oh and… the ever succulent "hornado" (tender morsels of roast pork along with a precious chunk of crispy pig skin) and those heavenly light and flaky "empanadas" sold on every street corner here in Cuenca, Ecuador?
These all ever so OMG delish, and I'm ever grateful to be able to enjoy such a wide variety of authentic foreign delectables.
BUT…
Much like any expat (be they a lad from the U.K. missing his "bangers and mash", or a lass from Oz pining for a slice of toast slathered in "vegemite"), when living perpetually far from our native lands, we each of course have a host of favorite "comfort foods" from childhood that are sorely missed.  Indeed, relentlessly – nay ravenously – lusted after.  And I'm no different.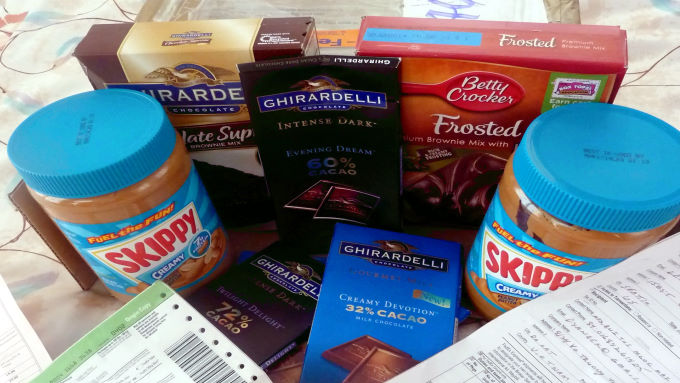 I've written previously of my euphoric glee at receiving fully two POUNDS of peanut butter in a precious "Care Package" from a Seattle chum when I lived in Vietnam. Along with my hell-bent determination to cook an "All American (dammit!)" brunch for my dear adopted "family" in Dalat.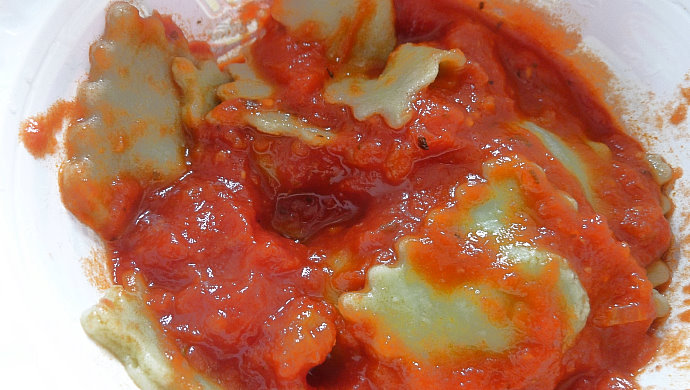 Then there was the time I cleverly rustled up a yummy plate of  ravioli laced with tomato sauce (in my ELECTRIC TEA KETTLE!) for Christmas dinner in Thailand.  But today I'm here to swoon over my latest ad-hoc culinary concoction: the legendary treats we Yanks eagerly turn to whence gathered around a campfire.  Indeed, arguably THE most quintessentially "American" package of sweetness: the humble "S'more".

S'mores at the tippy-top
of an Andean mountain in South America?


Granted, we ordinarily think of crackling campfires and melodious rounds of "Cum bi ya"(not to mention, mosquitoes and soggy tents) when we recall these luscious burnt marshmallow treats, but I stumbled across a recipe for "Indoor S'Mores" recently (well duh!) and… I mean surely nothin' stopping me from charring a marshmallow over a stove flame, is there?)  The good news is that Ecuadorians are nothing if not serious about their collective "sweet tooth", so I set out to find a reasonable facsimile of the simple S'mores ingredients: marshmallows, chocolate and graham crackers.

Surprisingly, the "malvaviscos" (marshmallows) proved easy enough to finger, and the graham crackers – but a matter of grabbing a package of "galleta integral con salvado y miel" (bran crackers with honey, a.k.a. good ol' "honey grahams") off the shelf at my neighborhood tienda. But it was a simple milk chocolate "Hershey Bar" that proved the most elusive.

Yes, I had a wide choice of high quality chocolate bars that Ecuador is noted for, but for my childhood S'mores? Nuh-uh. Nothing would do but a bona fide thin, plain milk chocolate "Hershey's" bar. And while I easily found an assortment of giant-sized, 1/2″ thick Hershey bars, as well as those scattered with almonds, alas I could find but a single thin, plain milk chocolate Hersey's bar.  Needless to say, I snatched up that precious solo puppy in a nanosecond!

All of which is a long-winded way of introducing…

Ladies and Gentlemen, I invite you to join me in a virtual bite of a most delectable expat "comfort food" treat:
The TravelnLass' easy-peasy "Indoor S'mores"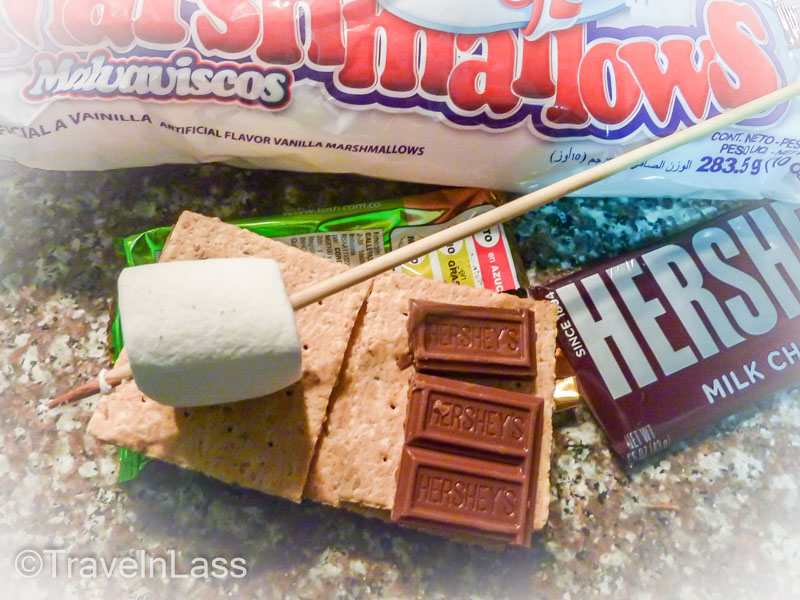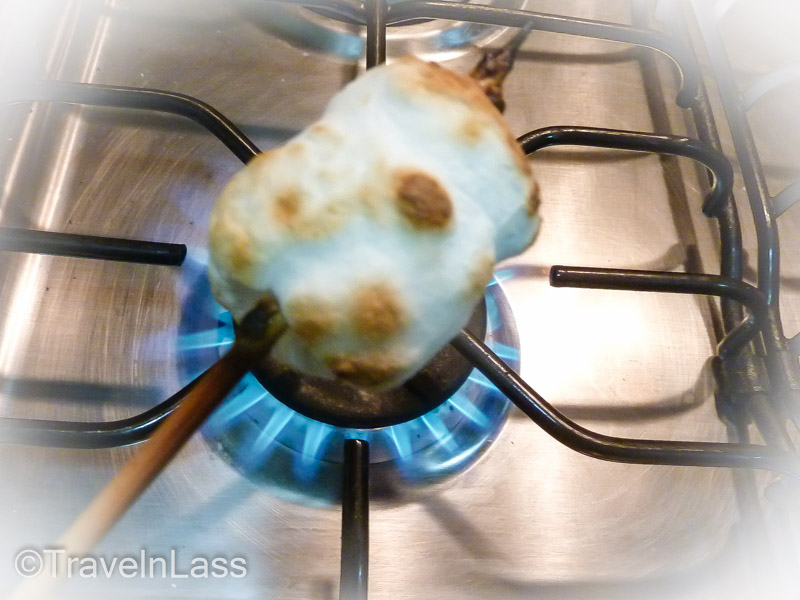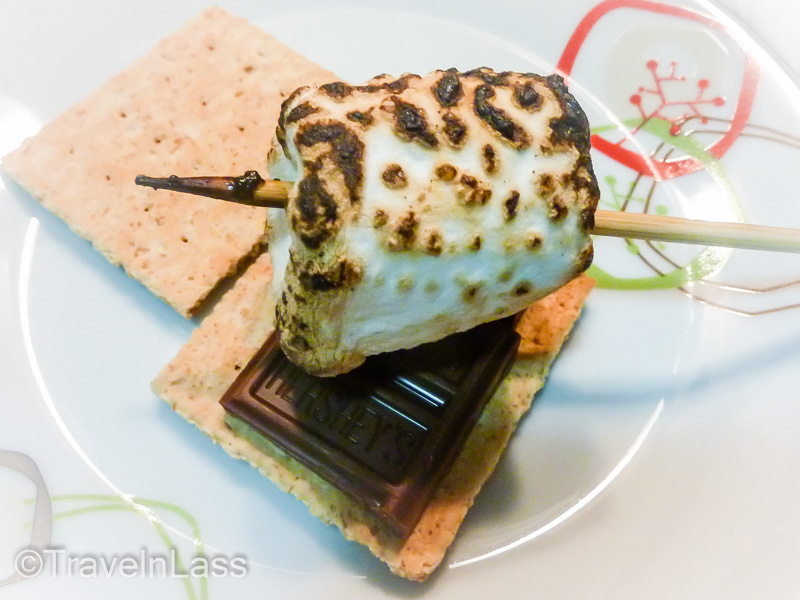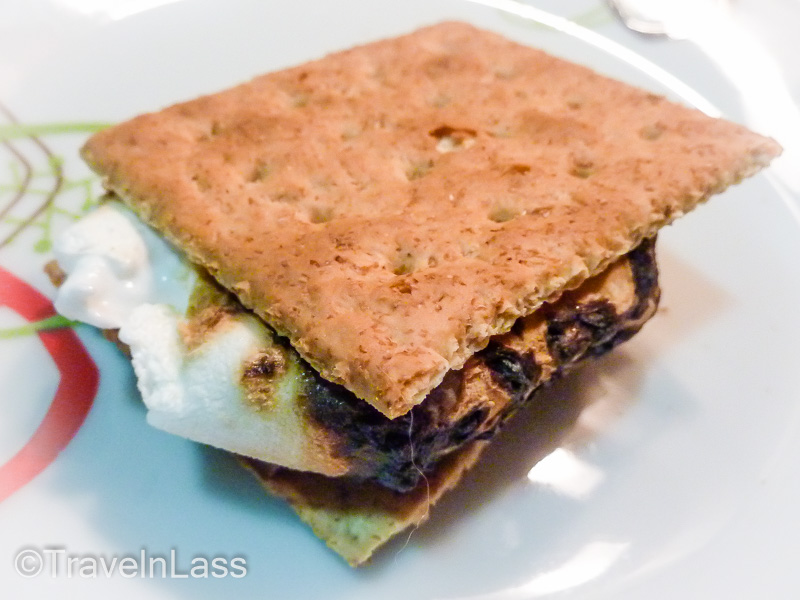 Can you spell: Y-U-M-M-M-Y?
(Incidentally – in doing my usual due-diligence "research" for this blog post, I discovered that – apparently Hershey's now sells an all-in-one, pre-packaged "S'mores candy bar".  Goodness, where have I BEEN???  No doubt a brilliant marketing line, but I must say – hardly a substitute for the original combo of melted chocolate and crispy burnt marshmallow oozing out of a graham cracker sandwich as pictured above, yes?
Indeed, imho – a "Hershey's S'mores Bar" is for sissies!)

What about you – as an expat, or when you travel – what is YOUR favorite "Comfort Food"?