Cuba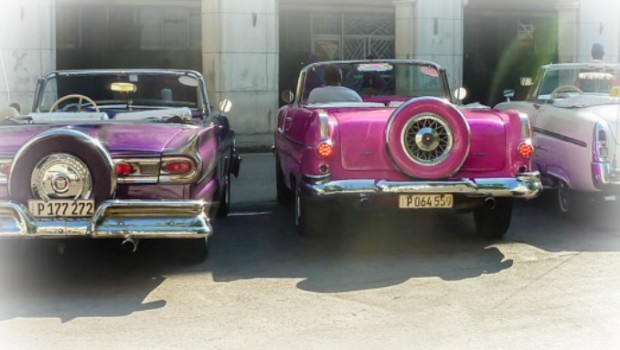 Published on November 21st, 2015
4
CUBA: Those Cars! Those Amazing Old Cars!
Needless to say, I have many tales (and more than 300 pics, culled down from 1,000+) to share of my adventures in Cuba. It may well take a while but over time, I hope to whittle them into a goodly series of Cuba posts here at TL.
But first – I simply can't WAIT to share with you the most striking aspect of my visit to Cuba: those legendary old cars from the 50's. They were EVERYWHERE! All gussied up with shiny new paint and (amazingly) still running all over Havana, Vinales, and Trinidad.
Indeed, as a child of the 50's myself – I felt like I'd been teleported back to my childhood. In the juicy-fruit colors of my youth, every time I turned around, another bright Happy Days jalopy was zooming by.
But let's start with a couple of reeeeealy oldies (that I found in the antique car museum near the Artisan Market in Havana):
Followed by another truly oldie – this still running amid the cobbled streets of Trinidad!
And closer to my birth year – a collage of a most delicious butterscotch honey:
A trio of shiny cherries:
Pretty blues and yellows (note the "Apple" icon on the side window):
A gaggle of purpley pinks:
And finally (ta-daaa!) Most all these old cars are used as tourist taxis. But as a "solita" (solo lass) I wasn't about to drop $30 for a spin in one of them. Nonetheless, my magnetic attraction to travel serendipity struck once again as I was admiring a particularly winsome set if wheels near Central Park in Havana. The kindly owner took pity on me and invited me to sit in this utterly awesome candy pink convertible:
All I need now is the Fonz
and the "Happy Days" tune on the radio:
Btw… please do feel free to drop a note in the comments as to what make, model and year the cars above might be – thanks!