Cuenca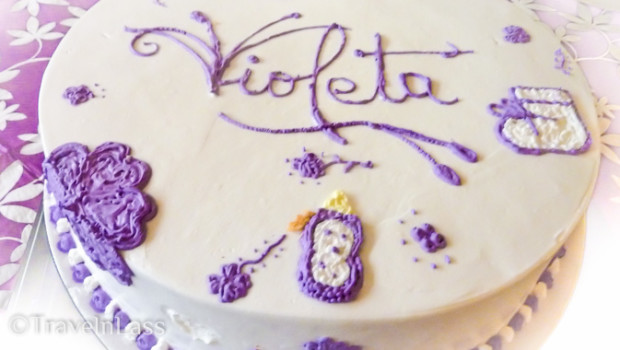 Published on July 21st, 2015
2
Violeta Ivanna – an Ecuadorian Baby Shower
As an expat, living amid a wholly different culture, with significantly different customs along with a completely different language – it is no wonder that we "foreigners" can ever hope to somehow "fit in". Nonetheless, much like my dear Vietnamese friend Mai in Dalat (the artist, poet, gardener extraordinaire owner of my idyllic digs amid the bucolic splendor of her French B 'n B where I lived for a year), I have occasionally been blessed to break through those many barriers, and truly connect with those in my several adopted "homes". Even today, more than a year apart, I think of Mai daily and look back in wonder how closely – like long-lost sisters – we connected, even though she spoke little English, and alas I managed to learn but only the most rudimentary collection of those insufferable *6* Vietnamese tones.
So too here in my newest far-flung adopted home, Cuenca, Ecuador. Among my greatest challenges is to somehow, halfway become a small part of the Cuencarian community. After all, I didn't move lock, stock 'n barrel (well o.k. but a backpack and a single rollie, but still…) to another continent, only to perpetually hang out with "folks like me". My fellow expats here are both appreciated and indeed necessary for occasionally commiserating in our shared native language and our similar native values and upbringing. But for me, living abroad is all about stretching myself to better understand a wider breadth of the globe's peoples, and learning their many different (and, it turns out, not-so-different-after-all) ways.
Which brings me to the gist of this post – needless to say, I was THRILLED when my dear Ecuadorian landlady M invited me to the baby shower for her 3rd "niño". She'd already graciously invited me to family affairs twice before: a special festival last year in a tiny village at the tippy-top of a mountain overlooking her hometown in nearby Paute, as well as a most honored invite to share last Christmas Eve with her family. But to share the joy of welcoming her new little one (just 2 weeks from arrival!) with her family and close friends (me, the ONLY gringa!) was an honor indeed.
The first question was of course – what sort of gift (if any) would be appropriate for an Ecuadorian baby shower? I wasn't sure if the expected little one would be a lass or a lad – so I opted for a wee outfit in a (safely generic) yellow.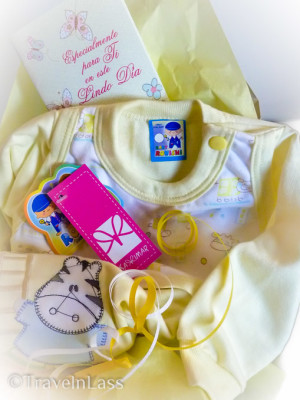 The invite was for "a las tres horas" and thus I hopped in a taxi to arrive promptly at 3 pm. Silly me – I should have known better. "Ecuadorian time" after all is anywhere from 30 min. to an hour and a half late for most any affair. So I was waaay early, the first to arrive before M had even finished her make-up!
Once the remaining guests (all Ecuadorian and all "mujeres", for much like baby showers in my native land, such are the exclusive domain of we lasses) had arrived, the fun began. While I've not been to a baby shower in the U.S. in decades, much like those I remember, the festivities included a variety of party games. But I must say, these Ecuadorian lasses came up with some truly creative and unique games that I'd never seen before.
For starters, they chose ME to start off the fun with a game of "How Many Pins Can You Pick Out of a Bowl of Rice – BLINDFOLDED". Given the somewhat challenging language barrier (and thus without benefit of fully understanding just what it was I was supposed to do in 30 seconds), I managed to finger out but a paltry *4* pins – compared to the winner with *16*!
(click the images to enlarge
Next there was a rollicking competition of slugging down beer – via sucking furiously on baby bottles:
Followed by an even more hilarious (and messy) game of blind-folded baby food feeding, along with a race to dress baby dolls, baby-themed anagrams (in Spanish of course – the latter I wisely stepped aside and let my far more fluent Ecuadorian lasses play), and a most creative race to suck on ice cubes to reveal a tiny plastic baby doll:
And then there was the ingenious competition whereby each guest chose a length of t.p. that they thought would precisely encircle the mother-to-be's precious baby-bump:
The winner of each game was duly rewarded with a small prize, and much cheering and snapping of iPhones and cameras ensued.
But for me, THE most amazing "game" came at the very end of the party. We were each given a slip of paper, and… as I slowly began to understand via repeated broken translations – we each could write down our choice for the middle name of the new babe – and the mother-to-be would SELECT VIOLETA'S MIDDLE NAME from among the suggestions. Imagine that – trusting in your family and friends to choose one of the names for your baby! Such a charming custom, and very telling of the importance of family/friends in the Ecuadorian culture. I'm not sure any young mother-to-be in my native land would be willing to commit to the capricious outcome of such a baby-shower game.

And the winning middle name? (it's right up there in the title of this post):
IVANNA!
Violeta Ivanna – truly lovely matching "V" sounds, yes?
With that as a grand finale, a delicious array of traditional Ecuadorian food was soon presented – tamales wrapped in plantain leaves (my fave!) as well as humitas (a savory steamed corn cake), along with the most delectable (not to mention artfully decorated) "Violeta" cake.

(Click on any of the thumbnails to start the slide show…)
THANK YOU Mama M – for a most memorable afternoon!