Ecuador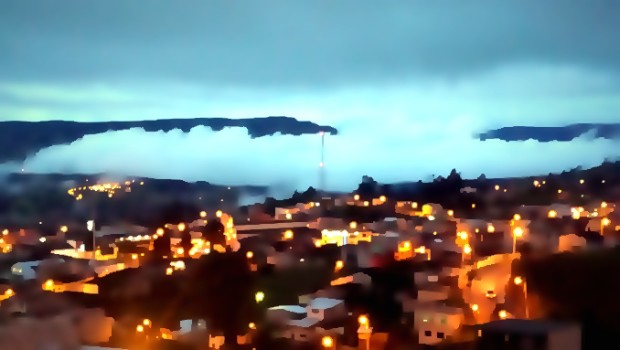 Published on March 31st, 2015
1
A Mini-Adventure to Saraguro, Ecuador (the nitty-gritty)
True. This here is a travel blog. Ever was (going on near five years and 300 posts now!), and ever will be. Then again, not so much a travel-blog per se, as… simply a blog – about my own peculiar travels. Travels, plus living as an expat in various 'n sundry foreign lands. And well o.k. with a gob of travel eats, a dash of EFL tips, and an occasional rant on some random topic tossed in.
Furthermore, though many travel blogs consistently serve up tons of practical tips on the where, what, how, and how much of this or that destination, me? I fear I'm woefully negligent in sharing such pragmatic details of my adventures. Indeed, though I do watch my pennies, I barely pay attention to such details as the cost of a bus, the particulars of my sleeps, or even the name of my favorite restaurant. Nope, I much prefer to simply tell you a story without all the nuts 'n bolts details. A story that focuses on the highlights of a place, my feelings whilst exploring it, and even more so – to hopefully inspire you to likewise visit country X, locale Y, or festival Z.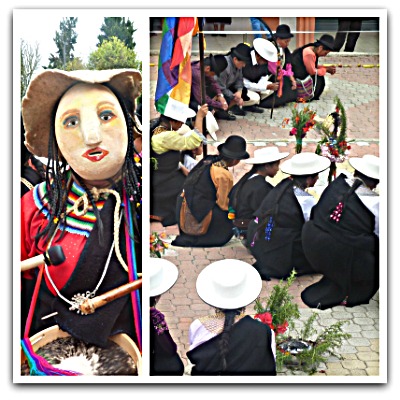 But not today. Today I'm turning over a new leaf. Yesiree, today I'm here to (again) focus on a recent little travel adventure – a mini-skip to a most idyllic little town perched up here in the Ecuadorian Andes. But this time in nitty-gritty detail. I've already pecked a review of the main target of my most recent quest: the Pawkar Rami Festival. But (as is often the case with even my most abbreviated wanderings) there's much more to tell, and of course many more pics to share.
For starters, let's review: I set off from my cozy place here in Cuenca on a recent Friday morning headed to the village of Saraguro – a mountain hamlet so tiny, it doesn't even merit a full destination stop on the local bus schedule. I'd of course never been there, and didn't have a clue as to what I might find there, nor if the Pawkar Raymi festival would be worth the trip. But in my book – that's precisely what attracted me to head there for the weekend. The curiosity. The unknowing. The unknown.
I'd "heard" that Saraguro was situated along the road to Loja (3 hrs. from Cuenca, and about an hour short of the latter larger city), and that Loja buses ran fairly regularly (every hour or so) from the Cuenca "terminal terrestre". So that's where I headed by taxi ($1.70) Friday morning. Catching the bus was easy enough, though they apparently don't run every hour, so I had to wait a bit for the next (11:00 am) departure. The cost though, was most surely sweet: $5.00 one-way but with my "tercera edad" (read: dodderin' 50% discount on all transport within Ecuador), I paid just $2.50 for the 3 hr. trip.
Arriving in Saraguro, again it was easy enough to find a bright yellow taxi to take me up to my hostal (note: the term "hostal" in Ecuador isn't limited to your backpacker dormitory flavor of sleeps, but can include many a fine hotel). As was my (pre-booked) selection: Achik Wasi, which turned out to be not only very comfy, but utterly tranquil and charming.
Note: Normally I'd have opted to simply show up in Saraguro and could likely easily have found a nice enough place to stay (for less $), but suffice The Achik Wasi was the ONLY Saraguro lodging listed on the internet, and given that it was a festival weekend, there was a good chance that all lodging in the tiny town would be filled. Besides, not only is the Achik Wasi a community-owned project (and thus my tourist dollars go straight into the hands of the local people), but at $24 per night with breakfast, for a spacious room (2 beds!) with private bath and specTACular view – I can highly recommend it!
The guesthouse is located on a hill overlooking Saraguro but a 10 minute stroll will take you to the heart of the town. That said, a $1 taxi in lieu of puffing your way back up (at 8,000+ feet) on your return to Achik Wasi is recommended.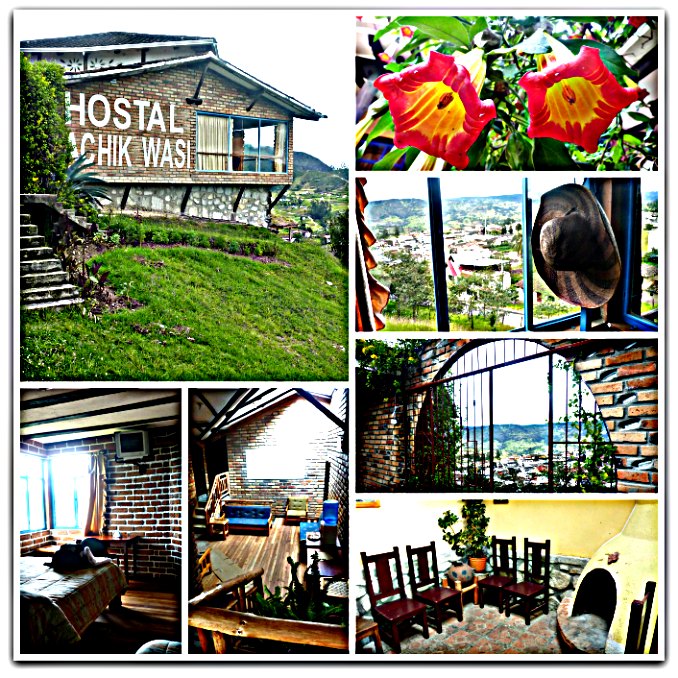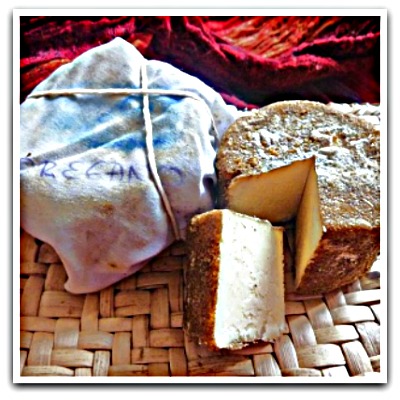 With my sleeps happily squared away, I headed down the hill to check out the cobbled streets, the cathedral and the town square. Snapping photos along the way, I popped into bakeries and local tiendas selling fresh, homemade cheese rounds (I later bought two small rounds to carry home – 1 coated in oregano, the other in cumin $2.50 each), and bid cheerful "Cómo estás" to clusters of locals dressed in traditional black woolens (the women in long pleated skirts, the men in knickers – both with a single, long plaited braid topped by either a black felt fedora, else the distinctive white felted hat painted with "cow" spots). Dinner Friday night was my favorite street-eat: a paper bowl of ceviche (a whole dollar!) which I ate whilst sitting on a park bench watching the town folk stroll by.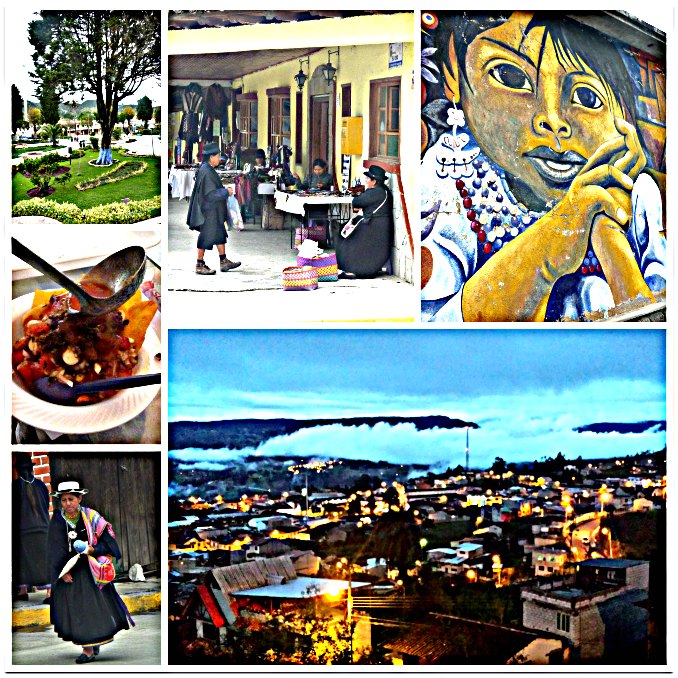 The next morning I enjoyed a full (gratis) breakfast at Achik Wasi (with a side of papaya and peeled rambutan, one of my favorite tropical fruits) with a stunning view of the town below, then strolled again down the hill to watch the town prepare for the Pawkar Raymi festival. Along the way I bumped into a gaggle of "Explorer" expats from Cuenca including a lass that reads this blog! The festival started promptly at 11 am and was of course among the highlights of my little get-away (as noted above, you can read more about it HERE).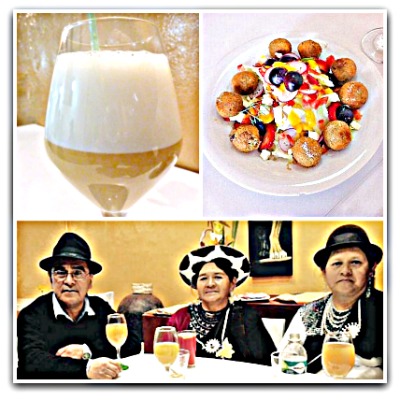 After, I moseyed over to one of the most remarkable bits of serendipity of my Saraguro visit – the amazing ShamuiCo Espai Gastronómic restaurant, located on the town square, next to the cathedral. A Peace Corp volunteer living in Saraguro had recommended I try the local "chicha" there – a lightly alcoholic (think: wine spritzer) made from maize and fermented via a mushroom(!). Turns out they offered a choice of four different flavors of chicha so I (of course) fully intended to sample each and every one over the course of my Saraguro visit.
Meanwhile, I bumped into a trio of expat chums from Cuenca that were already settled in having a shared paella lunch ($9 with enough to serve the 4 of us plus a couple of side dishes at $3.50 each). So I added another side dish to the order, and my new companions were happy to help me taste-test 3 of the chichas on the menu. The verdict? The .50 plain "Chicha La Podrida" turned out to taste merely of fruit juice (i.e. little fermentation and no "sparkly" fizz), the "Chicha Clarita" ($1) proved fizzy and citrus-y, and the "Chicha Oscurita" (also but $1 and my fave!) a darker, stronger version of the "Clarita" (think: light vs. dark lager beer).
Apparently the chef of ShamuiCo previously worked at several 5-star restaurants in Barcelona – as is evident from the upscale fusion dishes on the menu, as well as the artistic presentation touches. Indeed, the menu included so many intriguing options (at amazingly economical prices ranging from $2 – $8 for generous tapas to full entrees), I simply HAD to return to ShamuiCo for dinner that night – to indulge in a most fantastically presented pork entree, along with the final (and B.E.S.T. of all!) "Chicha La Huevona" (essentially the sparkling "Clarita" version whipped frothy with an egg). And the pièce de résistance? Uh, arguably THE most decadent dessert on the entire globe "Chocolatos en Texturas": a most delectable arrangement (complete with rose petal accents) of various textures of chocolate (e.g. chocolate ice cream, dense brownies, and truffles, topped with ultra-thin chocolate wafers). I mean, can you spell Y-U-M-M-M???
In short, tucked there so unobtrusively in this tiny town amid the remote mountains of the Andes, the ShamuiCo proved a most extraordinary culinary surprise indeed. Were it not for the many Ecuadorians in their distinctive Saraguro "cow" hats dining next to me – I honestly could have been eating at most any 5-star restaurant in Paris!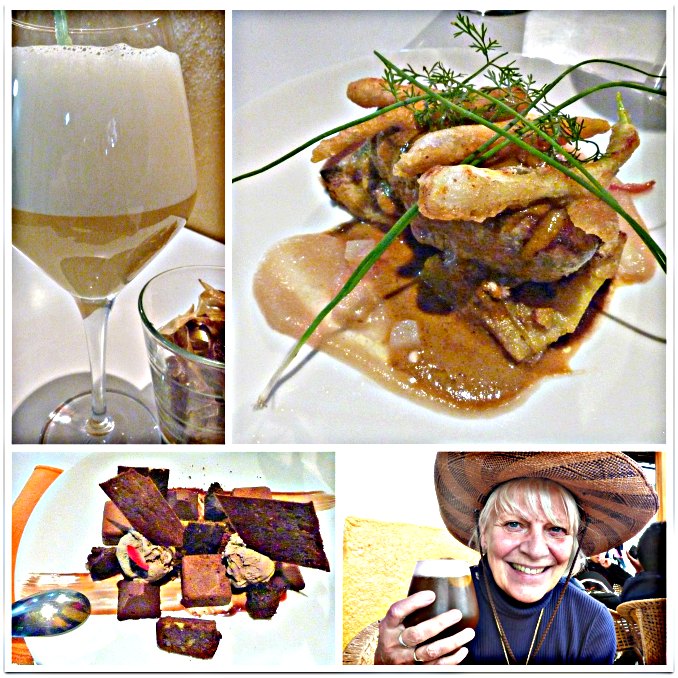 And on my final morning (with no particular rush to hop on the 3 hr. bus back to Cuenca), I again wandered through the cobbled streets of Saraguro and happened upon the bustling Sunday market.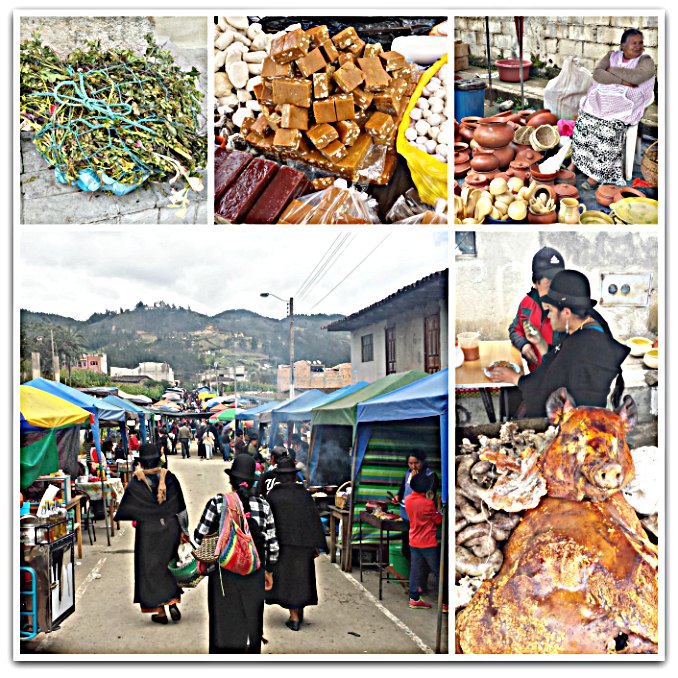 All-in-all, quite a lovely little get-away. And there's still one more tale to tell – about my solo foray into the countryside to track down the workshop of the (apparently ONLY) lad on the Planet that makes those distinctive white "cow" spotted Saraguro hats. Stay tuned for more pics and details.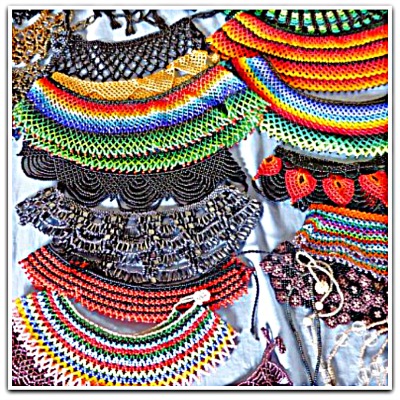 Oh, and about those luscious "chakras" – the amazing beaded necklaces worn by Saraguro lasses young and old. So striking against their black woolens. There were boatloads of them for sale in every color and width – from 2″ to 12″ wide collars. Each a work of art with hundreds, upon hundreds of itty-bitty multi-colored beads. And very reasonably priced (from $8 for a small, 1.5″ width collar, to $15 for a 4″ on up). Needless to say, I was sorely tempted. But in the end, my minimalist mantra won out (i.e. I already have gorgeous ethnic necklaces and bracelets from a myriad of exotic lands – that I seldom wear as it is). So I managed to tear myself away without toting yet another lovely trinket home. Then again, in hindsight – I now wish I'd bought one (in every size and color). So clearly another bus ride to Saraguro is in my future.
In a Nutshell…
Total spent: $82
 
I'd say, a most excellent 3 day holiday, including 2 nts. of comfy sleeps, delicious eats, fascinating side-excursions and activities, not to mention tons of great photo ops – all for less than $30 per day.
 
Not too bad. Not too very bad at all.
 
Just a couple of additional tips:

– dress in layers (as always, in this blink-changeable Andean climate). Plenty of sunshine and warm days; but nights decidedly chilly. Though the Achik Wasi guesthouse offered plenty of thick warm blankets (not to mention a 2nd bed with several more should I need them), let's just say I was very glad I thought to tote along (as always) my trusty thin wool long underwear.

– Do check the return bus schedule early, and reserve your seat in advance. From what I could gather, the return buses from Loja often fill up before they get to Saraguro, so either have your hotel call in advance to reserve a seat for you, else get to the bus station (located a block behind the cathedral) an hour or so in advance to buy your return ticket.

– A little reminder to slather yourself with plenty of sun-screen at these equatorial heights. I had my sunglasses and a wide-brimmed hat, but still managed to get quite a rosy face.

– Oh and I did meet some folks that opted to do just a day trip to the festival from Cuenca. Doable of course, but personally, for the price of a night's sleep ($24 pp. or less), I'd not want to do the 6 hrs. of bussing to 'n fro all in one day.

So there you have it. Nearly 2 THOUSAND words (and 30 new pics!). Most every blessed detail one could want to hie thyself to Saraguro for a most delightful little adventure.
Do let me know in the comments if you like my new "leaf" (i.e. more nitty-gritty details of my adventures), and/or if you have any questions.
(For the full array of my Saraguro series, do click on the Saraguro tag)