Cuenca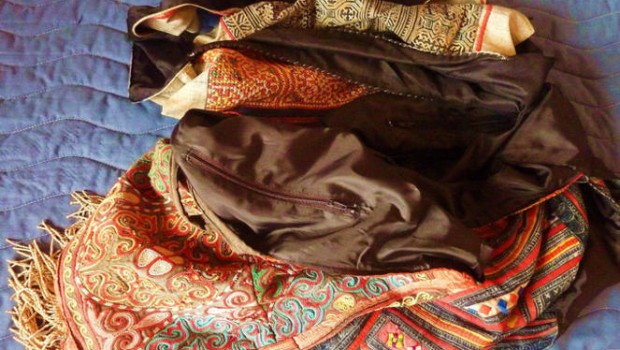 Published on October 1st, 2014
10
Avoiding the Gringo Trap – Whew!
O.k. so here's my story. I happen to have 3 fabulous handmade bags/purses that I got in Laos and Mongolia – simple cloth bags with long cloth straps, but each intricately hand-stitched in traditional folk/hilltribe designs. Luscious treasures, and among the few souvenirs I allow myself to tuck in my backpack as I skip about the globe. But they needed to be lined so…
Just a few doors down from my place here in El Centro is this tiny hole-in-the-wall tailor. A dear old gentleman and his aging wife – both of whom can be seen most any day of the week, diligently stitching away in the dim light of the interior of their curbside shop. Such a charming scene – much akin to an Ecuadorian Norman Rockwell. All together now: awww….
So… naturally, I take my 3 bags there and ask if this kindly old couple can line them with thin black cotton or some such. Yes, yes, says the old gentleman, while his wife nods agreement. How much? says I. The reply: ten dollars. Ten dollars for all 3 says I? Nope. $10 EACH says the old gentleman.
Hmmm… I'd have tried to barter a bit, but at 10 bucks each to start – what's the point? Clearly I was being gringoed.  In Vietnam, such would cost a couple bucks each at most. So instead, I smile politely and mumble gracias, tal vez luego.
Meanwhile, I ask my Ecuadorian chum Jonathon that owns the bitty "Soup's On" cafe beneath my apartment (and who is a fabulous cook, almuerzos incl. yummers dessert just $2.50, highly recommended), ANYWAY…

So I ask Jonathon if $10 to line each bag is a good price or expensive.  MUY CARO! says he.  He knows another tailor who is much cheaper.  He will ask there how much for such.  The answer?  $8 for ALL THREE.
Long story short?  Jonathon kindly took my 3 bags to his tailor and I just got them back. Not only is each one lined beautifully, but they all have a sturdy zippered POCKET sewn into the lining!
The moral to this little fable? Question when you're being gringoed; it pays to shop around.


How 'bout you? Ever narrowly missed being gringoed in your travels?