Cuenca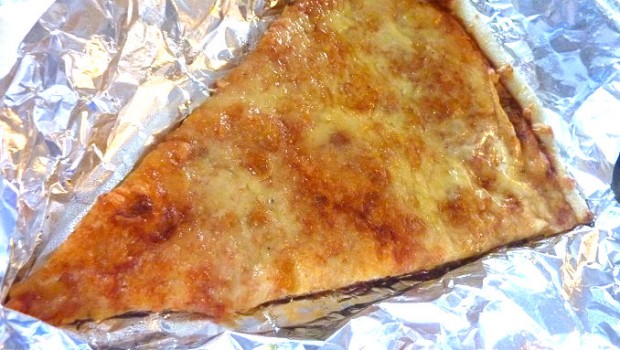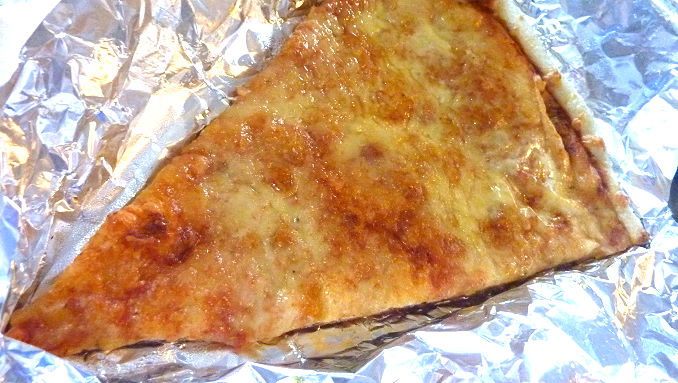 Published on September 22nd, 2014
2
Wait! Chicago Pizza – Here in Cuenca, Ecuador?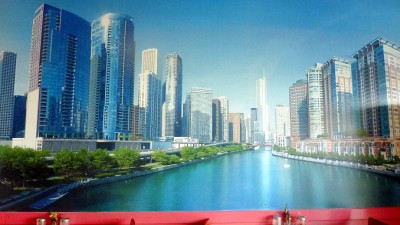 You can take the girl out of Chicago, but you can't take (the delectable tastes of) Chicago out of the girl.
Indeed, though I've lived more than 2/3 of my life far from my birthplace (first California, then Oregon, then Colorado, then Washington, then Vietnam, then Thailand, and now Ecuador) – I shall never, ever forget those amazing quintessential Chi-town eats: deep-dish pizza (Uno's I'm lookin' at YOU!), Italian beef sandwiches, and best of all, bar-none, most beloved childhood comfort food: a scrumptious Chicago Red Hot (hot dog).
And so it was, that I couldn't help but involuntarily drool, the moment I learned of a restaurant right here in the heart of El Centro that allegedly offered the pizza from my long ago youth.
So I swiftly skipped down the cobbled lane (just 5 blocks from my front door) to the namesake of my childhood: Chicago Pizza.
From the outside, it surely LOOKED like it promised the authentic deep-dish ala Uno's and Due's goods (well o.k. but for the Spanish "Desayunos" and "Almuerzos" on the sign), but…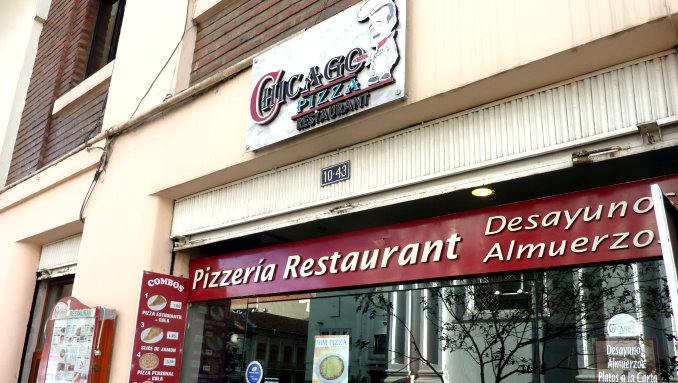 …what about the pizza itself – could it possibly replicate the 3 inch deep "pizza pies" plunked down on your red and white checkered tablecloth in a steaming cast iron skillet in Chicago?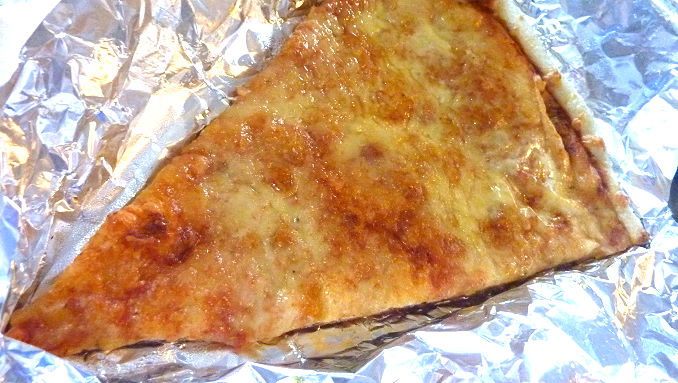 Well o.k., that would be a big ol' "NOPE!" Not exactly 3 inches high, nor even a hopeful inch.  Looked more like a "New York" style pizza slice, if you ask me. And indeed (shh! don't tell my family but…) I actually favor the thin-crusted cheesy slices of pizza from that other great city (you know, the one dubbed "La Gran Manzana").
O.k. so it's not Chi-town deep-dish but NYC thin crust. Ah but what does it taste like?
So… what do ya think???
(This Chicago native's verdict? OMG yummm-MERS!)
P.S. And the price? Even more delicioso: just $1 a slice.