Chiang Mai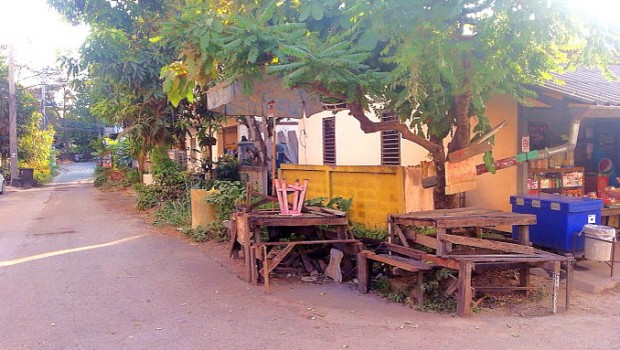 Published on February 4th, 2014
6
Toodle-oo Thailand!
(above: the street corner – with requisite gilded Thai spirit house, see image below – leading to my Chiang Mai apartment)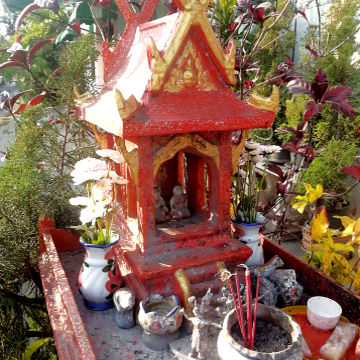 When I first arrived here in Thailand 4 months ago, I was uh, shall we say… underwhelmed?  After my blissful years in Vietnam, the farang (foreigner) count here in Chiang Mai was dismally off-the-charts, and the "darling" of the Asia expats was… well imho, not all that darling.  Then there was the ack of a certain pissy Thai Consul who shall remain unnamed.
Nonetheless…
Though I still waaaaay favor Vietnam and the dear folks there, I must say – I'm glad I stuck it out awhile here in "The Land of Smiles".  For I've grown – if not to love, then at least to rather like – both Chiang Mai, and the kindly Thai people.  For me, the trick to bliss in Chiang Mai is but a matter of steering a wide berth around the whole expat scene here, and instead, focusing on the bitty neighborhood restaurants, enjoying the (undeniably fab) Thai street food, and bidding a friendly "sawadee ka" to my neighborhood locals.  Along with – well o.k. $120 for a sweet a/c apartment with flat screen tv, fridge and view of the mountains – clearly chilling out in Chiang Mai a few months hasn't exactly been a painful ordeal.
Indeed. knowing that I'd soon be flying out of Chiang Mai (and onward to the other side of the Planet), on my final day here I waxed a bit misty-eyed about bidding adieu (adiós?) to my favorite phad thai vendor and the lass that serves up my (near daily!) beloved Burmese "Tea Leaf Salad" at a neighborhood restaurant. Yep, no denying it – though I'm over-the-MOON with excitement about embracing a whole new continent (Ecuador, South America), I'm decidedly a tad melancholy to be leaving this part of the world.
So after packing up my meager nomad belongings (a single checked bag, plus carry-on rolling backpack) and exchanging the baht from my apartment deposit refund into greenbacks at the local mall, I slowly made my way home, snapping a few pics along the way to remember the simple pleasures of my stay here:
How 'bout you? Have you ever waved "bye-bye" to a place – all misty-eyed?