Nepal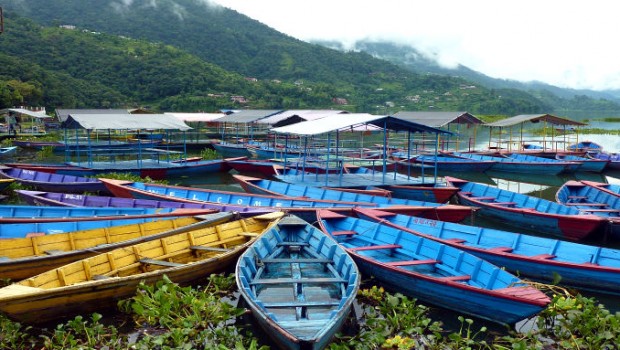 Published on January 24th, 2014
14
Catching up on Nepal: Pokhara
O.k. nearing the Nepal finish line here now dear followers. Just a few more posts to go (and mostly all pics) Again, if you've not been following along these many weeks of nepal, nepal, nepal – do check out my preceding blather on my many adventures in "The Land of Everest":
Drizzly Nepal (a.k.a. All Is Not Always Rosy for We Wanderlusts
Catching up on Nepal: Bhaktapur
Kathmandu: Sardine-fest with 20,000 Nepal Soccer Fans
Catching up on Nepal: Sleeping With Monks
xxx
Pokhara – Umm, Didn't Tickle the TL's Toes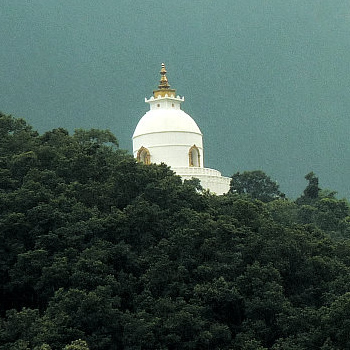 Yup, sad to say – probably the most "meh" locale on my romp 'round Nepal. It's widely recommended by most every traveler to Nepal and is mainly handy as a base for treks into the Himalayas.
But alas, as the weather was iffy* when I was there (severe thunder and lightning storms each night), I questioned my physical ability to scamper up muddy trails, disturbingly adjacent to slippery drops to bottomless voids.  Indeed – acrophobic wuss that I am – I opted against being electrocuted on a mountain top, and instead tried my best to simply enjoy the attractions of the town of Pokhara itself.
And though I did make my way to both the World Peace Pagoda (nice enough, though pelleted with rain upon my arrival) and the nearby Tibetan refugee village (lovely folks, highly recommended), as well as "Devi's Falls" (emphatic "meh" but at least I grabbed an Earthcache there – which I promptly neglected to log as a find, oh well) , the Sarangkot viewpoint (racing by taxi at dawn on my last morning in Pokhara, as the clouds finally parted for my one and only – 30 second – glimpse of Annapurna II at an astounding 26,000!) and of course the highly touted Phewa Lake…
Suffice, every inch of the latter touted lake proved to be bounded by – ironically yes, plenty of boat touts, along with a gazillion restaurants and masses of tie-dyed T-shirt shops. Indeed, the entire town of Pokhara – sorry, but just waaaaay too over-the-top touristy for me. I did find a fine little room in a most extraordinary "Octagon House" (shaped, as you might imagine), but my advice? Pokhara should best be kept to the most abbreviated visit – simply a get-in/get-out base for trekking the (no doubt spectacular, though I shall likely never know) Annapurna range.
Nonetheless, a few pics that make Pokhara look a lot more interesting than imho, it is:
(Click on any of the thumbnails to start the slide show)
*Which reminds me: My one (and only) regret with my (otherwise most memorable!) visit to the Land of Everest is that… I went far too early in the year (late August). Sadly (especially given that my prime reason for visiting Nepal was to lay my own baby-blues on those legendary Himalayan mountain peaks), for the entire 3 weeks I was there, the mountains were perpetually shrouded in clouds. I did get a few itty-bitty, momentary peeks at Nagarcot and on my last morning in Pokhara when the clouds parted for few nanoseconds, but sadly, that was it. ;(
The locals were all in unison:  "In just two weeks, it will be spectacular."   So… my advice to those planning a visit to Nepal: do wait til at least mid September to go.
YMMV of course, but I'm just sayin…