Expatn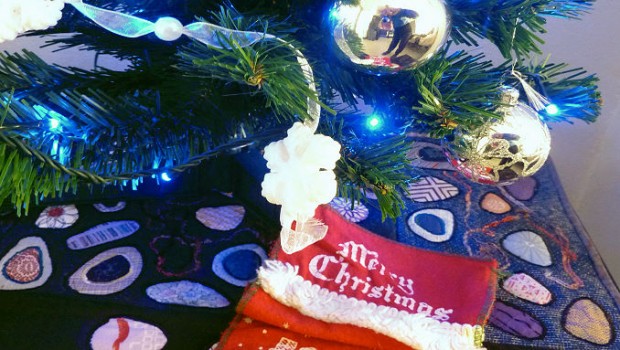 Published on December 20th, 2013
8
Expat Desperately Seeking the Christmas Spirit
It's nearly Christmas once again – and this will be my THIRD Christmas as an expat, 8,000+ miles away from my native land.
My first Christmas living abroad was on a far-flung island (Pulau Weh) waaay up at the tippy-top of Indonesia in Sumatra.  And last Christmas was among my life-long favorites: celebrated in Dalat, Vietnam, with my dear L'Auberge Ami "family".
This year I'm in Thailand, and – given my recent weeks of skipping 'round Myanmar – I haven't had much of a chance yet to settle in and make friends here in Chiang Mai.  Nonetheless, there are many "farang" (foreigner) activities to choose from – Christmas concerts, caroling, wine-tasting, younameit.  Even nativity pageants here in the land of Buddha smiles.  I've also become quite involved with the Chiang Mai Couchsurfing group here, and we have both a Christmas Eve and a Christmas Day dinner planned.
Still…
It's tough sometimes to feel the warm, rosy glow of the holiday spirit when you're far from family and friends, amid a sea of folks who speak gibberish and don't even celebrate the same holidays.  Nonetheless, as long as I am able to draw breath in and out – no matter where on the Planet I happen to be, each and every year I try my best to cobble together at least the rudiments of the traditional Christmases of my childhood.  It takes a bit of effort, but I always manage to somehow reach deep down and find that little place in my heart that still holds a tiny bit of the magic of Christmas.
Thus, within hours of stepping off the plane from Myanmar, I headed out here in Chiang Mai to find myself – why a Christmas tree, by golly!  Nope, no pine-scented Doug Firs nor Blue Spruce tree lots on every corner.  Indeed, all I could find was a small nook on the 3rd floor of the mall with a tiny assortment of christmas ornaments, a few strings of twinkly lights, and a choice of but two dubiously realistic artifical Christmas trees: large and small.  Ah but it was enough.
Skipping back to my apartment clutching my festive holiday goodies to my breast, I turned up the volume of "Deck the Halls" on my iPhone speakers, and happily hummed along whilst stringing bitty blue lights, a snowflake garland and a dozen silvery ornaments on my… 60-something-eth Christmas tree.
And though there will be no sparkly snow drifts to dazzle my eyes on Christmas morning (not to mention I shall again have to play "Santa" by filling my own childhood stocking with tangerines and chocolate), I dare say I have once again found the magical "Spirit of Christmas" here in some g-forsaken rice paddy in Southeast Asia.
Indeed, I got so carried away with the pure glee of it – I suddenly found myself searching every image folder on my laptop – to unearth a small handful of fond Christmas holidays gone by…

(Click on any of the thumbnails to start the slide show…)