Travel Tips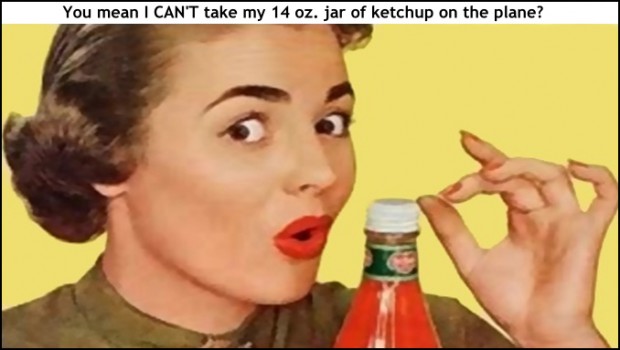 Published on June 16th, 2013
14
Travel Tips From the Ancients
Uh, SOME of us (neanderthals) can well remember the challenges of traveling back in the dark ages (we're talkin' the late '70s and 80's here).  Ah yes, the good ol' (or bad ol', depending on your perspective) days of traveling without a smartphone, a laptop, a Kindle, a camcorder, Skype, Twitter, Facebook, et al.
Yes, waaay back in ancient times when we didn't need to dump the remaining contents of our water bottles into the airport drinking fountain as we headed to security, blithely tucked our super-sized bottle of shampoo into our carry-on bag all the way to Paris, – oh and… inhaled 2nd hand smoke billowing from the "Smoking Section" of the plane (of the AIRPLANE people!) for the entire Pan Am flight (yes, Pan Am – remember them?) to Heathrow.  Never bothered with baggage weight 'cuz it was pretty much anything goes, no extra cash.  Drank ourselves silly on free-flowing booze (gratis, even on domestic flights), and never heard of no silly "No-fly List" (what? I never once saw a single fly buzzin' 'round my food tray).  And "TSA" hassles?  No way.  Probably stands for "Travel Sure is Awesome"?
So for those gap-year youngsters out there (presently slumped in a hostel armchair, texting "u board? me 2" – misspell intended – on your smartphones) I thought it might be fun to fill you in on a handful of archaic travel gadgets we dodderin' travelers once earnestly depended on whilst skipping 'round the globe:
FILM, n. a narrow strip of rolled celluloid with bitty holes along each side, that must be laboriously submitted to a p-h-o-t-o p-r-o-c-e-s-s-i-n-g joint for overnight development, so you can see that you uh, did NOT after all, get the shot of that orangutan you glimpsed last month in far-off Sumatra.
BOOK, n. a bulky, heavy, paper brick – the bitter-sweet bane of traveling bibliophiles.  Guidebooks especially, must be necessarily ripped apart and the "Florence" section discarded after gawking at "David".
TELEPHONE, n. a public booth at the local post office in Paris, where you stand in line 2 hours to spend a small fortune to talk amid static to your mother on the other side of the globe.
SMARTPHONE, n. I dunno – perhaps a telephone booth within a post office that happens to be next to a library?
ATM, n.  uh, All ouT of Money?  See "TELEPHONE" above – whilst at the post office, beseech your folks to wire you a few bucks via Western Union (it's either that, or sell your jeans) 'cuz there most certainly weren't no machines that vomited money on demand nowhere, nohow.
Which nicely segues to…
MONEY, uncountable n. Actual physical paper and metal coins.  And each European nation proudly proffered their own.  Indeed, crossing borders often involved noodling out how many thousand drachmas equaled how many million lire.  Travelers checks were the only means of averting a financial disaster when your money belt was lifted.  And plastic was pretty useless to backpackers (see no "ATM"s above).
Email/Facebook/Twitter: That's easy, we ancients had these:

Don't get me wrong – I ADORE my Kindle, my Casio iFridge (iPhone), and most certainly my trusty little netbook (that I'm pecking on right now!) And I wouldn't DREAM of going back to the days of standing in line at a French post office simply to make a "très cher" phone call.  But the question izzz…
Do any of YOU remember what traveling was like
before DSLRs, universal ATMs, wifi, and G5?