Asia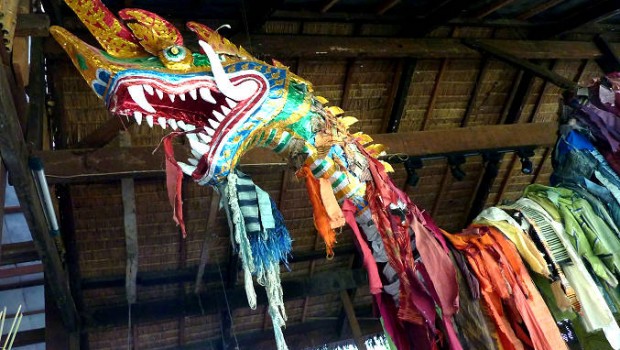 Published on May 12th, 2013
6
More Laos: Ock-Pop-Tok Natural Dye Workshop
Seriously behind here on polishing off the tales from my February fun in northern Laos.  Indeed, enough pics and blather for 3 more posts.  And on top of that – I've now got even more to share on my more recent near week in Hoi An here in Vietnam (including not one, but TWO amazing photography workshops).
That settles it.  Time to get serious and share the remainder of my visit to neighboring Laos.  You can read my initial "Laos Sneak-peek" HERE, and details of the (fabulous!) Laos Elephant Festival HERE.  But there's more. Far more.
O.k. next up among the highlights of my slide into neighboring Laos last February – something different – a half-day workshop in natural dyeing.  Nope, not a gloomy hospice seminar, we're talking hands-on play with natural DYES – amazing colors from nature, squeezed from pulverizing indigo leaves, bark and so on.  All quite yummerlishes for this once die-hard "fabricaholic".
The truth is, I'm actually not that new to fabric dyeing – in another life (just prior to this nomadic one) I was an avid, nay arguably OBSESSED art quilter.  Yes, a Q.U.I.L.T.E.R.  Though not the soft, cuddly, patchwork kind of quilts that your great-grandmother tenderly stitched by hand in days of old.  Nope.This was all manner of art quilting techniques, free-motion quilting with glittery and/or nubly threads (a.k.a. "drawing with thread"), raw edges proudly (deliberately) showing, etc.  Literally "painting with fabric".  And naturally, I also experimented wantonly with dyeing my own fabrics (albeit with commercial dyes, not picking berries and bark from my backyard), and recklessly spraying bleach solution on dark fabric simply for the sweetly "mottled" effect.  Seriously, feathers, beads, twigs, you name it – NOTHING was safe from my madcap stitchery.
Indeed, when I lived on Vashon Island off the coast of Seattle, my master bedroom was my "studio", and I verily lived and BREATHED all things quilty.  Within the span of 8 years, I stitched no fewer than 50+ art quilts and wall hangings, sold many, taught art quilting classes, and created custom designed wall quilts for folks on commission (this, in my "spare" time when not dragging travelers around Belize and Costa Rica).
Interestingly, given that we were then marching forward to the turn of the millenium (and btw, how many of you remember the great "Y2K" computer scare – raise your hand) I opted to design a "Millennia Mania!" quilt pattern that used no fewer than 2,000 bitty scraps to welcome in the 2000 New Year.  This was in the early days of e-commerce, and I was thrilled when I'd get an online sale from some dear lass in France!
Ah but I digress (a.k.a. no WONDER I'm behind on my travel tales here).  Back to the present, and another continent on the other side of the globe.  Point is – given my once avid love of colors and fabric, needless to say, I most surely was excited to be able to take a workshop in NATURAL fabric dyeing during my stay in Luang Prabang, Laos.
During my research before heading to Laos, I discovered the Ock Pop Tok Living Arts Center a most expansive Fair Trade operation with a mission of "empowering women through their traditional skills, as well as promoting the beauty of Laotian textiles across the globe."
Ock Pop Tok (meaning "East Meets West") offers a variety of classes and workshops including natural dyeing, batik, textile weaving, and bamboo weaving.  Their prices are a bit heady for a budget backpacker, but well worth the rubles (or in the case of Laos, the "kip").  Originally I was going to opt for a full day workshop that included natural dyes in the morning and a full afternoon of weaving the thread dyed that morning.  But I did a short recon visit one afternoon before I signed up, and spoke with a young lad who was weaving.  His slow, rhythmic "thump-thump-slide-thump" on the loom amid the shade of a bamboo porch set along the Mekong River was no doubt most Zen and relaxing, but…  Suffice I've done such before, and it seemed a pretty tedious way to spend an entire afternoon.
So I opted instead for just a half-day natural dyeing workshop ($55*) followed by a most delish gourmet lunch.  And oh my, I was not disappointed.  Joined by just one other foreigner (a Scandinavian lass), we had great fun first, learning about the many natural leaves, flowers, bark, etc. that produce amazingly vivid colors, choosing our colors for dyeing both a skein of silk thread, and a cotton scarf, and then set-to the process: picking indigo leaves off the trees, pulverizing them with a mortar and pestle, boiling the mushed leaves, knotting the scarf for a bit of "shibori" pattern, then dyeing it a lovely cerulean blue.
* btw, note that you can simply walk around the Ock Pop Tok arts center watching the indigenous weavers at work, and viewing the bubbling natural dye process for free.  Indeed, a lovely place to hangout awhile and have lunch.
In short, the pics tell the story of a most fascinating and enjoyable morning far better than I could ever blather:
(Click on any of the thumbnails to start the slide show…)