Chiang Mai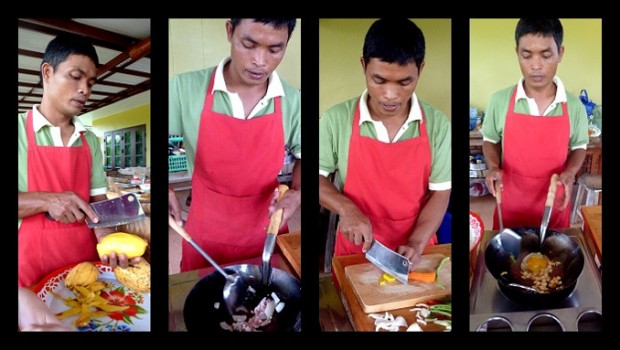 Published on September 24th, 2012
11
So, You Wanna Cook Thai, Huh?
It's my dear, sweet homebody sister (that doesn't even have a passport!) that's always been the "foodie" in our family.  Nestled on a hilltop in rural Oregon for nearly half a century, her kitchen is chock full of every culinary gadget known to man.  She's happiest when whipping up some savory concoction from our childhood, like Gram's Potato Dumplings or Mom's Best Chocolate Cake, and her recipe for Fried Ravioli has me drooling on my keyboard 8,000 miles away.
But her li'l Sis (moi) has taken a different trail, and traveling the globe with little more than a backpack and a prayer has its perks.  One of which is the opportunity to freely sample (and cook) an amazing bounty of exotic local cuisines.  Indeed, though I may lack a spiffy state-of-the-art kitchen, with Cuisinart this, and Williams-Sonoma that, it turns out that replicating the delectable Thai curries that make me swoon takes little more than a knife, a spatula, and a frying pan.
Nope, no Talking Measuring Cup, nor $20 Onion Goggles (good grief!) required.  Whipping up a steaming plate of Chicken with Cashew Nuts, plus a side of Papaya Salad, finished off with that heavenly Thai dessert – OMG-yummers Mango Sticky Rice – is far easier than you think.
Or so I happily discovered during a full day's Thai cooking class at The Thai Farm Cooking School on my breeze through Chiang Mai last month.  Not only did I learn how to make no less than six different Thai dishes (plus sample a dozen more, made by my fellow Thai chefs-for-a-day), but we all enjoyed a day out in the Thai countryside, cooking in a pleasant open-air kitchen, each of us with our own spotless cooking station.
For unlike the plethora of other Chiang Mai cooking schools, The Thai Farm school is a family affair, and they pick you up at your hotel, and transport you to their "1,000 trees" organic farm located about 20 km outside of the tourist-centric city center.
Disclosure: While I was a guest at the Chiang Mai Thai Farm Cooking School – as always, the opinionated blather expressed here at TravelnLass is ever (for better or worse) my very own.
En route to the farm, we stopped at a local market where "Sawat", our instructor (and  owner of the farm and cooking school) pointed out mystifying Asian vegetables and fruits (and how to use them), the differences between "Kao Jaw" and "Kao Nio" (jasmine vs. sticky rice), and the nuances of the various color curry pastes (you can purchase ready-made pastes at the market, but we each made our own from scratch at the school using fresh ingredients, a mortar 'n pestle and a bit of elbow grease.)
| | | |
| --- | --- | --- |
| | Even better – upon our arrival at the school, we enjoyed a tour of the Farm, strolling amid the lush grounds,  smelling, tasting and picking many of the ingredients used in our dishes – fresh from the garden! | |
Ultra spicy "Hot Chillis" of course ("Prik Kie Noo") along with their tamer chilii cousins "Prik Kieuw Sod" (used green in green curry paste, when ripened – in red curry paste).  But also Siamese ginger, lemongrass, ginseng (used in curry pastes and fish dishes), "Holy" basil (spicier than the more common "Sweet" variety), eggplant (both "Sweet" and "Bitter"), Kaffir limes, dragonfruit, mangos, tamarind, papaya, pineapple, et al.  And of course plenty of bananas and coconuts, right off the tree – each and every plant 100% organic.
The Thai Farm Cooking School itself is quite a popular enterprise.  As we roamed about, there were no less than 3 other cooking classes in session (with farang groups likewise of about 9-12 students, each busily cooking in separate airy pavilions.)  Our own group consisted of quite an international crew – a French family of 4, plus a token Scandinavian, an American couple and a mother/daughter set from Argentina.  Unfortunately, the mother of the Latin set fell ill before we'd even started cooking, and arrangements were made to swiftly shuttle the pair back to Chiang Mai.
But the rest of us soldiered on – donning our red aprons and hunkering down to some serious slicin', dicin', tossin' and turnin'.
We each commandeered our own station, and everything was neatly organized – with a prepared plate of fresh ingredients set for each of us. And oh my the many different dishes we cooked!  Remarkably, the classes at Thai Farm are so well orchestrated, that we each had a choice of *15* different dishes (plus 3 curry pastes we pounded from scratch). We each chose 5 dishes to cook from among the delectable likes of:
Green, Red or Yellow Curry Chicken
Tom Yam with Shrimp
Chicken in Coconut Milk
Thai Vegetable Soup
Chicken with Cashew Nuts
Papaya Salad
Chicken with Basil
Spring Rolls
Pad Thai Fried Noodles
Stir-fried Big Noodles
And for dessert – a choice of either Bananas or Pumpkin in Coconut Milk, else Mango with Sticky Rice.
I chose to make Green Curry with Chicken (in hopes of remotely replicating the wondrous dish I first tasted at my Chiang Mai guesthouse), plus Tom Yam with Shrimp, Chicken with Cashew Nuts (another memorable Thai favorite that I first enjoyed nearly two decades ago in Bangkok), Stir-fried Noodles, and for dessert – Mango with Sticky Rice of course!
The day-long class proved to be great fun, and quite an eye-opener – even for a kitchen-challenged nomad like me, I was able to create a wide variety of arguably gourmet-class dishes with but the simplest utensils and a handful of ingredients.  Utterly amazing – in a matter of 10 minutes I managed to concoct this yummerishes Tom Yam Soup:
After, we all gathered 'round the terrace tables and tucked into the dishes we'd made.  Far more food than we could possibly consume at one sitting, we each took home bulging "doggy" bags, along with a beautiful little cookbook with recipes for the many dishes we made. All in all, it was a fine day.  Good food, good company, a most idyllic country setting, and most importantly – I learned a bunch that I can now take back to whatever humble nomadic kitchen I might have.
xxx
Now it's your turn – time to "Thai" on your own apron, and create a bit of tasty Thai heaven yourself.  I leave you with this easy-peasy recipe for making your own delish Thai dessert:
KAO NIO MA MUANG
(Mango with Sticky Rice)
1 cup of steamed sticky rice (a.k.a. "sweet" or "glutinous" rice – NOT jasamin rice)
1/2 cup coconut milk
1 ripe mango (peel, remove the seed and slice into pieces )
1-2 teaspoons sugar
1/4 teaspoon salt
1 tablespoon toasted mung beans  (for "crunch")
 
Preparation:
Put coconut milk, sugar and salt in a pot. Heat until boiling. Turn the heat off. Add steamed sticky rice. Mix together well. Let it cool.  Place a bit of diced mango in a small greased cup or cupcake tin.  Add some sticky rice, and invert on serving plate.  Top with a bit of the coconut milk mixture.  Serve with a sprig of mint, and a sprinkle of toasted mung beans. 
Plus a few more pics – uh… pink eggs anyone? 😉