Chiang Mai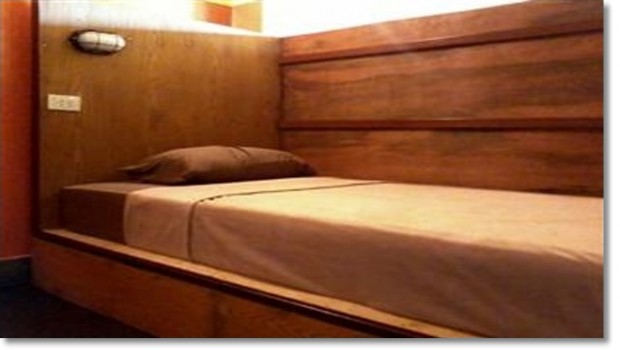 Published on July 27th, 2012
6
Returning to My "Shoestring Travel" Roots
What with all this flitting about lately (Thailand next week, then a month in Mongolia, plus Oz come November) I decided that my travelin' style has grown a tad too opulent.  Asia is so cheap it's tempting to perpetually opt for cushy digs for under $25.  But really, such luxury has never been my style (not to mention those travel beans can better be used for… why for whizzing off to even more exotic places, yes?)
So… For my little 5 nt. recon dash into Thailand, I've opted to return to my "shoestring travel" roots, and booked a sweet little bed in a hostel for just…
Would you believe, just $6 per night?
Yup, on sale at agoda.com, for 5 nights the tab came to less than 30 bucks total!  Check out the details at FWD House.  Shared shower of course, but air-conditioned, free wifi, and right in the heart of the "Old City" of Chiang Mai.
I mean… it's merely a place to lay my head after all, so why spend FOUR times the travel beans when you can have a perfectly comfy place for verily PEANUTS!
Of course if I reeeeeealy wanted to pinch pennies, I could couchsurf.  But that's not the point.  And indeed, I HAVE contacted a few Chaing Mai couch surfers, and plan to meet up with at least two of them to get the low-down on expat life in Chaing Mai.  Which… after all, is my main reason for dashing there in the first place.
YIKES! Just 4 days til blast-off!


Clearly I have absolutely NO BUSINESS pecking such frivolous posts here at TL these days as I have a GAZILLION chores to do before taking off come Tuesday.I mean, this isn't just a matter of stuffing the backpack for a little month-long jaunt.  Nosiree.  I'm moving lock stock 'n barrel yet AGAIN here.  No more teach job at ILA, and no more sweet apartment here in Saigon.  I'm packing up EVERYTHING and will be free as a bird again soon.

(Well o.k., I will be storing my teach clothes and paraphernalia – it's amazing how much "stuff" one can accumulate in just 9 months! – with my dear chum Hang til I return in September and decide… where I'll settle down again next.)

But the point is…  I have no idea why I'm dawdling here pecking so many TL posts this month (good grief, this will be SEVEN – verily a record!)  g-knows I have plenty of loose ends to tie up (not the least of which are 6 lesson plans for my final weekend of ILA teaching) here by Tuesday morning.  But guess it's 'cuz I anticipate that soon there may well be a blackout here at TL as I likely won't have a connection when I'm trudging through the Gobi, and milking yaks in the boonies of western Mongolia.

But not to worry.  I've got a few posts waiting in the wings to fill in the gaps.  Indeed, a whole new series dubbed "Catching Up" – tales of my past adventures in other corners of the world.  So do stayed tuned.  And trust that I'll try my level best to poke in here with at least a pic or two whenever I get a connection..