Australia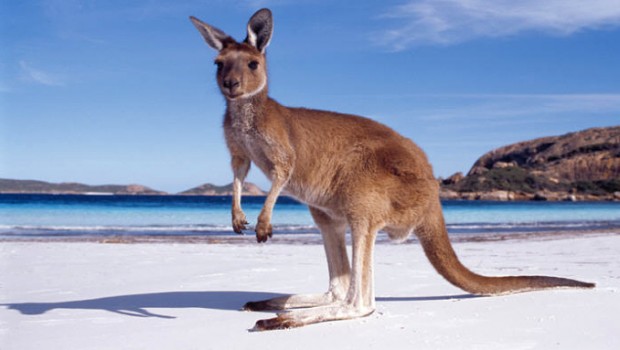 Published on July 16th, 2012
10
Uh, We Interrupt This Broadcast to Bring You an Urgent Message…
Yeah, like as if whizzing to Mongolia for a month wasn't enough.  Not amazing enough.  Not decadent enough.  Not utterly THRILLING enough.
Don't get me wrong – I've been doing a woo-hoo happy dance here ever since I booked my air to Thailand and Mongolia.  Indeed, DELIRIOUSLY thrilled to have more than a full month to peek into Chiang Mai, plus play in the vast and wondrous sandbox of Sir Chinngis Khaan himself!
Oh my yes.  Totally blissed out, and incredibly EXCITED!
Still… when an IRRESISTIBLE airfare deal to yet a whole 'nuther nifty corner of the globe pops into your email, I mean what's a girl to do?
Yep, this week yet ANOTHER fabulous "Hot Deal" from my long beloved TravelZoo.com dropped into my gmail ('twas thanks to TravelZoo that I nabbed a $745 rt. air to South Africa in '04, a $1,200 rt. air PLUS a week's stay in a 5-star resort in Bali in '08, and a 10 day, 5-star Egyptian cruise down the Nile – including an Egyptologist guide, all meals AND the single supplement – for $628 in 2010).
To be sure, such sweet travel deals don't come by often, but every once in a great while something pops up that is just TOO. GOOD. TO. PASS. UP.
Such was the case Wednesday morning when a host of special fares from Singapore to various Asian capitals on a new airline called "Scoot" (I mean, how cute is that?) showed up in my weekly TravelZoo alert.  Mildly curious (as I'm obviously pretty satiated just now w/ my plans for Thailand and Mongolia), I clicked on the link to find…
In short, Scoot airlines was offering one way fares from Singapore to either Sydney or the Gold Coast of Australia for just *$61*!!!  The deal required that travel be between Oct. 28th and Nov. 21st, and the ticket must be booked by midnight on the 13th (just a 48 hour window or til all flights were sold out.)
It seemed almost too good to be true.  I knew that a round trip ticket from HCMC to Singapore was little more than 90 bucks, so I swiftly did the math and realized that I could fly from HCMC to Sydney, Australia for little more than $200!!!
g-knows I had NO plans to go to Australia when I woke up on Wednesday morning, but hey – with such a sweet fare, ya gotta grab 'em when you can get 'em, yes?
So I swiftly clicked on the Scoot air link to choose travel dates and book a ticket, only to be met with an acky:
"Oops! Our booking site is experiencing high traffic now."
Uh-oh – DANG!  I tried again.  Still busy.  And again, and again, and…
Just when I was about to give up, WHOOP – I was IN!  Right there with a page of depart/return date boxes begging to be filled.  Afraid that it was all a mirage that would (whoosh!) disappear in an instant, I quickly began feverishly pecking in a tentative 3 week trip plan.  Then held my breath, clicked "Continue" and… there it was, my chosen dates (Oct. 30 – Nov 21, nearly the full breadth of of travel time allowed), ready and waiting for me to simply confirm and proffer my plastic.  As my brain spun dizzily, crazed as if on crack, I took one last GULP!, clicked the "Purchase" button, and…
Woo-HOO!  The TravelnLass is goin' to OZ!!!
xxx
'Twas the absolute FASTEST I ever made a travel decision.  I mean, just LOOK at that "SGD 38.83 departure fare" (but US$30)!  The return was a smidge more than the lowest price, and of course there's a bit more for tax 'n such.  Plus I opted to reserve an aisle seat on both flights ($12).  But I still can't believe that somebody's gonna fly me all the way to Sydney… and BACK for just $294!
So now on TOP of a little foray into Thailand, plus more than a month to play in Mongolia come August/September, I can now start dreaming of a sweet three weeks in the Land DownUnder.
Seriously folks, somebody please PINCH me so I know this amazing life I'm living here in Asia is real.  It's verily like CHRISTMAS every week!  Thank oh so GOODNESS that I've managed to stay alive and healthy this long – to be able to explore so many wondrous corners of the globe.  It all seems like a dream, and I'm sincerely grateful for every blessed minute of it.