EFL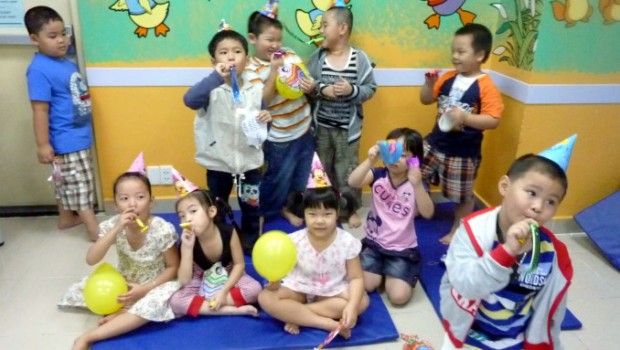 Published on June 12th, 2012
10
Newbie EFL Teaching: A Rollercoaster of Highs 'n Lows
FINALLY!  A synopsis about perhaps THE most significant part of my new expat life here in Vietnam.  My transformation from newbie CELTA grad (w/ nary a single HOUR's experience teaching English to youngsters) to…
g-knows I still have TONS to learn, but I must say, in but 5 months of steady teaching, I do believe I'm (finally!) getting the hang of this "Teach" thing.
The truth is, follwing the CELTA I was DEE-termined to NOT stay here in Saigon, but rather – move up into the cool hills of Dalat (about 8 hrs. by bus from the nutso swelter that is year-round Ho Chi Minh City) and settle down to begin my new teach career – ideally dabbling in a bit of part-time private tutoring amid the (did I mention C-O-O-L?) greenery.  I surely don't HATE it here in Saigon, but suffice "nutso" and "swelter" simply aren't my cup of tea as a long-term "home".
So… while I dutifully turned up for the (guaranteed, to all CELTA grads at ILA) job interview, I honestly half-hoped I"d not be offered a position (no guarantees that would happen anyway).  Ah but not so lucky.  While I was skipping my merry way around Sumatra for the Christmas holiday, I received an email from HR at ILA offering me… the perfect (part time, as I requested) teach job, just 12 hrs. per week at Center 10 in HCMC.  A 6 month contract, at $20/hr. (a fortune here in the cheapy world of Southeast Asia.)
Still… I hesitated a week before replying.  But in the end I figured – given my utter lack of substantive teaching experience – I'd be a fool to pass up a job offer from one of the BEST private EFL schools in Vietnam.  ILA is noted for its excellent teacher development, with a wide range of free workshops offered, great teach resources, and lots of support for newbie teaches like me.  Besides, it was only a 6 month contract after all, and Dalat would still be there come August, yes?
So… on the 1st of February, I stood in front of my first-ever EFL class – a wiggly, bouncy, giggly, screeeeeching bunch of 5 yr. old "Jumpstarts".  And so it began…
My uh, love/hate affair with teaching English to youngsters ranging in age from 4 and 5 yr. old "Jumpsters", to 6-12 yr. old "Juniors", to 12 to 16 yr. old "Seniors".  And all, at differing "K1B" vs. "J1A", vs. J4B" vs. S2A" levels of English.  In effect – differing significantly in understanding a word that I was blathering there at the front of the class.
Initially I was assigned three classes, each 2 hrs. long, meeting twice a week on Saturday and Sundays.  In retrospect I was quite lucky – starting with the full spectrum of age groups: 10 of the wiggly-giggly 5 yr. old "Jumpstarts" mentioned above; a class of 12, cute-as-buttons "Juniors", and my largest class – a group of 18 (!) hormone-bursting teens.  Quite the challenge for this newbie EFL Teach (with nary a single "tool" in her "Teach Toolbox"), but the variety has been an invaluable learning experience.
At first it would take me hours, upon HOURS to devise a lesson chock full of enough activities to fill 105 minutes, as teaching youngsters that speak little English requires a unique set of teaching methods to keep them all engaged (and not bouncing off the walls 'cuz they don't understand verily HALF of what you say.)  A wide variety of short quick activities (i.e. 15 – 20 minutes at most) with lots of "stir" and "settle" periods.
How I managed to get through those first few lessons is a wonder, but it was the incredible help and support of my fellow ILA Teaches that kept me going.  Ever patient and ready with a nifty "warm-up" activity, they quickly made me feel confident and part of the team.
Still… the lesson plans continued to take seemingly forever.  While my more experienced collegues scribbled out a plan on the back of an envelope in 15 minutes, for the life of me, I couldn't seem to devise a 2 hour plan in less than… uh, sometimes as many as THREE full hours!  Furthermore, as I'm only paid for "contact hours" (i.e. actual teaching hours) not any prep work – needless to say my effective hourly rate was looking pretty grim.  So grim in fact that – though I genuinely LOVED the "teaching" part – I seriously began to wonder if my new  teaching "career" (at 60-something) was worth it.  I mean, why not simply loll on a tropical beach living off my pension?  Why beat myself up for 6 bucks an hour?
Ah but ever so slowly, little by little, week after week, I just kept plugging away.  And finally, about 3 months into it, something "clicked".  Somehow I'd figured out how to whittle the planning time (and still produce a highly educational and fun two hour lesson).  For each lesson I'd try something new, and what worked well went into my shiny new teacher "tool box".  And what didn't – well, I likewise learned to go easy on myself – that every blessed lesson needn't be a work of freekin' ART.  So if something fell apart, I simply discarded it or reworked the activity to better fit the language level of my students.  Along the way, in just 5 short months, I've now amassed a goodly little stash of activities that I can adapt to most any language form, level and group size.  I can pretty much plan a lesson in my sleep, and teaching EFL to most any age group is now both easy and purely FUN!
Indeed, even today, surprisingly, I honestly can't say which age group I favor teaching.  The little ones are adorable of course, and require the least in lesson planning (heck, they'd be happy with 2 hours of nonstop "Head, Shoulders, Knees and Toes").  But more than a class or two of that each week could get mighty boring for the Teach.
The Juniors are simply the suh-weetest – so coy and quiet and obedient – as long as there's plenty of "stars" and stickers in the end.  Oh my yes, g-help you if you forget the stickers – those angelic little Junior darlings will turn on you like a pack of WOLVES!
Then there's the Seniors.  Ah yes, still my biggest challenge.  All dears, every blessed one of them, but teaching a class of (now 19!) Vietnamese teenagers English is verily like the proverbial "herding cats"!  Still, their vocabulary is the most advanced, and one can devise far more diverse and interesting discussions and activities than for the younger kids.
And finally, we have the adults.  Yes, I've even acquired a bit of experience with teaching Vietnamese adults.  My good chum Hang has started a small English school, and I've taught a few classes there to help her out.  Adults of course are a bit more demanding than the youngsters, expecting (sometimes unrealistically) swift audible PROGRESS for plunking down their hard-earned dong.  Nonetheless, teaching adults is most rewarding – to watch them slowly expand their vocabulary, polish their rusty grammar, improve their pronunciation (the universal nemesis for EFL students of all ages), and speak English with confidence.
As for my teaching future?  I'm all over the map with that question.  On one hand, even after this initial 6 month contract finishes at the end of July, it's tempting to re-enlist for another stint.  ILA is an excellent school, and they've been very good to me (heck, there was that private swimming pool at Mui Ne after all, yes?)  But…
I definitely am now itching to travel and presently am planning at least a month's adventure in August/September (more on that delicious notion in my next post.)  Conveniently, the lease is up on my apartment August 1, so there's nothing to stop me from wandering into a few more of the exotic lands on this side of the globe.  But after that…  not sure just where I'll resettle.  Likely Dalat (but could be Thailand), but in any case I'm certain to always dabble in a bit of EFL teaching wherever I may roam.  With my degrees, plus the CELTA plus now a diverse bundle of experience teaching at one of the most respected schools in Southeast Asia, I now feel qualified to teach at most any private school I choose, opt for private tutoring, or perhaps just volunteer teach wherever I happen to land.
And now, I leave you with a rare little video that I shot with my iPod Touch – my adorable "Juniors" slapping up "next to", "above" and "below" fish in our white-board "aquarium".