Travel Tips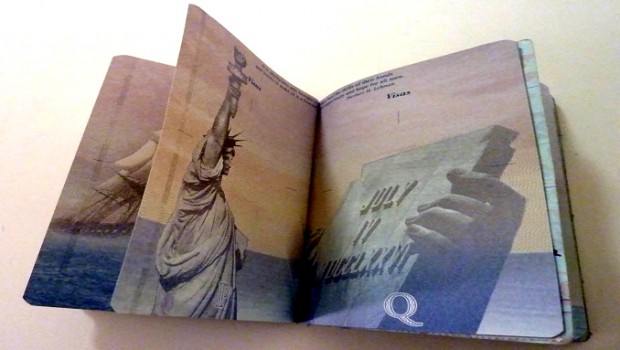 Published on June 5th, 2012
4
My Passport is now a TOME!
I have sooo much to catch up on here – pics and details of my decadent 4 days at Mui Ne Beach for starters, plus the low-down on the final plans for my next adventure. Not to mention the loooong overdue tale of my EFL teaching here in Saigon.
But those will all have to wait a tad longer.  For today, I'll just jot a quick note on an essential beauacratic dilemma that – sooner or later every long-term traveler must face:  What to do when your passport becomes chock FULL of various 'n sundry stamps and visas, and there's no more room for say… that nifty new Mongolian stamp you've got planned for August?
Turns out the answer is easy-peasy (leastwise for a U.S. passport here in Vietnam – for those who hail from other lands, YMMV).  Two choices: add pages to your passport, or apply for a new one.
If your current passport is close to expiring (say, within a year – most certainly if you have less than 6 months on it), then applying for a whole new passport is the ticket.  For $110 (and good for 10 years), it will come with 24 crisp new pages – though 7 of those will already be filled – one with the standard photo/info/signature page plus another six pages devoted to fine-print blather.
Alternately, if like me – your passport still has 5 years of "life" in it, then it's more economical to simply get pages added to it.  Interestingly, when I telephoned the U.S. consulate here in Saigon to confirm the details of doing so, I learned that…  A "set" of 24 added pages costs $82.  But most curiously, you can optionally request TWO sets (i.e. 48 added pages) and… the price is the same: 82 bucks – no charge for the 24 extra pages.
So guess which option I chose?
True, my passport now feels like a copy of War and Peace, but hey – I've now got nearly *50* blank pages to recklessly fill with yummy visas to my heart's content!
Clearly moving in and out of 25-50 different lands over the next 5 years will take some serious globe-skipping.  Ah it's a dirty job – but SOMEBODY'S gotta do it! 😉
xxx
hhh
Interestingly, the new pages are a tad swankier than the old – instead of plain ol' anemic blue with ughy "STATE OF…" (Rhode Island, Nebraska, et al) stamps faded in the background, the new pages are… still a sickly, washed-out mix of blue, yellow and pink, but now they each have a snazzy pic of the many icons of American landscapes (i.e. purple mountain majesties and all that, plus the Lady with the flashlight, etc.)
xxx
P.S.  Also on each new page is a saccharine patriotic quote.  My favorite?
"It seems to be a law of nature, inflexible and inexorable,
that those who will not risk cannot win."
John Paul Jones