Dalat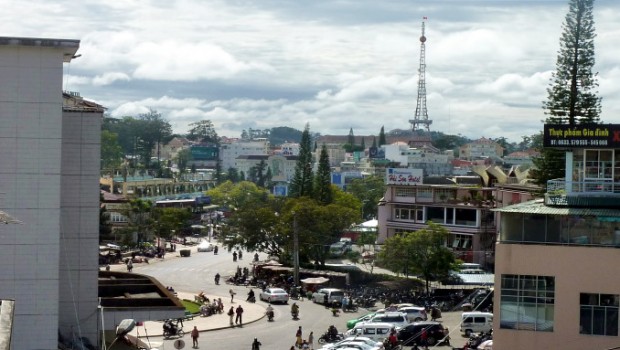 Published on December 18th, 2011
10
Dalat: My Own Private Shangri-La
For more than a year now it's been but a dream. Just a digital figment of my imagination.  Early on in my Googley research of my chosen adopted country (Vietnam) I stumbled across the speck of a town called "Dalat" and – when I learned of its reputed "City of Spring" climate (that nicely matched my own delightfully "temperate" Pacific Northwest) I was hooked.  Indeed, the one stumbling block to my decision to settle in Vietnam (or most anywhere in Southeast Asia for that matter) was the climate.  Verily the entire region is pretty much all s.u.l.t.r.y hot and humid.  Ugh, my most unfavorite climate.
Ah but not so, dear diminutive Dalat (to quote its brief Wikipedia entry):
"The city's temperate weather stands in contrast to Vietnam's otherwise tropical climate. Mist covering the valleys almost year-round leads to its name 'City of eternal spring'."
Even better, Wiki goes on to say:
"Da Lat's specific sights are pine wood (forming the name: "City of thousands of pine trees") with twisting roads and tree marigold (Vietnamese: dã quỳ) blossom in the winter."
In short, about as close to the picture postcard setting I'd so grown to love in my beloved Seattle.  Not acres of the PNW's ubiquitous Doug Firs mind you.  But EVERGREENS nonetheless.  And I mean, who's going to quibble over PINE vs. FIR trees smack-dab in the middle of Southeast Asia?
Thus began my obsessive (and otherwise utterly unsubstantiated) preoccupation with somehow making Dalat my new home.
Fast forward a dozen months (including nearly two here already in Vietnam!) and last week I finally made it to the "chosen land".  Acky CELTA happily behind me, 48 hrs. later I grabbed my woolen socks and turtleneck, and hopped on a bus bound for my own personal Shangri-La: Dalat.
Situated just shy of a mile high in elevation, what a delight to leave the sooty swarms of Saigon motorscooters (shameful alliteration intended) behind, and head up, up into the cool highlands of Vietnam.  Less than 200 miles northeast of HCMC, the twisty narrow roads nonetheless made the going mighty slow, and the ride took what seemed an interminable 8 hrs.  Suffice to say I forthwith wisened up and… for but $30 more, I later opted to FLY back to HCMC in just 45 minutes!
Developed by the French in the 1890's as a hill station escape from the heat in the lowlands, they endowed Dalat with villas and boulevards, and its Swiss-like charms remain today.  Not surprisingly, it's a major tourist destination BUT… not for foreigners and backpackers (though a few do stumble in from time to time on their merry way to HCMC from the beaches at Nha Trang – just 4 hrs. drive to the east.)  Rather it's a haven for LOCAL VIETNAMESE who flock here in the summer for the cool climes and the "romantic" setting.
Everywhere you look, the setting does indeed inspire thoughts of French alpine villages, and Xuan Huong lake in the center of town (not to mention the towering faux "Eiffel" that pierces the skyline like an inverted exclamation point) with it's fanciful "swan" rental boats seals the deal on "romance".
Indeed, for me it was surely "love at first sight".  Even better than I imagined.  The climate downright CHILLY and I was lovin' it in my fleece jacket after weeks in the tropics.  Better yet – intermittent RAIN – the wondrous MISTY variety so familiar in wintry Seattle.  I tell ya – I was in pure HEAVEN!
With a population of little more than 200,000 I was surprised that the town seemed much bigger than I expected.  That's a GOOD thing in my book, as I feared it might be a tad too small for this Seattleite.  But not so, there seems to be plenty to explore and lots of activity.  And I jumped right into all of it within an hour of stepping off the bus.
My hotel (at just $14) was super, and the owner invited me to join him and a small group of travelers for dinner at a nearby restaurant the moment I arrived.  He even sprang for Bananas Flambe for all of us for dessert!  Next morning I (wisely) hired one of the hotel staff to take me 'round on his motorbike to all the English schools in Dalat.  It was absolutely BRILLIANT as he knew ever blessed school from small little "mom 'n pop" English academies to Dalat University (apparently among the most revered in all of Asia).  Had I tried to do it on my own, I couldn't have read a single sign to even know where the English schools were!  Furthermore, he patiently served as my interpreter when I introduced myself to the various school managers.  In short – I'm confident that there are many options for teaching English in Dalat.
Teachy chores completed, that night I met a fine German lad and we set out the next day on a rented motorbike ($5 for the day), heading first to the "Crazy House", and after took a cable car up, up, up for fabulous views of Dalat and the surrounding countryside.  There was also a geocache hidden at the top of the cable car ride, so (of course) I grabbed it.  We then headed out of town about an hours drive northwest to the village of Cuong Hoan where there was allegedly a silk factory.  Only trouble wazzz… We failed to bring a Vietnamese phrasebook and – not a blessed soul (even at the local school) spoke a single word of English (much less knew the word "silk")!
Nonetheless we had great fun bumbling about the village til we finally found the silk factory.  And it indeed was quite a remarkable place.  I'd been to a silk weaving village in Thailand years ago (even munched on some freshly boiled silk worms!) But this was a commercial, mechanized set up (albeit archaically so.)
After shooting a bazillion pics (you can see the whole bunch – kindly edited down to 70 on my Through the Eyes of TravelnLass site) we biked to the nearby "Elephant Falls", tiptoed through an enchanting Buddhist pagoda, and then headed back to Dalat just before dark.  After all the Pho in Saigon, I was in the mood for Western fare, so we tucked into a delish artichoke-chicken pizza and after… both opted for a 30 minute full-body massage on the walk back to the hotel – for just 50,000 dong each (about $2.35!!!)
Needless to say, Dalat turned out to be everything I imagined and more.  And I'm fairly certain that's precisely where I'll head when I return from my 3 week Christmas holiday in Sumatra next week.  It truly is the perfect little Southeast Asian nook for me to settle down in for awhile.
Speaking of… (Sumatra), as I sit here leisurely pecking this post, it suddenly dawns on me that I have but *3 days* til I fly there next week, and I have verily ZIP plans (much less arrangements, much less reservations!) other than some vague notion of flying into Medan and making my way to an orangutan. And it's CHRISTMAS!!! Good grief, this could be a DISASTER!
Ah well, no doubt it will be a most unusual Christmas indeed…