CELTA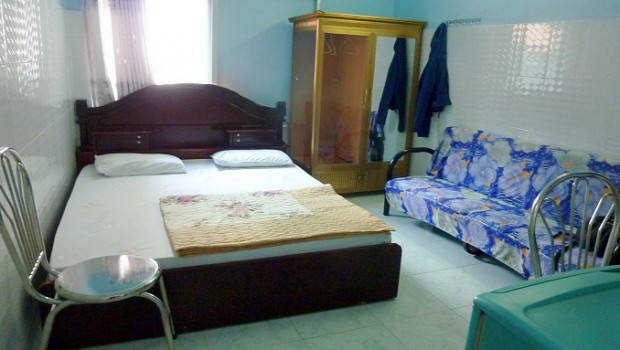 Published on November 11th, 2011
7
Not Even In My Wildest Dreams…
It's one thing to fly off to some exotic corner of the world for a few weeks, but quite another to sell most every worldly possession, and blast off for the other side of the globe to settle down amid the locals for… months, maybe YEARS.  Yup, and that's what I've gone and done here.  For more than a year, it was my dream.  And even I didn't know if I could do it – indeed, WOULD do it, indeed… would even LIKE it.  Ah but I'm here to tell ya – I'm here now, and I'm LOVIN' IT!  Verily GIDDY to be finally out of the "tourist" mode of hotels and organized excursions.
Yeppers, tucked into my own sweet little digs – with a local ADDRESS (74 Nguyen Khac Nhu Rd.)  PERMANENT digs (leastwise for the next month), a veritable PALATIAL private room (well o.k. about 12′ x 9′ but it feels just RIGHT) with bed, couch, wee desk, fridge and TV, with private western bath, air conditioning and reliable wifi.  Decidedly Veitnamese-esqe funky decor:  we're talkin' turquoise mini fridge, chrome chairs, 1940's drapes, huge silver/black '50's clock (off by a mere 27 minutes), and a faux lemon tree "house plant" for good measure.  The black chrome couch unfolds into a futon (see? I'm already ready for guests!), and there's even a gold lacquered, glass and mirrored clothes closet!
Did you catch that?  I said… I can now HANG MY CLOTHES!
And that's not even the half of it.  The place is spic and span, the owners are just the BEST, and the neighborhood is divine, with nary a backpacker in sight.  It's about 10 meters down a narrow alley, nice and quiet and very "Vietnamese".  And the locals set up wee food kiosks in the alley for lunch and dinner so I have a wide choice of yummy street food – literally 3 feet from my front door!
And best of all – my new home is just 3 BLOCKS from ILA, the school where I'll be taking the CELTA course starting on Monday.  Indeed, yesterday, after I confirmed the rental of my new digs, I walked over to ILA (tall building nearby), introduced myself, and they gave me a tour of all the facilities.  In short, all very modern, fully air-conditioned, and NICE.  Great computer facilities, copiers, overhead projectors, etc., and a lovely rooftop restaurant where my classmates and I can hang out for lunch, etc.
So I guess what I'm saying is… never in my wildest dreams did I expect that settling in here in Saigon would be so very easy.  It just feels so darn GOOD to be an expat, and know that I'm here for the long haul – can really get to know the locals and truly experience the Vietnamese culture.  For example…
Shortly after moving into my new digs (and the delicious treat of – did I mention hangingupmyCLOTHES?), I pantomimed to my landlady that I needed a number of odd essentials:  a 3-pronged plug for my laptop, an electric tea kettle (to make my own yummers "white coffee"), and a reading lamp for my bed.  Long story short?  Soon I was straddlin' a scooter (behind my landlady's son – what? you thought I'd drive the thing on my own – are you CRAZY???) and whizzing through the streets of Saigon, dodging a gazillion other scooters, cars and trucks – to a HUGE electronics/housewares store (think: Fry's ala Pho) where I nabbed everything I needed.  The plug was a mere 20,000 VND (< $1), the lamp and the electric tea kettle, just 129,000 (about $6) each, plus a sharp knife (to cut the fresh ginger for my – now addiction to – hot ginger tea), and a 15 ft. (errr… make that 5m – gotta get w/ the metrics after all) extension cord (99,000 VND – you can do the math) to plug everything in.
And now… I'm all tucked in, with my beloved 17″ laptop sweetly purring (the bitty travel netbook stashed away), my portable iPod speakers pumping out "Here Comes the Sun", and…
What can I say?  Though I may well presently be but a starry-eyed newbie (with no doubt a few downers lurking ahead), for now – I simply couldn't be happier.
This expat stuff is JUST THE BEST!
P.S. Uh… did I happen to mention?  The tab for my sweet new digs is just $250/month!